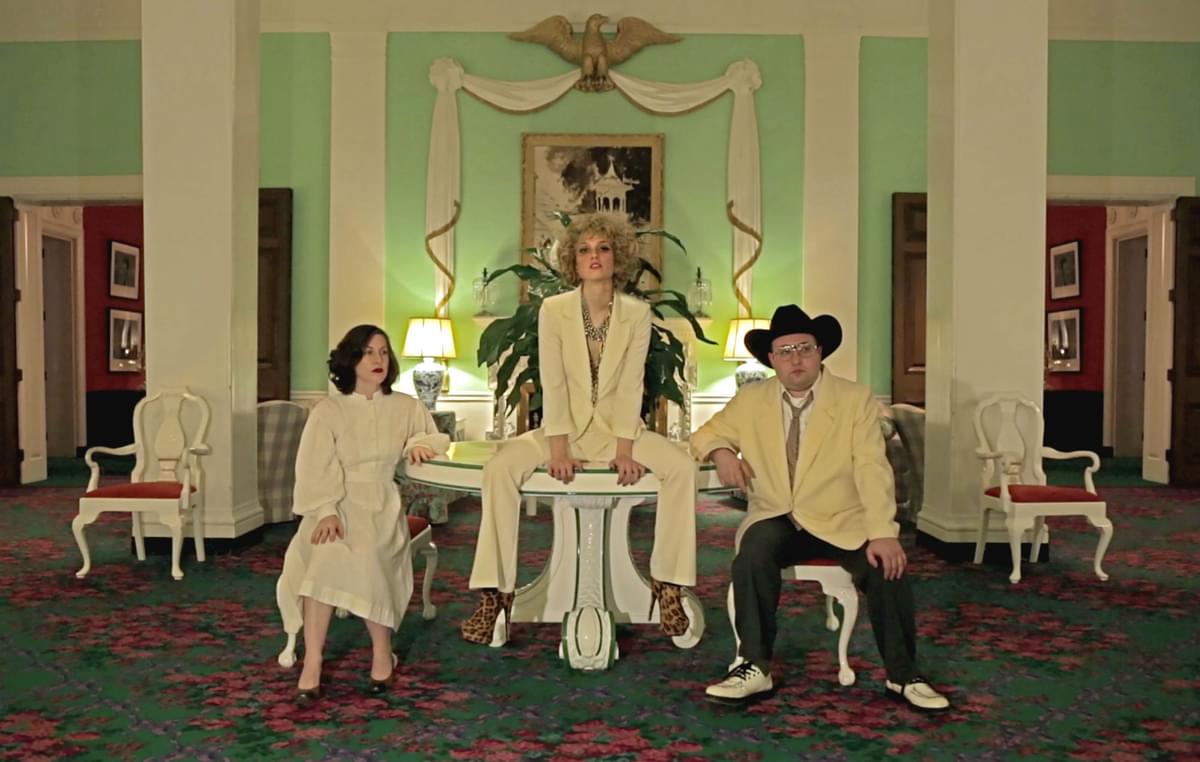 Priests are embracing a new path forward
02 April 2019, 18:00
Priests talk to Dannii Leivers about powering ahead with a line-up change, and exploring both the dark and the pleasurable on album number two.
For the entirety of our interview, post-punks Priests are driving around the streets of their hometown, Washington DC. Several times during the conversation mobile reception cuts out and we have to call each other back. "We're literally looking at the US Capitol," says guitarist GL Jaguar. "It's literally like 500 feet from us. There's probably some kind of jamming signal or shit like that."
Donald Trump's unwanted presence has long loomed over Priests. Back in 2017 their excellent debut Nothing Feels Natural was released the same week that Trump was sworn into office. It was a frustrating coincidence that would go on to define the record – and by proxy the band – as a one-dimensional political statement.
Nothing Feels Natural was furious and erudite, packed with literary references, social commentary and biting, Fugazi-esque jagged guitars. Its follow-up, The Seduction Of Kansas, is fuelled by that same fire but sonically it's a different beast, coated in a dancey new wave sheen and brimming with eloquent, effervescent cool. It's an amazing album that deserves to be in every end of year list. But coinciding with a turbulent time in the band's career, making the record was an experience that almost broke them up.
Priests have always been a fiercely DIY operation. They've released their music via their own label, Sister Polygon, however after Nothing Feels Natural, bassist Taylor Mulitz decided to leave the band in order to focus on his other project, Flasher. It was an amicable split but one that threw Priests into disarray.
"The best metaphor we can give is you have a chair with four legs and that is how it balances, and it's like sawing off one of the legs," says vocalist Katie Alice Greer. "If you have the balance of the four of you it all works – suddenly one person's gone and suddenly the interpersonal dynamic is gone...you have to relearn how to get along."
The band ended up recording the majority of The Seduction Of Kansas with Marissa Nadler's bandmate, bassist Janel Leppin, although another friend, Alexandra Tyson, will take on on bass duties at upcoming shows. Neither have joined Priests permanently. "A big reason we didn't immediately add a fourth member was we just weren't ready," says Greer. "A lot of this record has been a great document of us learning how to work outside of ourselves a little bit more."
"We weren't happy with the way the songs were being written. We weren't able to communicate with each other"
The Seduction Of Kansas was a difficult album to make, recorded to a much tighter deadline than their debut, while the band was also grappling with new inter-band dynamics. "We realised it wasn't working," says Greer. "So much that we were almost saying this band isn't working. We weren't getting along. We weren't happy with the way the songs were being written. We weren't able to communicate with each other."
Drummer Daniele Daniele chimes in: "When we tried to force this record on faster deadline things fell apart very quickly and fighting ensued. I think it's a testament to our band that we took the time out and did interpersonal work, re-establishing our friendship and our creative relationship. It took us a little longer to make the record because of that, but we're in a much better place now."
For the first time, on The Seduction Of Kansas, the band turned to an external producer, John Congleton (St. Vincent, Angel Olsen) and recorded in his Dallas studio. Bringing someone new into the fold was a big deal for Priests and far out of their comfort zone but the move was transformative. On the new songs, post punk guitars still sting and jab but amid Congleton's slick, shimmering production, melodies bob and flow atop fluid basslines, nodding to the band's early work but embracing a new path forward.
"I don't think the way we play or the way Katie sings has changed that much," says Daniele. "But the production is markedly different. Working with John who is such an experienced producer, we expanded the toolbox that we could draw from for sounds. On a lot of songs, the drums are heavily filtered, it opened up a whole lot of possibilities for the sonic palette of the songs."
Greer adds: "I think what you're hearing is a band that's more grownup than what we were on the first record. You get a bit older and you realise hey, you don't actually know everything."
In every interview you'll ever read with Priests, their intelligence and creativity practically oozes from the page. The band put a remarkable amount of effort into creating their art, and their fans spend an equal amount dissecting and absorbing everything. The Seduction Of Kansas pulls its inspirations from many places but if the album has an overarching theme, it could be loosely defined as a deconstruction of identity and exploring the erosion of values in modern society. "Ice Cream", for instance, examines the way gender and anger intersect. "When is it socially permissible for women to express anger?" ponders Greer. "When is it seen as righteous, when is it seen as scary or alienating and how is it different from the ways that male anger is seen?"
For contemplative album closer "Texas Instruments", Greer references David Byrne's film True Stories. "He went to Texas to make this movie about [the fictional Texas town] Virgil," she says. "He's an outsider and you're not getting an objective history of Texas. The opening of the film is him trying to squeeze the history of Texas into an exciting first minute of the film, so the lyrics came from that. The end of the song riffs on the ways we understand our history is informed by the mythologies that we digest and the books we read and who buys them for us."
There's no doubt that Priests take their art seriously so it's interesting that when asked what they'd like fans to take away from The Seduction Of Kansas, the response isn't analysis or debate.
"[This album is] an exploration of all things, including dark things and pleasurable things"
"Conversations about pleasure and what feels good!" says Daniele. "[This album is] an exploration of all things, including dark things and pleasurable things."
Greer perhaps sums it up best when explaining the narrative behind fizzing album opener "Jesus' Son" and its chorus: "I am Jesus' son / I'm young and dumb and full of cum / I am Jesus' son / I think I wanna hurt someone."
Greer says that the song is inspired by Eileen Myles' literary journey called The New Fuck You. "It's also inspired by Lou Reed singing that he felt like Jesus Son on the Velvet Underground song 'Heroin'," she says. "It's meant to be a pisstake on a rock and roll macho dude archetype as much as it's meant to be a celebration of that.
"It's fun to look at the complicated history of stuff that we love."

The Seduction Of Kansas is released this Friday, 5 April via Sister Polygon Records
Get the Best Fit take on the week in music direct to your inbox every Friday