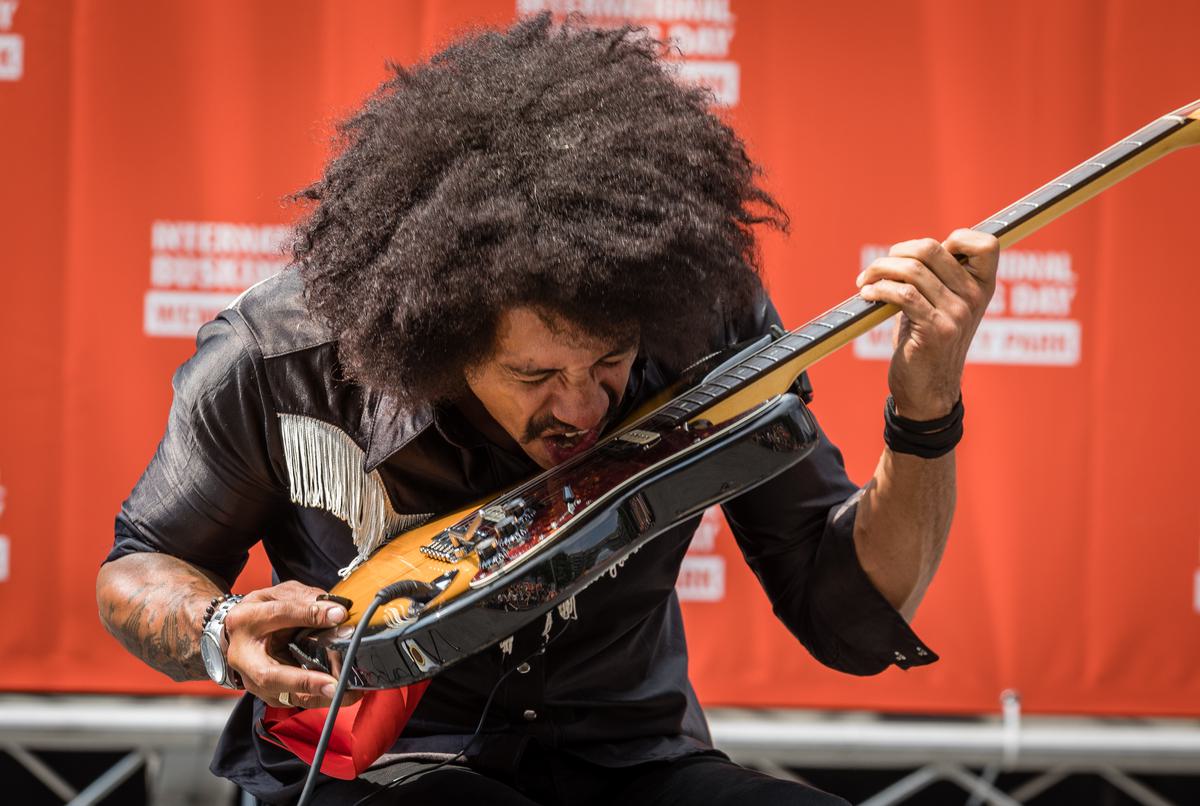 Why International Busking Day Is So Important
16 July 2019, 08:00
Forget pitching up on an empty street-corner to cover Wonderwall, the culture of busking is changing with a huge, free event this Saturday in Wembley Park.
What was once pre-conceived as an amateur's pastime is quickly becoming a legitimate way for new artists to gain ground, experience, and a fanbase. Over the years acts like Ed Sheeran, Passenger and Bright Light Bright Light have cut their teeth on the network of busking spots around England, and now groups like Busk In London are working to protect and promote the practice.
This Saturday is the second ever International Busking Day, a celebration of busking and street performance which last year covered six continents from Reykjavík to Rio. In London, Wembley Park is playing host to a day-long event with five stages and over fifty acts, headlined by KT Tunstall.
Other confirmed artists include The Noisettes and former buskers with amazing stories like Hattie Briggs who was spotted by Alfie Boe and invited to support him on tour, Lucy May Walker, who Jeremy Vine saw busking and invited along to play live on BBC Radio 2, and Jazz Mino who was discovered by former Spotify boss Austin Daboe.
Mino is a London based, half-Iranian pop singer whose single "Misunderstand" we premiered last year, calling it "a song that fuses together the pure joy of big pop melodies with earnest lyricism."
Born in Manchester and raised in Somerset, it was the South-West where she initially plucked up the courage to play her songs in public. "I started out busking when I lived in Somerset" she says. "I used to busk around there and around Bristol. And then when I moved to London a couple of years ago I was busking on the Underground in Kings Cross and, obviously now he works for Apple, but Austin Daboh saw me busking, who was Spotify UK's Head of Editorial at the time, and tweeted about me. I'd just released a song and he put it in a few playlists and that's kind of how I got started. So busking really kick-started my music for me."
Her most recent single "Over You", a collaboration with Swedish DJ and producer Hogland, has amassed well over 7.5 million streams on the platform, far better than a couple of quid in a guitar-case. But the old stereotypes didn't put Mino off having a go, despite some early nerves. "I was a bit scared to be honest" she admits. "I knew a couple of people that did it when I lived in Somerset, and I thought I'd go for it. And it went really well and it was really well received. And I moved on, did it in Bristol and again really enjoyed it. I did it in London which was a bit more scary, but then I got a license on the Southbank and the Underground and it was really chilled there. And then I just started doing it loads and I quit my PA job as the busking took over. It helped me focus on my music."
The money and experience of playing around London's busking spots can help elevate an artist and get their foot in the door in ways we tend to dismiss in this digital age. Mino believes that busking is coming into its own. "I don't know what the perception was but I think it's definitely changing now," she says. "I think people busk to showcase new songs or find fans, and I think it's just a little bit more hipster and cooler now if you busk, whereas before I think it was more associated with hard times. But loads of people do it for live performance experience or to try out new songs, or just a bit of extra spending money."
"I think people busk to showcase new songs or find fans, and I think it's just a little bit more hipster and cooler now if you busk, whereas before I think it was more associated with hard times" - Jazz Mino
Speaking to Rod Thomas - aka Bright Light Bright Light - in a previous interview, he told a story of commuters that would bring him cards and gifts at Christmas time when he busked on the tube. Mino smiles, "London can seem pretty lonely and miserable, but when you're busking it makes you realise that not everyone in London is miserable, they're just getting on with their day. But if you're part of their day they're really kind and generous. I've had loads of support from people who see me busking."
Recorded, Mino's music is bursting with produced pop synths and pulsing beats, but when she busks, everything is stripped down to just keys and vocal. Speaking of this Saturday's free event in Wembley Park she sounds thrilled, "I think Busk In London have gotten quite hands on with the busking scene, I think it's a really good thing and it's nice that they're being part of this event to celebrate it. I'm really excited to be a part of it. It's going to be a bit different for me because I'm going to be playing with my band, and obviously we don't busk, we just do gigs and supports. So I'm really excited for that aspect. I don't really know what to expect but I'm looking forward to it."
Busk In London is a not-for-profit street performance programme supported by the Mayor of London who work with private land-owners and brands to create performance and earning opportunities for artists. They say, "Street performance remains under threat. Busking is legal on public land, but many areas are considering restricting or regulating it. Busk in London believe it is important that busking remains legal on public land to maintain the spontaneity. The streets are the world's biggest talent platform."
This Saturday at Wembley Park over fifty acts will take the stage to further hone their talent, elevate their brand, and make tracks in the industry. "Our capital is renowned for its vibrant and diverse busking scene," The Mayor of London, Sadiq Khan says, "so it's great that such talented artists will be entertaining the local community across five stages. It's a wonderful example of bringing culture to the doorsteps of Londoners, ahead of Brent's year as London Borough of Culture."
The International Busking Day acts will be introduced by Capital Radio's Sarah Story and Kiss FM's Swarzy Macaly and there are plenty of other activities happening including a series of five talks covering topics like music and wellbeing and how to make social media work for musicians.
Wembley Park is a dynamic new cultural neighbourhood being created in North West London. Building on the international reputation for music and sporting events for which the area is known, Wembley Park is fast becoming a landmark destination with culture, entertainment and a community at its heart.
There will be performances at Boxpark Wembley throughout the day and into the night with Boxpark hosting the official after festival party that evening.