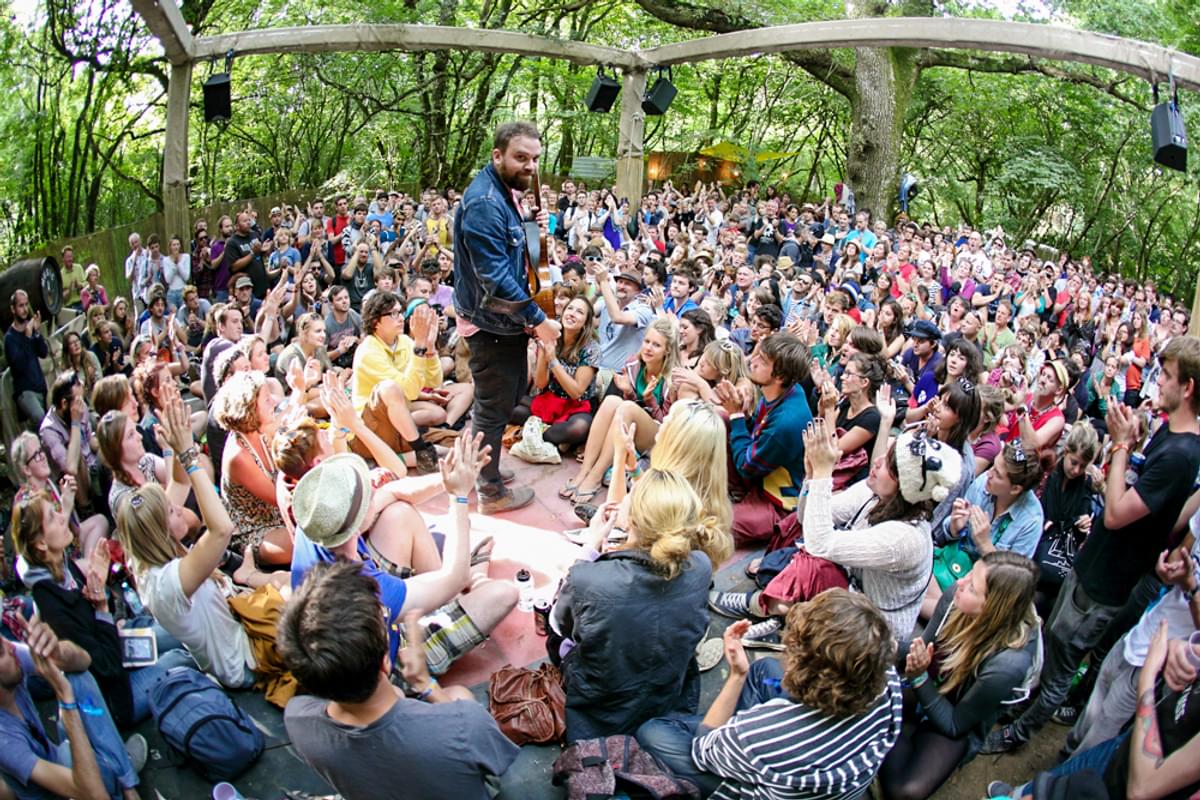 End of the Road 2014: What to see at the UK's best festival
28 August 2014, 09:30
The End of the Road Festival is one year shy of a decade old. The four day event kicks off tonight and brings together a carefully chosen and - in places - pleasingly bizarre clash of musical delights.
While other festival's line-ups read mostly like facsimiles, the Dorset-based event has lined up the sensational Gene Clark No Other Band, featuring members of Beach House, Grizzly Bear and Fleet Foxes, to perform the seminal 1974 record.
The Flaming Lips make an appearance - finally - and it's been a long-time coming for a band who seem like the most perfect fit of all for the festival's stunning, isolated garden setting. There's also some sonic aggro from the likes of Drenge while St. Vincent - who was here last year with David Byrne - drops in for a headline set of her own.
We talked to a few of the good folk heading out to Dorset in the next few days to get their own particular musical agendas .
Mark Gamble, Designer and festival regular
"I first went to End of the Road in 2008, fell in love, and have been back every year ever since. There's something special about it, something I've not experienced anywhere else.
"I've seen some of my favourite bands here, playing in some magical settings, and I've made some incredible friends along the way.
"For four days each year it's home."
Three Trapped Tigers
"I first saw TTT at End of the Road in 2010, and it was one of the best performances of the weekend. Amongst a host of Folk and Americana acts, TTT should bring a much needed change in tempo for the weekend. They're one of those bands who are great on record, but their glitchy, noisey, electronic infused Math-Rock is something else live - the drumming especially."
Rosie Lowe
"Being completely honest, I'd not heard of Rosie Lowe until I listened to an EotR playlist on Spotify a month back - I've pretty much had her EP on repeat since.
Given how soulful and stripped back her work is, I'm expecting her performance to be one that commands the attention of everyone in the audience, much like last year's Deptford Goth slot."
Tides of Man
"I'm a sucker for "Post-Rock". Since losing their lead singer, and moving away from their pretty awful Nu-Prog-Emo Warped Tour sound, Tides of Man have managed to cultivate a pretty solid new sound for themselves (2014's Young and Courageous).
"While they may not quite be challenger's to contemporaries such as Explosions in the Sky or Caspian, they do what they do well, I'm interested to see what their live performance delivers."
Yo La Tengo
"Of all the bigger acts playing over the weekend, Yo La Tengo are the one I'm really excited for. I missed them a few years back, and I'm not sure when I'll get another chance to see them. I've been a big fan of them for about 10 years now, and with such an amazing back catalogue, I've got high hopes for one of those "special" EotR performances.
"Fingers crossed for 'How to Make a Baby Elephant Float'."
Laura Barton, Writer & Broadcaster
Barton's first novel, Twenty-One Locks, was published in 2010. She will be reading from a new work about music and sadness at this year's End of the Road Festival.
The Felice Brothers
"The Felice Brothers are one of my very favourite live bands, and I'm particularly excited to see them at one of my favourite festivals.
"They're magnificent songwriters and great musical innovators, but live it's their ramshackleness I love. In an age of pristine choreography, light shows and confetti they unleash a sprawling, heartfelt set that seems to perpetually teeter on the brink of collapse.
"I'm not sure you'll find such sweet, brawling tenderness elsewhere this weekend."
Wild Beasts
"One of the best shows I saw last year was Wild Beasts playing a tiny British-themed pub in Moscow; the night was a peculiar mixture of snow boots, vodka and horse brasses, but I what remember most was the moment they played Wanderlust - a new track back then, and how utterly, thrillingly stunned the crowd looked.
"I love the combination of beauty and ferocity in their music; it's a poetry of sorts, but one that grabs not just the head and the heart but the groin and the guts."
Perfume Genius
"I loved the intimacy of Mike Hadreas's debut and its quiet, confessional quality, and I wonder at how he has somehow managed to retain this delicacy even as his confidence has grown as an artist. It seems quite magical to me to still find it there amid the stomp and prowl of his latest record. I always think it's such a privilege to see an artist opening up this way - I'd say a similar thing about St Vincent.
"He's a stunning live performer - the perfect combination of fragile and flourishing. This one should be very special."
St Paul and the Broken Bones
"A friend in Alabama occasionally sends me music he thinks I might appreciate, and a year or so ago he sent me some video footage of this fantastic soul band. I've wanted to see them live ever since. There's the spirit of the lusty southern preacher coarsing through the veins of their frontman, Paul Janeway, so I'm expecting a soul-stirring, devil-chasing performance."
Adult Jazz
"This band's debut record has been one of the highlights of my year - it's so exuberant, so fiercely in love with sound. Unfortunately I was out of the country when they toured recently, so I'm really excited to see them live this weekend. I don't know precisely how they'll translate all the fizz and firecrack of the record to the stage, but I certainly trust them to try."
Paul Bridgewater, Editor of Best Fit
"I've been to almost every single year of the festival and I'm constantly surprised and heartened by how it hasn't lost any of the ethos and identity it began with. We started working with the festival two years ago and under the auspices of a (whisper it) "online media partnership" we get do a bunch of amazing stuff on site.
"Last year we managed to get Efterklang to play Viking Kubb against their fans and Scott from Frightened Rabbit did a beer tasting. His band joined us later for an amazing secret show on a pirate boat.
"If you look around the site, you'll see posters popping up with the things we're up to - often less than an hour before we start. Seeing people drunkenly stumble upon Money's Jamie Lee performing a midnight set was a highlight of last year for me."
Kiran Leonard
"Leonard's music on record just didn't prepare me for seeing him live. The kid's talented on so many levels and has a band with him that hangs together with the same musicality and energy that made early Arctic Monkeys such an amazing thing.
"Leonard's equal parts Stephen Malkmus, Mark E Smith and Richard Hell and it's quite frightening just how advanced his songwriting and performance is. I have a beautiful feeling in my stomach it'll be the standout set of the entire festival."
Ezra Furman
"Like Kiran Leonard, Furman's got a talent and ability that's as skewed as it is surprising. A productive songwriter with a reputation for being something of a recluse, he's dropped five albums to date, with the latest (Day Of The Dog) his most complete work. Furman is charmingly complex one minute and sweetly reticent the next. I haven't been so enthralled by a performer for a very long time."
Andrew Combs
"Combs pitched up at last year's festival on guitar duties for Caitlin Rose. He's got that swagger and still waters thing going on that hearkens back to the legendary Southern singer/songwriters of the seventies as well as the Laurel Canyon greats. "Too Stoned To Cry" is the song that made me sit up and listen hard to him for the first time - it's about as perfect a lyric as they come (Lonely as these days are lone /As dark as the night bursts on / Strange way of living has been my heart dry /I'm a lonesome, but too stoned to cry) with the same darkness that Hank Williams did so well."
Celebration
"Another great product of Baltimore, Celebration have released one of this year's most intriguing records with Albumin (on their new home of Bella Union). I haven't seen them play live yet and I'm excited to see how the album translates into an actual performance - it's so incredibly rich and involving. I think they're also part of the Gene Clark No Other Band alongside a few of their hometown friends (Beach House etc)."
Hookworms
"2013 belonged to Hookworms and if they get their follow up record to debut Pearl Mystic out before 2014 then they can own this year too.
"They're probably the best live band around right now, period."
End of the Road Festival runs from today until Sunday evening. Tickets are now sold out.
Get the Best Fit take on the week in music direct to your inbox every Friday