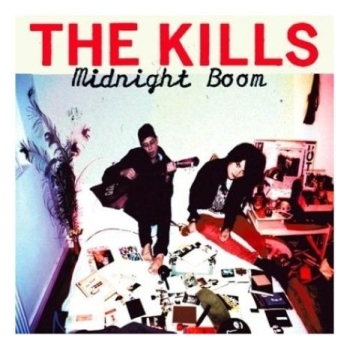 That whole art-trash thing The Kills get up to is soooo passé. Dirty guitars, stuttering drum machines, good-looking hipsters. "I want you cheap and cheerful cos you're boring baby when you're straight." No thanks. It might be alright if, at any point, it felt actually real, as opposed to just decadent and coke-y and our fun is better than yours because we take more drugs and live in London or New York or whatever and we're in a band. The clean production exposes The Kills' whole act as just empty, unloveable clichés.
This is, of course, completely aside from what the music actually sounds like. Which is in fact quite good. Not like "wow, this is an amazing record that I have to listen to all the time" good, but you know, "this record is an alright record," good. And yet there is something about The Kills that is just really not my scene at all. I can listen to this record and think its OK, but I still can't bring myself to care about them as a band, or to invest in this record emotionally in any way. And that, I think, gets to the heart of what is "The Problem with The Kills". They could have gone away forever after No Wow and I wouldn't have noticed at all. Midnight Boom is by no means a homogenous mass of a record, but no matter what new tricks The Kills try to vary their sound with, they still fail to create anything that you can't have heard before. And hey, once 33 minutes starts to feel like a long time, you know you have a problem, and that's exactly what this record does to you.
I guess maybe, if it had been early 70′s when it had been written and record, I might really like this record. Or at least enjoyed the context more.
Single and opener 'U.R.A. Fever' immediately makes an impact with its eerie phone noises that will compel you to leap up and go: "cool, this sounds like Thomas Truax!" if you're familiar with his work at all. 'Black Balloon' brings the loveliness, but it's hardly 'Maps' loveliness to compare it to something better in the same rough genre/approach vein. 'Alphabet Pony' is 1:45 of catchy aceness. These are the three songs that will really make an impact on your ears. As for the rest? Well, yawn.
62%
Links
The Kills [official site] [myspace]
More from Best Fit