"Do you have to be sad to write sad songs?" : Best Fit meets Mina Tindle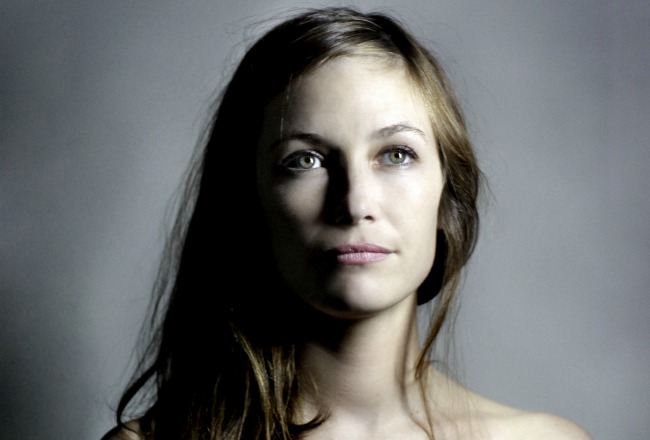 Photo Credit: Photo : Claude GASSIAN
French songwriter and pianist Pauline de Lassus, whose recording name Mina Tindle borrows itself from the character Milo Tindle of Joseph Mankiewicz's 1972 film Sleuth, has just released her debut album Taranta.Taking its title from the Italian festival celebrating women and art, the tarantella was a touchstone for the Parisian's debut. In the title de Lassus reflects "how amazing out of oppression people will create something".
It was an old tradition de Lassus first learnt about when living with a dancer in New York. "She was studying these dances from the South of Italy," she explains. "The area is the heel of the boot and Taranta is really the tradition of music and dance. The women would be allowed to be the queens of the village, to dance and to be respected, to enjoy life and have a party. Like a carnival, I guess. But the men would say that they danced like this because they had been bitten by a tarantula; that they were crazy. So if they danced for a week they'd be cured. In the end these women were treated really badly, working in the tobacco fields and treated like dogs, but for one week they could be free." With this in mind, one might consider Mina Tindle and her music to be of a feminist leaning, but she staunchly responds "No, I'm not at all" when the question is posed. "I mean I am, as a woman and everything, and my mum raised me on her own, but I'm not a feminist. My friend had just told me a lot about the meaning of this tradition and I found it really beautiful."
A self-confessed latecomer as a musician, she states that she didn't start making music until her early twenties. "I had been singing, as had my entire family forever so music had always been around," she remembers. "My mother is an amazing singer but she never did anything other than a couple of shows, and singing other peoples' songs. But for me it was nothing professional," she continues "so I guess it was not an option or I did not think it was something I could do for a living."
It wasn't until de Lassus found herself living in Brooklyn during the final year of her studies that the idea seriously took hold. Living above The Zebulon, a bar hosting live music events in Brooklyn, she describes the music echoing from below as almost an invitation to take to the stage. Returning to Paris she began performing independently; going on to form Franco-American band The Limes and later Toy Fight, with perhaps most significantly of all, a period of correspondence with respected French contemporary JP Nataf (formerly of The Innocents) marking the beginning of a friendship and future professional relationship. Their mutual admiration for each other's work led to Mina Tindle's vocals being listed in the footnotes of Nataf's sophomore release Clair, and following this he stepped up, alongside de Lassus herself, as co-producer of her debut. "I think maybe in the end there's a bit of what everyone wanted in there," she reflects of the completed Taranta. Recorded over two years at Garage Studios in Paris, and with the perfectionist Nataf at the production helm it was a lengthy process. "It was a bit scary sometimes because we didn't know if we should stop. I think could make like one record forever", she jokes. "In the end I was the one to stay 'OK, we have to finish now!' its natural conclusion."
While intent on making a record, de Lassus likened the challenge of recording to the desire to finish crafting an object as opposed to launching a career. "I wanted to do something that I liked", she explains. "I wanted to be ambitious, but it's not like I wanted a big orchestration. It was just a way to try lots of things. It's a year since we put the recording down, it's over. I've found a label [Sauvage Records], I've found a booking agent and now it's becoming serious. But until then the main idea was just to create something beautiful."
The end product sees a fully fleshed out sound which has drawn comparisons to the likes of Sufjan Stevens, and of course the avant garde female songwriters of the moment, Feist most notably. Trombones from Beirut's band, whom she has also supported in recent years, feature. "I guess my trombone was inspired by the Beirut stuff. In the end we didn't really know where we were going but we had a lot of fun, just messing around with the music. It was completely not experimental because in the end the music is not experimental, it is just like pop music; but the way was… not organised," she laughs. "The people who I worked with were really motivated, but it wasn't an accident either. I never the 'right' way, but in the end it happened to be in the good way. I'm really happy with this record," she beams.
Despite claiming that her spoken English isn't perfect, de Lassus explains that "music comes to from an English point of view, from and English angle". So surrounded by American culture she notes that it is logical to write in this way to allow her art to become accessible to a wider audience. "For me it is logical actually if you want to make music for everybody. I am trying to make sense in every language," she says of Taranta, which while wholly employing the English language also features Spanish and French. "Because I had a band with Americans from North Carolina six years ago, working together the music was English. Then I went to live in the US started working with more American people, so at first it was kind of logic, you know, and the first song I wrote, because I loved Anglo-Saxon music, was in English."
"When I came back to live in Paris I thought that I would like to write in my language also, so now I am starting to write in French, but I would never write only in French for example. I think it's quite nice to be able to do both. It can be different; I think my writing in French is different from, of course, my English. In French it becomes really obscure to explain ideas in songs, and complicated, not because the meaning is complicated or bad, but because I am choosing the words in a weird way. It's more about the sounds when I write in French. And other times it's more about the lyrics. But sometimes you just want to have a beautiful melody, though it's harder to make the French sound melodic," she laughs.
From introspection and contemplation on 'Echo', to an experimentation of harmonies on 'Too Loud' Taranta displays de Lassus' talents for textural sounds and instrumentation. "Most of have something dark, not all of them, but most," she says of their often lightness of melody. "I wish I could write really happy songs but it will come. Sometimes the melody is happy" she states referring to the fourteen tracks comprising the LP. "I was talking with a guy from Grizzly Bear who I met ages ago when I was living in the US and we were having this debate like 'Do you have to be sad to write sad songs?' And I don't think it's true. People can write a happy song when they feel good, but most of the time when you feel good maybe you don't need to write anything because you are just enjoying your time. So maybe one day I'll just stop writing when I feel very happy."
While there are echoes of Feist, Regina Spektor, Kath Bush and Emily Loizeau in her work, the sound produced by Mina Tindle and her players is entirely her own. From the rhythmic folk of 'To Carry Many Small Things', on to the unique percussive experimentation represented in 'Time Writer', the Parisian marks herself as much as a reference point for the great female musicians before her, but too as an artist clearly blazing her own trail.
Taranta is available now through Believe.