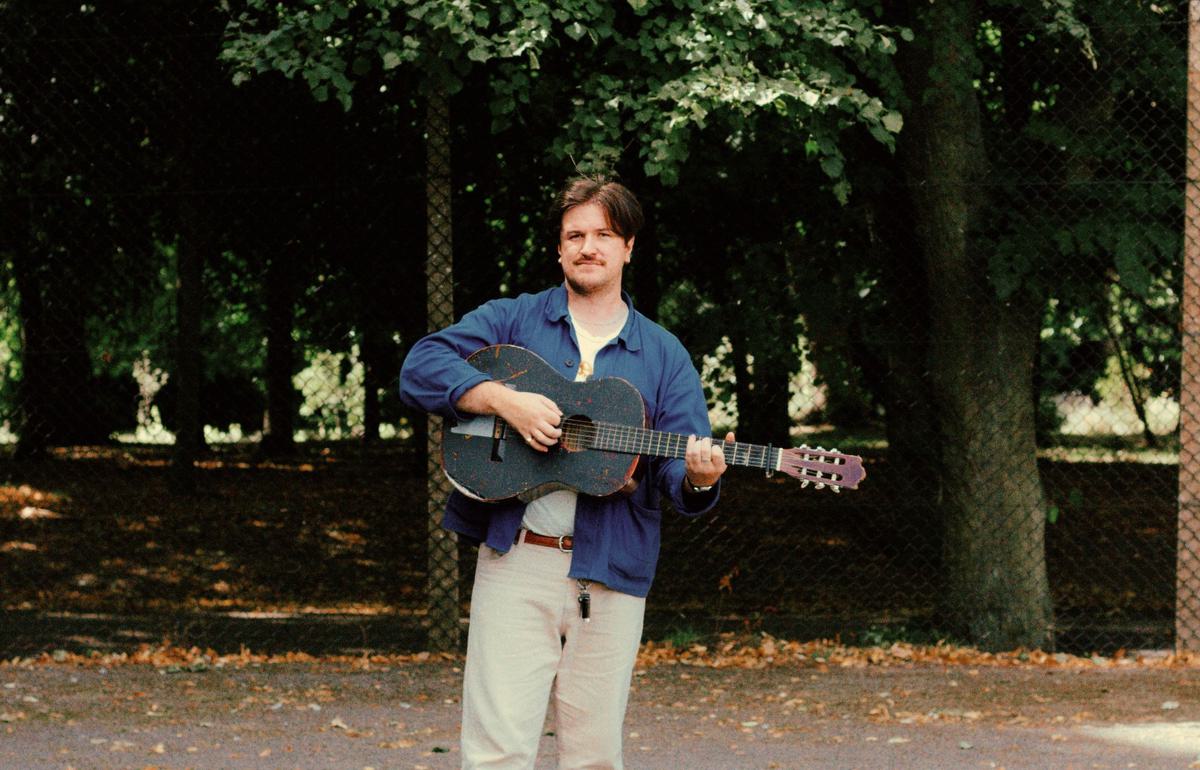 Michael B Thomas gets existential on "Berlin"
Under the moniker Michael B Thomas, Leeds-based musician Thomas Barr delivers a cool and breezy slice of indie-rock on "Berlin", brimming with existential undercurrents
The breezy indie-rock that fades in at the beginning of Michael B Thomas' second single "Berlin" may have an instantly recognisable sound, a comfortingly familiar calling card of the genre, but the lyrics that follow are anything but conventional.
Following his debut cut "August" aptly released this past summer, a lush retelling of a love triangle, Thomas has been delicately carving out a niche of nostalgic and hazy, yet undeniably colourful melancholia. With dreamy guitars and warm vocals, his tracks promise a certain effortlessness in the way they sway and hold listeners' attention - a rare iridescence that feels both natural and easy to trust - despite the depth and existentialism of their lyrics.
A former member of Leeds band Party Hardy, and currently working in EADES as their live keys player, Thomas definitely has the experience to back up his solo endeavours. He has the rare talent of inhabiting multiple working parts to a band — as a songwriter, vocalist, and producer — giving him the full package to succeed. Whilst the only vocalist on "Berlin", however, Thomas is not striking it completely alone. The track is produced by fellow EADES band members Harry Jordan and Dan Clifford-Smith.

"Berlin" inhabits the mind of a vacation-goer a few months after their trip. Whilst perhaps cushty on the surface, the track is actually inspired by the isolation of the pandemic, but averts it in a way that's new. The track doesn't mention the pandemic specifically, but instead uses it as a jumping-off point for creativity, a welcome and refreshing take that invites intricate storytelling à la Taylor Swift's folklore.
Thomas explains, "The idea for the song sort of came about during the initial weeks of lockdown when there was so much uncertainty around life, and the fact we couldn't go anywhere. It also came with the realisation that I personally had only just gone away on my first ever trip abroad at the age of 24, a few months prior."
"It's about wanting to see and do as much as possible with the limited time we've got," he continues, but "Berlin" isn't necessarily a positive take on exploration. Clearly this track concerns one's complex idea of their own adolescence, a relationship marked by ambiguities and inconsistencies as they seek to secure a sense of life fulfilment. "Your indecisions are a casualty / You sink or swim until it's over," Thomas warns in one line, "with no one there to hear your call."
In fact, the song touches on topics like the loss of one's innocence, even future-projecting about an age Thomas hasn't yet reached: "watch out, you're only 30 years old / But you've got a chip on your shoulder." "Still dreaming of that Berlin fantasy," the narrator remembers, and with it, abandons themselves in an attempt to form a brand new personality.
With influences like Elliot Smith, The Velvet Underground, and touches of hazy dream pop from the likes of Beach House, Thomas' genre-straddling works in his favour, and the liminal and poetic quality to the verses only enhance the effect.