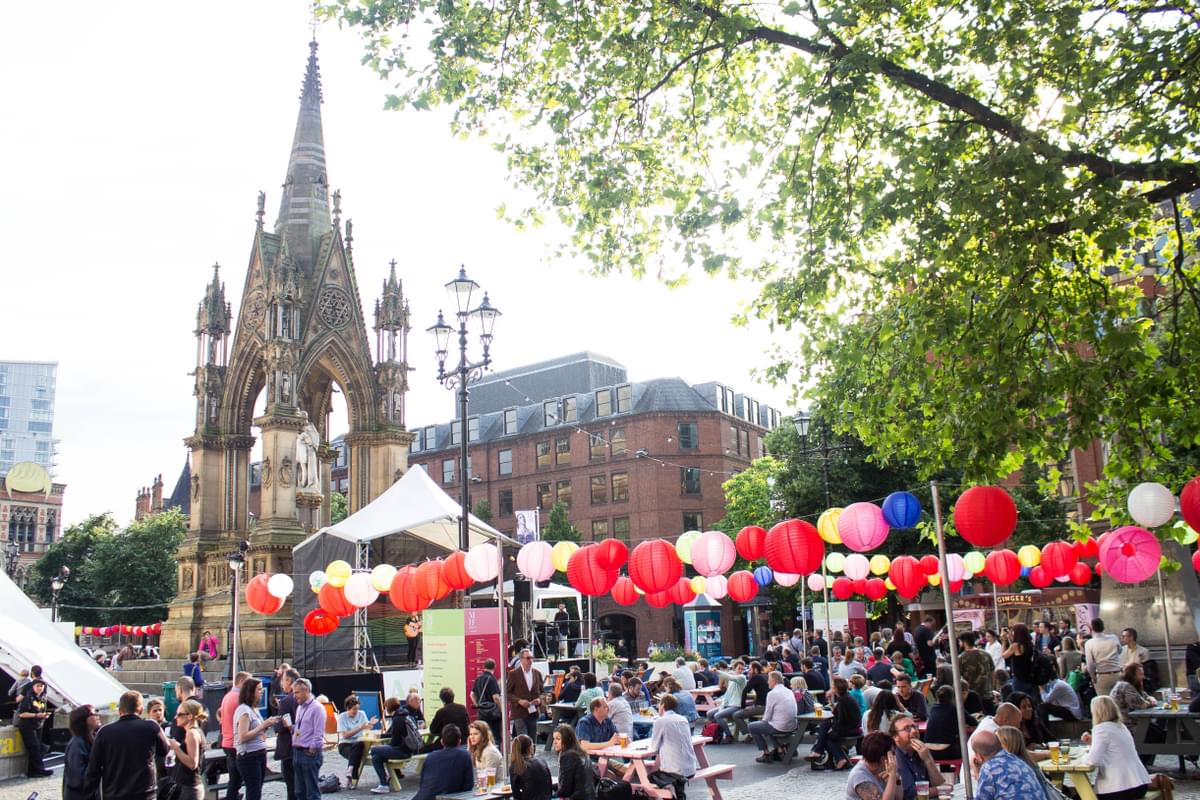 Heart and Soul
29 June 2017, 07:41
How Manchester International Festival is bridging the gap between past and future.
Gorillaz only played ten shows in support of their second and - by most estimates - best album, Demon Days. The latter five were in New York City, in the spring of 2006, but the first half took place on consecutive nights the previous November, at the Opera House in Manchester.
They were the first events officially commissioned by Manchester International Festival, which wouldn't take place in earnest until 2007. As much as the focus of the festival has always fallen on a broad range of the performing arts, from theatre to dance to exhibitions, it feels significant that it all kicked off with an alternative rock band bringing near-unique concerts to the city. Fittingly, music has always been the beating heart of the festival.
That's been clear across all five editions to date; whether it was Jamie xx's score for Tree of Codes, a contemporary ballet that had its world premiere in the city two years ago, or Rufus Wainwright bringing the first run of his opera Prima Donna to the Palace Theatre back in 2009, it's always felt as if a sizable chunk of the productions at MIF find a way to feed back into music, even when they're not strictly a part of the musical programme itself. On the one hand, that makes perfect sense; everybody knows that this is a town with a rich heritage on that front.
On the other, though, there's a potential clash between the festival's remit of promoting cutting-edge work and the city's occasional tendency to lapse into nostalgic bouts of self-congratulation. For all the boundary-challenging work that MIF has done over the past decade, there's still little escaping the fact that The Stone Roses managed to sell out four nights at the Etihad Stadium last summer, just four years on from shifting a similar number of tickets at Heaton Park and with just two new songs in tow. It seems like the festival itself has always operated on a different plane, whether it was The xx playing to crowds of just sixty over the course of a residency in an underground cube or Björk choosing to debut her ambitious Biophilia live show at the Museum of Science and Industry (she'd go on to play one of her only Vulnicura gigs at MIF, too, before the tour effectively collapsed under the emotional weight of the songs).
This year feels like the first time that there's been a genuine acknowledgement of that divide, and an assured attempt to bridge it, too. Right through the musical lineup for MIF17, there's both acknowledgement of and respect for the city's storied musical history and a steadfast commitment to breaking new ground at the same time. For Mary Anne Hobbs, the location of her Dark Matter concerts is significant; they'll take place at two venues on Whitworth Street, Gorilla and The Ritz, both of which are just around the corner from where TheHaçienda used to stand.
"I've got enormously fond memories of charging up the M6 every weekend to go to The Haçienda," says Hobbs. "I was living in London at the time, writing for NME, but we were coming back to Manchester all the time for the thrill of standing outside in the freezing cold and driving rain, waiting in queues years before there were any such thing as guestlists. It was basically a wing and a prayer as to whether you'd get in or not, but it was worth the gamble; that was the place that gave me my first experiences of electronic music. The trajectory of my life changed forever once I'd stepped across that threshold. There was a tangible magic that happened within the four walls of the place."
That's what makes the concept behind Dark Matter such an apt tribute to the musical spirit of Manchester; it channels the excitement and energy of its most famous venue whilst paying it the ultimate compliment by delivering as kaleidoscopic and forward-facing a lineup as you're likely to find anywhere. Hobbs has hand-picked the likes of Colin Stetson, The Haxan Cloak, Sunn O))) and Kojey Radical for the series, none of who are exactly obvious bedfellows. Plus, there's local representation of the most progressive variety; Rinse FM DJ Paleman will headline a night, and the opening evening sees a takeover from Levelz, the fourteen-strong south Manchester collective who defy categorisation but describe themselves as "Wu-Tang meets Happy Mondays" and stand as a striking symbol of the city's artistic diversity.
"We're going to completely black out the two spaces," Hobbs explains, "and the lighting designer, Stuart Bailes, is working with the individual artists to achieve whatever it is that they want to do, aesthetically and creatively. I'm trying to take the torch forwards, rather than emulate what people have done in the past. The idea is that, even if you know these venues really intimately, you'll feel like they've been transformed. I was thinking a lot about my own boundaries: are they there for a valuable reason? What might happen if I tried to break them down? That's what I want to encourage people to do with this series; it's a challenge to the audiences to come down and experience something different, something new, whether that be black metal, street poetry, free jazz or radical electronics".
Another of this year's commissions that has had artists looking back over their own history with and relationship to Manchester is True Faith. On paper, an exhibition based around Joy Division and New Order might seem like anathema to MIF's determination to forge new musical pathways in the city, but on closer inspection, it clearly dovetails neatly not only with the ethos of the festival, but with New Order's own contribution to MIF17, too. True Faith looks less at the work of the bands in question and more at their creative legacy - the knock-on effect that they've had not only in terms of their music, but in relation to their influence on the wider artistic world. It's been curated by Matthew Higgs and Jon Savage, two men with intimate connections to the groups; the former used to watch Joy Division rehearse in his early teens, and promoted the first ever New Order show in 1981. The latter has written about the bands for decades, and was key in piecing together the acclaimed documentary Joy Division in 2007.
"What we didn't want to do was to create a memorabilia or fan exhibition, of which there's been many in recent years," Higgs explains. "We wanted to avoid anything monolithic like the David Bowie or Rolling Stones shows that we've seen lately. We really wanted, instead, to look at how the ideas that shaped Joy Division and New Order found other forms; how they impacted on the work of other artists, filmmakers and photographers, over the course of four decades. One of the earliest works in the show is a painting from 1980 by an American artist called Julian Schnabel, titled Ornamental Despair (Painting for Ian Curtis). That was probably the first work made directly in response to Joy Division by an artist, and then we go all the way through to something like Dream English Kid by the Turner Prize winner Mark Leckey, which is from 2015 and revolves around a recording of a Joy Division concert he saw in Liverpool in 1979 - one that changed the direction of his life, the same way they changed the direction of mine".
New Order themselves will perform a slew of shows at the city's Old Granada Studios under the banner of '∑(No,12k,Lg,17Mif)', which is their own abstruse way of saying that they'll be playing five shows with a twelve-strong synthesiser ensemble in collaboration with the visual artist Liam Gillick. They're planning to completely reimagine their songs for the residency, and frontman Bernard Sumner has already confirmed that the big hitters will be conspicuous by their absence ("there'll be no 'Blue Monday', no 'Love Will Tear Us Apart'," he told The Guardian).
"If you look at what New Order are doing at the festival, it's clear that the idea is to take their history and rethink it," says Higgs. "Both the performances and the exhibition are thinking about how we can continue the narrative. It's not about a fixed moment in time; it's something that's dynamic, that moves backwards, forwards, sideways. Think about how Peter Savile, who designed those iconic sleeves, is collaborating with the clothing brand Supreme, or the way that filmmakers who came up through the underground scene in New York City, like Kathryn Bigelow and Jonathan Demme, have directed videos for New Order - people who are still hugely revered today. We're putting together an exhibition that's about these ripples, and at the centre of those ripples are Joy Division and New Order".
There's representation from the next generation of local artists on the lineup too - not least Saddleworth's Kiran Leonard, who brings a hugely conceptual new show to the Pavilion Theatre in Albert Square for one night only. Song of the Husband blends art and music to tell an eccentric tale of manuscripts retrieved from an expedition to a dead planet. Leonard is in his early twenties, but has already assembled an impressively ambitious catalogue, the experimental nature of which is matched by the prodigiousness of his work rate. He seems a long way divorced from the figures you'd most readily associate with Manchester's music scene; in short, it's musicians like Leonard that represent the city's future.
"It's obviously very important to support new work, because culture is an activity that unfolds in the present," says Leonard of his new project via email. "I agree that Manchester in particular should break from the past, because it has become a total parody of itself. Having said that, the past is sometimes a reliable informant (or at least an interesting one). The pieces we are exhibiting and performing at MIF next month are thousands of years old. Despite this, they remain relevant in our present, and they take on a whole different currency applied to a new context."
Through its use of installations, MIF has always sought to weave art and music into the everyday fabric of the city, and MIF17 is no different. There isn't really a great deal of tangible musical history in Manchester; it's not like Liverpool, for instance, where another moment in the story of The Beatles seems to be waiting around every corner, from the reconstructed Cavern Club to Eleanor Rigby's statue to the museum down at the Albert Dock. The Haçienda is long gone, with apartments bearing the name in its place. The Music Box, where Tony Wilson first saw Joy Division play, is a Tesco Express now.
The Lesser Free Trade Hall, that played host to that legendary Sex Pistols gig that inspired so many, is a Radisson Hotel, and a few minutes' walk away, what was The Boardwalk, a venue that also served as Oasis' rehearsal space, has been converted into offices. Even the old home of Factory Records on Princess Street doesn't serve as much of a monument to the label, despite being a Factory-branded nightclub now - it mainly serves the cheap-and-cheerful student market.
At MIF17, though, Music for a Busy City will see new, specially-commissioned works playing in locations around the city centre, with the musicians involved ranging from the leftfield likes of the Chinese experimentalist Huang Ruo and the provocative composer Philip Venables to the winner of last year's Scottish Album of the Year Award, Anna Meredith, who's chosen the city's sometimes-maligned Arndale Centre as the site for her installation. Her selection of that space feels further proof that the festival's remit of weaving its programme into the Manchester's fabric encompasses the whole of the city, not just the enclaves in which you'd expect artistic expression to thrive.
"It was nice to be asked to do something different," says Meredith of her contribution, which involves her reinventing the meaning of 'elevator music' by using the glass lifts at the centre almost as their own orchestra, with electronic music bending in pitch as they move up and down. "When one of the lifts moves without the others, it sort of breaks the pattern, and it reminded me of what Bach used to do with chords, where it'd be soprano, alto, tenor and bass, and one note changing would transform the whole thing."
Meredith is no stranger to unusual commissions, having worked on similar installations in Hong Kong and for the Barbican's Sound Unbound. The difference at MIF, though, was the sheer scope of possibility that she and the other artists were afforded for Music for a Busy City. "The festival were really flexible, enthusiastic and unrestricted in terms of the ideas we've had and the composers they've got. To have that vision and not place any limitations on the contributors seems to have resulted in everybody doing something totally different, which is great."
It feels as if the festival's commitment to progressivism is becoming increasingly important to the city's musicians, and this year's offering proves that it isn't just a case of that providing a counterweight to the city's sometimes unhealthy predilection for nostalgia. It's found a way to incorporate that legacy in a way that's clearly forward-thinking, and with confirmation on the eve of the festival that MIF will receive an extra £9million in Arts Council funding for its flagship venue The Factory, due to open in 2020, you have to expect that its contribution to the city's music scene will continue to heighten as the years go by.
"Manchester's always been a place that's been incredibly proud of its cultural heritage," suggests Hobbs, "but I think everybody realises that the lifeblood, and the true heartbeat of the city, has been in both its people and its ability to reinvent itself all the time - to challenge its own ideas. That's what we're seeing at the festival this year: a lot of references to Manchester's musical history, set within the context of reimagining that primary set of ideals. It's not a city about nostalgia. It's a city about forward motion."
Get the Best Fit take on the week in music direct to your inbox every Friday