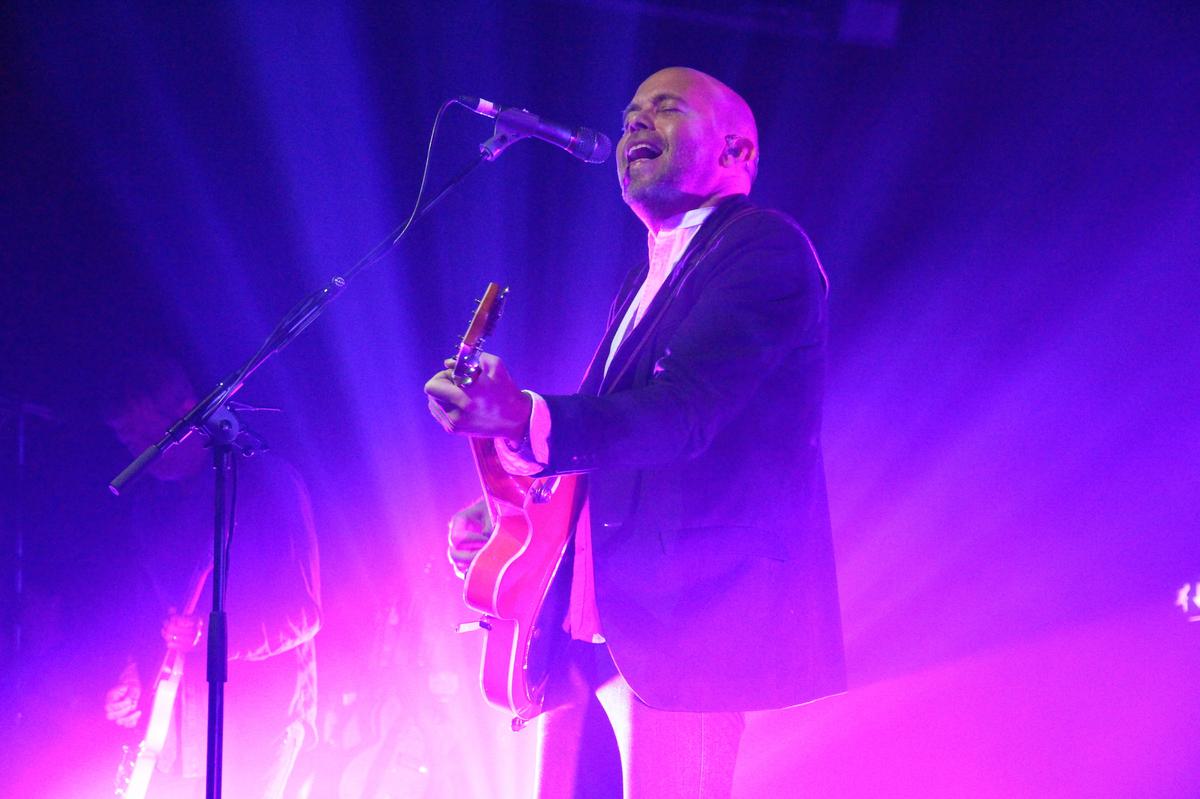 A Welcome Return: Ride, Live in London
When it comes to band reformations there are three ways it could go: reform, realise you still hate each other and split; reform, spend years raking in the cash playing twenty-year-old songs to finally recording an underwhelming album; or come back and, against all probability, be better than you were when you were in your prime.
Ride have definitely achieved the latter, their ex-Creation label mates Slowdive aside, there hasn't been a band who have come back with an album which has stood up to their best material, and the anticipation conjured up by the crowd at tonight's gig is palpable due to the power of said comeback album, Weather Diaries.
Swathed in blue and red light they begin with the opening track to said album, "Lannoy Point". Bubbling synth atmospherics, brooding bass and dreamy guitar work blend perfectly with Mark Gardener's still youthful and impassioned vocal delivery. Recalling their skill for a great album opener on past albums ("Seagull", "Leave Them All Behind", "Moonlight Medicine"), this matches those tracks and proves to be a fantastic opener live. It's swiftly followed by the swaggering spikiness of "Charm Assault", the comeback track where it became inherently clear that Ride were onto something musically, Andy Bell's riffing here immediately transporting the crowd to those really early tracks from the Fall and Play EPs back in 1990.
Ride have done well with their reformation due to immediately putting a line between the band of old, and the Ride of now, and despite the likes of "Seagull", "Vapour Trail" and "Twisterella" being performed with the kind of vigour that belies the band's age, the new tracks peppered through the set slot in with effortless ease. A highlight of the album, and of tonight's set, "Cali" fuses warm Americana with a dreamy three minute instrumental shoegaze which is arguably one of the best musical moments in rock this year and proves to be hypnotising live. New, non-album track "Pulsar" is welcomed by the throbbing mosh-pit with the kind of joy "Leave Them All Behind" is, while "Impermanence", slows the pace right down, but instead of the expected rush to the bar, they have the crowd swaying in swathes of dreampop bliss.
Another two from the latest album are not only career highlights in recorded form, but prove to be highlights of the night. "All I Want", possibly this year's best indie track, is a mindblower live, with Loz Colbert, who remains one of the UK's greatest drummers, transforms from man to machine performing jaw-dropping percussion to match the impressive vocal and guitar intertwining of Bell and Gardener. "Lateral Alice", meanwhile, is a snotty three-minute blast of punk swagger which whips the crowd up into a frenzy of flailing limbs and flying plastic beer glasses.
Although the days of releasing screeching white noise laden tracks may be behind them, tonight they show that they can still perform with discord when they choose to. "Dreams Burn Down" is robust and moody, the blasts of feedback blistering, Colbert's drumming possessed, while "Drive Blind"s "holocaust" section is impressive but so long that one pines for it to be cut down a little to make room for something less indulgent such as "Home Is A Feeling". The audience, however, go crazy nonetheless.
Against all odds Ride have come back after almost two decades apart and on tonight's showing, they are more than equipped to surpass the highs reached over two decades ago. They make reforming look so easy, and it's great to have them back