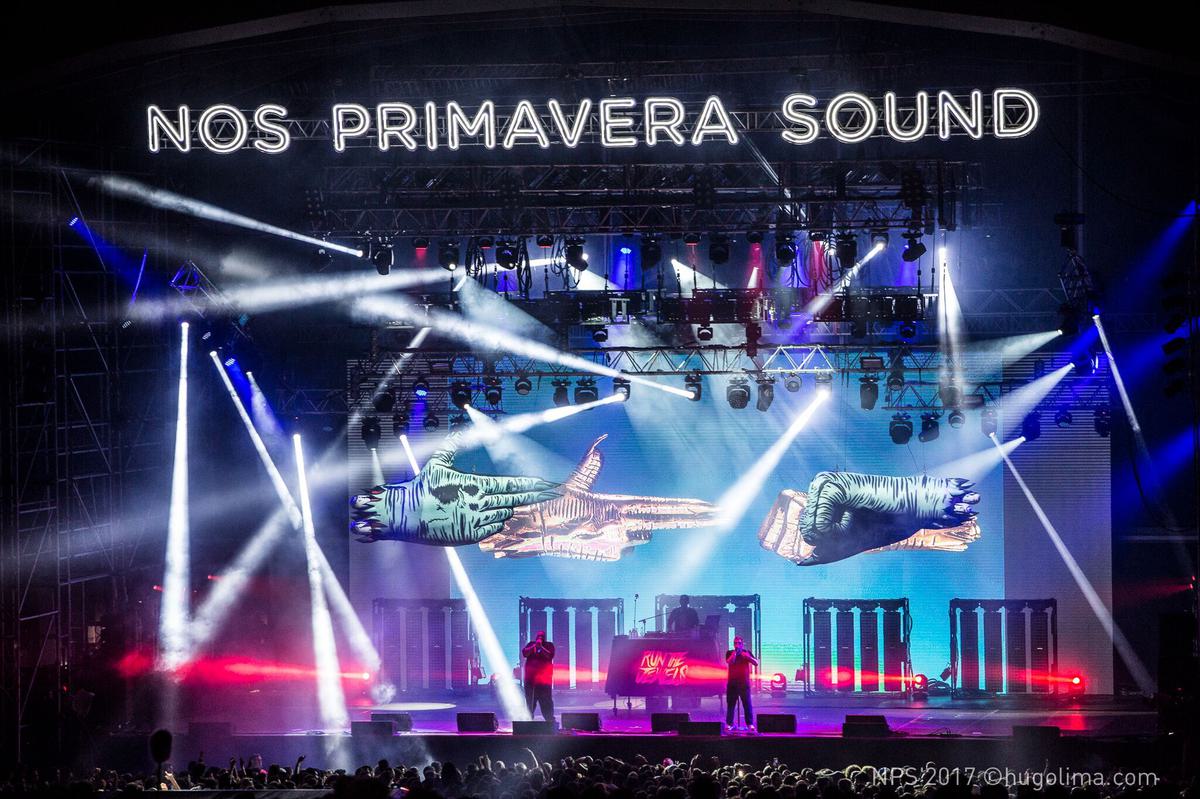 NOS Primavera Sound 2017: Thank You Porto
Ahh NOS Primavera Sound - you may be the younger, more innocent version of your scrappier Barcelona-based sibling but you were still too good to us.
Where Barcelona has concrete, you have grass. Where Barcelona has a million-mile hike between stages, you decided to just put two right next to one another. So simple!
On the first day, you didn't even make us choose between bands … you presented them one after another and had us flit from stage to stage. Regrettably, you did give over an hour to Miguel, who unofficially began our weekend with a set that failed to deliver a single un-flat note.
Thankfully, Run The Jewel's brand of unrelenting hip-hop saved the evening. Having recently released their third album and played a string of sold-out shows around the globe, the collaborative efforts of EL-P and Killer Mike show no signs of stagnating. Their set tonight is electric, whipping the crowd into a frenzy despite having, by their own admission, about 3 hours sleep and almost telling the Portuguese crowd that they "love you, Barcelona!"
Flying Lotus switches things up a gear, delivering us into the stratosphere with head melding beats and cosmic jazz synths. Who said pushing boundaries, subverting genres and making us dance were mutually exclusive?! Iconic French duo Gaspard Augé and Xavier de Rosnay, cap off the first evening with equally mesmerising set of electronic beats as Justice and - despite their pervasion of the airwaves in the mid-00s - avoid sounding tired.
Porto sends us to bed still dancing and wakes us the next day with glorious sunshine and the virtuoso talents of Angel Olsen. One of the most powerful voices of the new folk rock generation, the Missouri-born Olsen delivers an impeccable set that focuses on material from her latest record My Woman but still delighting long-time fans by delving into a four-record deep back catalogue.
Soon the soothing sounds of Teenage Fanclub's jangly indie pop reaches out from the second stage. The legendary Glaswegians' particular brand of indie is so unassuming that it's easy to forget just how many ridiculously catchy hits they have. The four-piece redefined guitar pop when they burst onto the scene with A Catholic Education and it's reassuring to have them back doing the same 27 years later.
Having cancelled most of his European tour dates, tonight's performance by Bon Iver carries with it a very real weight of expectation. The Wisconsin legend seems to take it all in his stride though - so perfectly bringing together songs from his game-changing, heartbreaking debut For Emma, Forever Ago and the electronic synth mutations that make up his genre-defying latest 22, A Million. Personal highlights still come from old favourites like "Creature Fear" and "Skinny Love", but new songs "33 God" and "10dEAThbREast" prove equally mesmerising, and more vital.
Grime saviour Skepta takes to the second stage for what is, on the day post-UK General Election, a highly anticipated and perfectly timed performance. The Mercury Prize Award winning rapper doesn't deliver the set of his career, but still manages to wow with hits from most recent record Konnichiwa. We've seen him "Shutdown" places with more fury and bite than tonight, but the crowd is kept bouncing until the end to the ebb of his beats and the genius of his flow.
Your final day, Porto, does not disappoint either. Mitski, having worked out some serious kinks with her live band, is an absolute triumph. As the sun set she stood defiant, surrounded by only bass and a drummer, to deliver songs from debut album Bury Me At Makeout Creek and its 2016 follow-up Puberty 2. The new, more minimal set up finally allowed her voice and the genius of her melancholic pop song writing to carry as powerfully as it does on record.
Seeing Metronomy's name on a festival poster can feel a little tired, but once Joseph Mount and co. take to the stage any trace of lethargy or snarky criticism falls by the way side as they deliver the most enjoyable set of the whole weekend. They've got plenty of hits, and they're not afraid to use them. "Aquarius", "Love Letters", "The Bay" and "The Look" from The English Rivera have the crowd grinning from ear to ear whilst they throw shapes to their jubilant chorus hooks and moreish pop melodies.
To close the night, we have the blissed-out acid beats of a master at work. There is no doubt that Richard D James' return to the stage as Aphex Twin has set this summer's festival game alight, and tonight you can feel the anticipation in the cooling air.
And as the lasers go into overdrive we say farewell to you, NOS Primavera Sound 2017.