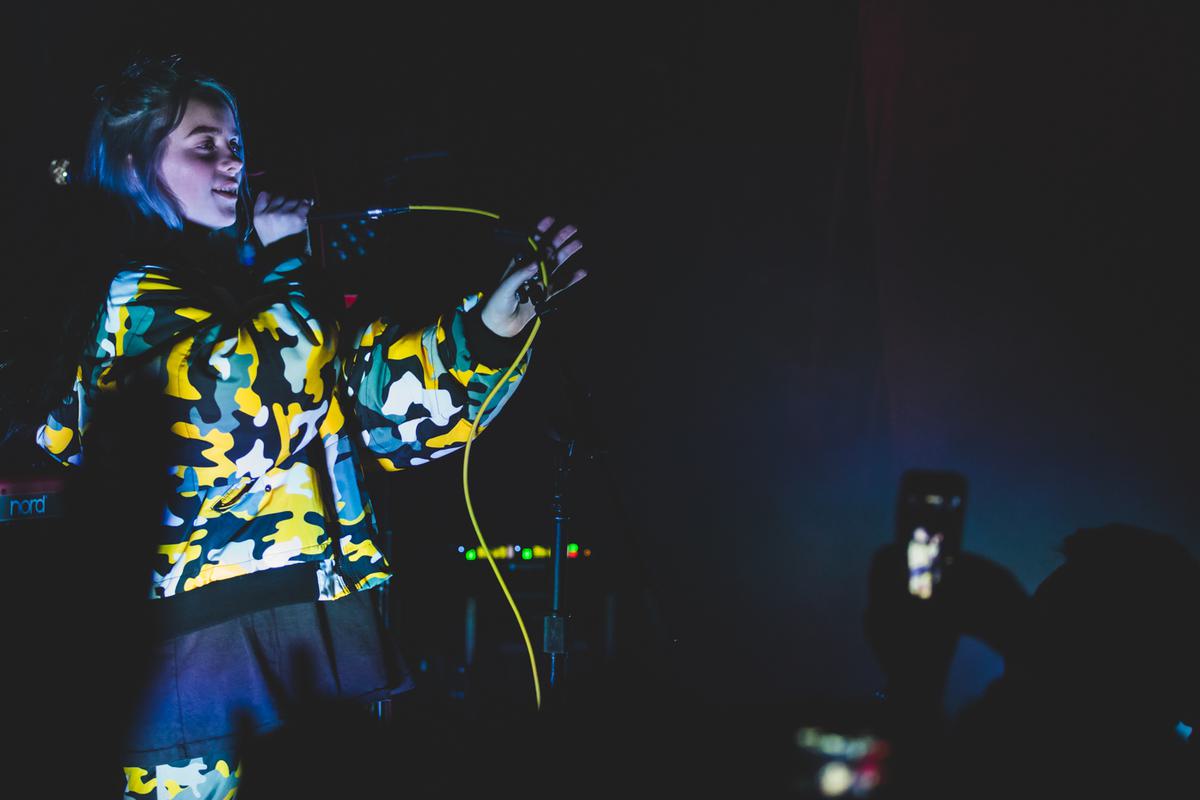 Fan Power: Billie Eilish, Live in London
Following the release of her exceptional debut EP don't smile at me, which was preceded by breakout single "Ocean Eyes", singer/songwriter Billie Eilish has been the world over playing shows for her legions of adoring fans, dragging her silver locks and sibling songwriting partner Finneas along for good measure.
This is a family affair through and through: Eilish's parents are side of stage to watch in awe as their kids are welcomed to the stage with ear piercing screams. Those screams have been part of the entire night, when the support act did a vocal run, when vintage Gaga came on pre-set, but throughout Eilish's hour long escapade on Heaven's stage. A considerable step-up from her last show in London at Courtyard Theatre which was her first ever headline show and for that reason she explains on stage performing here feels like home.
Opening with "bellyache", a song about being a serial killer - yes, really - Eilish has the room in an instant. A big fan of hip-hop, Eilish told us last summer she'd been cooking up exciting new music with some of her idols, and "&burn" a reworking of EP standout "watch" delivers the first highlight of the evening. The recorded version features Vince Staples, but live Eilish is her element, solo, beginning with the original arrangement before the beat drops and we're treated to one of a handful of dancebreaks which are scattered throughout the set.
It's Valentine's Day so before stripping things back and going for the emotional jugular with "Six Feet Under", Eilish animates the crowd with a chant of "fuck that hoe" having explained how two years ago she'd spent the day with a boy, going to see a shitty film she can't even remember and after their first kiss that night he let her know it was as magical as he believed. Fuck that hoe, right? Eilish shows her diverse musical tastes and influences with the mix of straight-up pop, ukeleles and banging beats that somehow fit seamlessly together. The most intimate moment of the evening sees her take a seat on the stage and lament "how could I say I like you like that" through the medium of a brand new song called "When The Party's Over", which is really fucking sad.
The final song has the crowd back in we know every word territory and just as you'd expect from the biggest headline show from a hotly tipped new pop person, there's moshing. "COPYCAT" is an anthem of anger, and another Eilish song packed with murderous undertones, the flashing red lights really do a lot as do the fans to hammer the fact this is really the last song and there's not another encore waiting in the wings. Genius, bewitching and powerful, not only because of Eilish's talent, but the devotion, love and passion of the all the fans in that room.