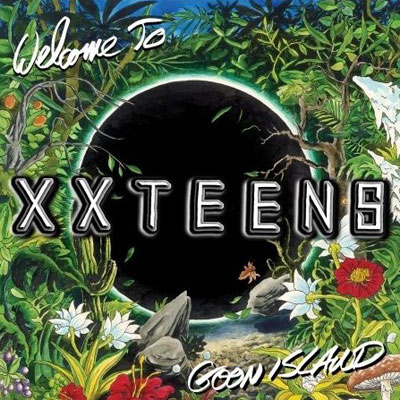 Previously known as Xerox Teens,
XX Teens
are a band that have been on the periphery of my (musical) vision for years now - they've been around since at least 2004, and have toured pretty extensively in that time.Â
Welcome to Goon Island
is their first full-length album release.According to their
Myspace
biog, it seems that people find it rather hard to get a handle on the band. Superficially, I suppose, this is understandable, but I do think a little effort on the part of the listener will reap rewards.The main ingredients that are (sometimes fairly haphazardly) thrown together, to construct the
XX Teens
' sound include: 1) the influence The Fall - this looms large both in the mix of punkishness with weirdo electro, and in the often surrealist lyrics; 2) the use of two distinctive yet distinct vocals - the "slurry, cool laid-back one", sometimes spoken-word and the "shouty fraught uptight one" (this also gives them a their own character, and acts as a counter-claim to any "Fall tribute band" accusations that they might otherwise risk facing); 3) the use of a whole range of different sounds - from synths that sound like they are shrieking (in the creepy 'Round'), to harps (see the album intro at the beginning of 'The Way We Were'), thru surf guitars ('B-54'), brass (trumpets are used to tuneful effect on 'Darlin'')and even the occasional steel drum ('Darlin'', again), bassoon ('Ba (Ba-Ba Ba)') and sitar (on the droney, almost Brian Jonestown Massacre-like 'Sun Comes Up'). Holding all of this together is a sense, conveyed as much by the sound and atmosphere of the tracks as the often-impenetrable lyrics, of menace.All of this is perhaps best exemplified on 'My Favourite Hat' (sample lyric:
"He said 'Can I wear your hat' / I said 'I'll swap it for your teeth' / He said 'Fine' / And I hit the floor
").  The track starts with lots of weird electronic sounds (including a great 'boing'-ing one) that keep just this side of "wacky", then goes all frenetic and Fall-esque. Is the said hat a metaphor, or are they
really
singing an ode to a hat? I actually quite like the fact that I'm totally not sure: this is a band that is all the more fun for being oblique.To contradict myself, however, the other track that stands out for me is current single 'Only You', this being one of their most straightforward tracks - a twisted pop love song, and the album's biggest earworm. Also worth seeking out are the frankly bizarre (are there echoes of Lord of the Flies here?) 'B-54' and the fast-and-furious 'Onkawara'.Perhaps surprisingly, however, this is also a band that clearly have a strong engagement with contemporary issues and politics. It is a shame that recent single, the brilliant Zeitgeist-capturing 'How To Reduce The Chances Of Being A Terror Victim' has been left off the album, but taking its place in the "topical" slot is final track 'For Brian Haw'. Haw is the chap who staged the anti-Iraq War protest in Parliament Square (London) for 6 1/2 years, (see
here
for more) and the track (and, indeed, the whole album) ends with a short speech / interview with him. The speech itself is slightly odd and, to my mind, he comes across as a little too self-satisfied, and it sits rather strangely in the context of everything that has come before. This in itself, however, is but another sign of this band's pleasing individuality and creative eccentricity making them (terrible cliché, but fitting here, I'm afraid) potential national treasures in the making.
82%
Links
XX Teens
[official site]
[myspace]