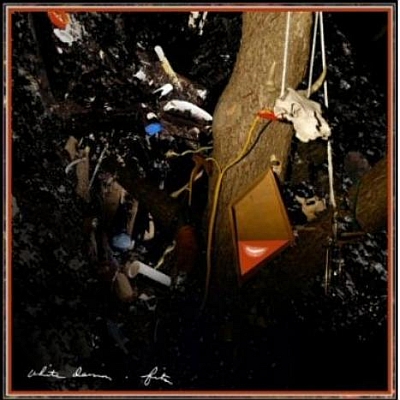 Such is the strength and depth (to borrow a football cliché) of music Stateside at the moment that I find myself with three acts on heavy rotation at the moment from
Austin
, Texas, alone. OK, so Spoon haven't done anything lately but they're a band I revisit frequently, while Bill Callahan's
Sometimes I Wish We Were An Eagle
is one of my favourites of 2009 thus far.
White Denim
is the latest addition to my Austin catalogue and some casual Googling reveals other familiar names that have breezed through my ipod shuffle at one time or another: The Octopus Project , Okkervil River, Explosions in the Sky, to name a few. Maybe I shouldn't be surprised, Austin is the self-styled 'Live Music Capital of the World', a bold claim for only the 16th-largest city in the US (thanks Wikipedia). I haven't seen White Denim live, but if
Fits
is anything to go by, they must be an exciting prospect.An exhilarating rush that channels garage rock, psych, hardcore, classic rock and much more besides,
Fits
achieves what Crystal Antlers' ear-splitting
Tentacles
didn't quite: the spasmodic appropriation of multitudinous music styles into three-minute epics. Whereas on Tentacles the detail was often lost in a vortex of organ shredding, White Denim's shape-shifting excesses are easier to track, despite their brevity. Far from being music for the attention-span depleted, White Denim are sonic adventurers who retain a pop lucidity while busily blowing your mind. There are outrageous Jimmy Page riffs, jazzy codas, bubbly skanks, lo-fi loops; seemingly no rules at all in fact on this restlessly inventive album.The opener 'Radio milk how can you stand it' sets a ferocious tempo of sensationally OTT guitar soloing  and a pummelling rhythm section before flipping the script mid-way through, as they have a tendency to do, to craft something wholly new out of chaos that preceded.  The album remains at this volatile high tempo with 'All Consolation', which is like the distilled climax to some almighty jam, while the rifftastic 'Say What You Want' ends with some kind monster duel between guitar and sitar. By the fourth track, sung in Spanish, it's all getting a bit much, even if the record is barely 10 minutes old, that the comparatively restrained - yet still frankly riotous - 'I Start to Run' is a freshener. Irrestistibly funky, 'I Start to Run' is equal parts White Riot and The White Stripes: shouty vocals, a rollicking, stripped-down rhythm section, and another mid-point parlour trick - this time being a dubby skank pulled out of an apparently invisible Rastafarian hat.The next four tracks seem to come in pairs: 'Sex Prayer' - a jazzy instrumental interwoven with skuzzy lo-fi loops - forms a cauldron of reverb-heavy psych with 'Mirrored and Reverse' , while 'Paint Yourself' ("You're always looking at yourself, deciding what you do not want to see") and the unjustifiably short 'I'd Have it just the way we were' comprise a couple of jaunty, tripped-out ballads. 'Regina holding hands' later resumes this mood before erupting into improbably brilliant power pop, while 'Syncn' ends the album on an impressionistic note: a hushed collage of loops and a fragile falsetto from James Petralli.
Fits
is rousing, riotous stuff!
80%
White Denim on MySpace