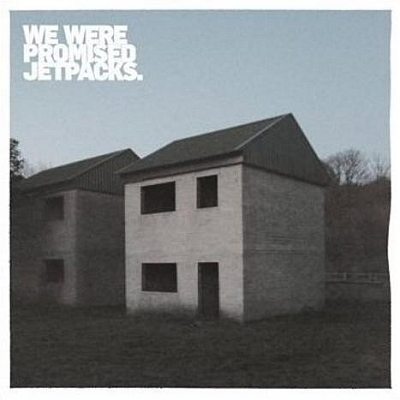 Maybe it's something to do with shadows. Like, living in one. I can't be the only one who struggles to differentiate a Canadian accent from an American one. Do Americans know the difference between a Scottish accent and and English one? I dunno, but it seems that this weird subverted national identity stuff has its upsides: a few years ago, all of Canada seemed to get their shit together and collectively "fuck this" and make some fantastic records, roughly starting with
Funeral
and going through various degrees of awesomeness, and, as evidenced by TLOBF's recent Oh! Canada compilation, they're still going.Sometime recently, a similar thing seemed to happen in Scotland. It's hard to tell quite where it started or when, but in recent times The Twilight Sad and Frightened Rabbit released probably the best albums of 2007 and 2008 respectively, and so far in 2009 Scotland has produced at least three of the year's finest, from Camera Obscura, My Latest Novel, and now,
We Were Promised Jetpacks
.It all comes a little bit out of no-where. It's not exactly a subtle album. Riffs and hooks compete with each other for your attention all over the place, but the goodness is strangely evasive. I think it's because a lot about this album is just so expected: unlike label-mates The Twilight Sad, there's no a great deal of surprise here, even the lyrics at times are predictable (can you guess what lyricist and singer Adam Thompson rhymes "lightning" with?), but to criticise the album for that would be missing the point. Following the rules and sticking to convention doesn't necessitate boredom, and here it definitely doesn't. Despite knowing when the guitarist is gonna step on that effects peddle, when the drums are gonna suddenly kick back in again and breathe new life into a song they were pretending was over even though you KNEW it wasn't over and it was going to start up again, despite anything, you get carried away on the band's undying enthusiasm for what they're doing, for their songs about being young and being in a band and doing crazy shit and playing instruments very very loud and writing eight-minute songs just because they can. If you've ever listened to the Twilight Sad, you'll know that when I say WWPJ are "not quite Twilight Sad", that is far, far away from being an insult.I'm not actually sure how old WWPJ are, but from pictures I've seen, they look to be barely out of school. So imagine if the Twilight Sad weren't writing songs about their childhood and school years, but actually living them, and making that same epic sound, but with all the exuberance of youth. The fact that WWPJ go over the top sometimes, that they seem rough around the edges and naive and do silly things like putting a two-and-a-half minute instrumental inbetween the album's best two songs simply makes them all the more loveable because if this album is about anything it's about the folly of youth and the ambition that characterises it. "You can learn to talk in your own time, you're so young", sings Adam Thompson on the penultimate track. Coming so late in the day it seems like a self-referential nod to the fact that, yeah, maybe we could have done things better. But we're young. We'll learn in our own time. And we'll come back with something even fucking better.
86%
We Were Promised Jetpacks on Myspace