Welcome to the first of a new monthly feature: Wax Wars!
The premise is quite simple. Every four weeks we'll pick one of the choice releases from the past month and throw it out to two of our staff writers who will inevitably have very different opinions about it. Who is right and who is wrong? That's down to you to decide. We've opened up the post for you to have your own say; good , bad or just plain evil? Let us know.
We're kicking things off with two takes on the new album from The Pains Of Being Pure At Heart. Garnering an unwaivering cult following with the release of their self-titled debut back in 2009 (helped massively by a Best New Music award over on Pitchfork), the follow-up album Belong (released this week via Fortuna Pop) has had a somewhat mixed response from the media: Scoring a pitiful 3/10 from the NME whilst Mojo herald it "as an album that stands up to the touchstone indie classics it references".
What do you think? Wax On? Wax Off? Have your say at the bottom of the post.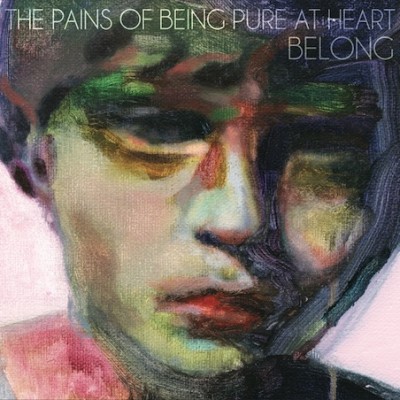 WAX ON / Erik Thompson
Belong, the blissfully fuzzed-out sophomore album from the New York quartet The Pains of Being Pure at Heart, is the type of music you listen to whilst you get drunk and smoke cigarettes in the limo you rented – even though your prom date ditched you at the last minute for another guy. There's an inherent sadness within Kip Berman's easily identifiable outsider lyrics, and when drenched in enormous, shoegazy guitars and the irresistibly catchy choruses featured throughout the record, it becomes a far better time than anything that would have happened at the dance anyway.
The songs here are vividly coloured in a pronounced sense of nostalgia, either for a time when you didn't know any better and still gave your heart away carelessly, or when the rough edges of the world hadn't gotten to you already, turning you into a jaded version of your true self. Whatever the case may be, these simple but indelible songs can surely soothe the sting of a recent heartbreak or a desperate longing to go back to a simpler time, or you could just turn the volume up and dance until your heart is content.
There are distinct hints of Smashing Pumpkins layered within the crunchy guitars of the title track which kicks off the record, which could be laid at the feet of both Flood, who was brought in to produce the record, and Alan Moulder, who mixed it. Both of them clearly put a distinctively seductive, stylish polish on these numbers, immediately making this album feel far more expansive and prodigious sounding than the Pains self-titled record. But these lush songs have an allure all their own, no matter who is manning the dials, and the band easily give themselves up to their explicit influences while crafting their own compelling, modern take on emphatic, brooding twee-pop.
There is more of the Cure in their current sound than there was on their debut (due in no small part to Peggy Wang's keyboards being placed much more prominently in the mix), but rather than hide within the gloomy dark clouds that hung over Robert Smith's tales of woe, there are clearly bright days ahead for the downcast characters in Berman's songs, so that they can at least deal with their angst while driving around the sun-drenched city with the radio turned up. And while their first record was a tentative snapshot of awkward adolescence, Belong finds Berman's characters all a bit older and (some of them, at least) wiser, but still making poor decisions and youthful mistakes based on passion and a desire to be accepted.
After the bombast of the opener, Berman gives a command to anyone unsure of themselves to make the best out of their bad moments: "Come on, nothing's gonna turn us down / So don't stand there like you don't care, cuz heaven's gonna happen now." And that ebullient optimism shades all of these numbers, with Berman prudently identifying with the emotional anguish we're all familiar with, but also providing a spirited alternative to just laying around while wallowing in our own sorrow. As he sings on 'The Body,' "Won't you come out tonight, like I know you want to, cuz the city's alive and even though it haunts you, I want you." And you'd be a fool to turn him down, because the unpredictable promise of the bustling metropolis is always going to be more fun than staying home with a broken heart.
The Pains don't attempt to be overly profound or pretend to be pioneering on Belong (their influences are easy to spot, and the band never tries to hide them), they just seem intent on keeping their melodies soaring to offset their frequently crestfallen subject matter, all while creating relatable songs that can hopefully transport the listener away from a bad situation. Lead single 'Heart In Your Heartbreak,' 'Even In Dreams,' and 'Too Tough,' are just massive, majestic tracks that take flight whether you identify with their message or not. The striking, stellar hooks are consistently enormous throughout the entire album, with palatial, swelling choruses featured on each track. And the moment you decide to give in and start singing along to these infectious numbers the unshakable melancholy you might have been feeling will undoubtedly start to fade away.
The Pains of Being Pure At Heart – Belong by Slumberland Records
WAX OFF /John Calvert
What fresh-smelling hell is this? Keeping the revolution alive with a pioneering composite of twee, shoegaze, and dreampop. According to The Pains Of Being Pure At Heart being a teenager was about as precarious, emotional, ugly, squalid, frightening, breathless, exhilarating, stimulated, dark, or indeed fun as watching an advert about being a teenager in an Urban Outfitters. Instead of an erudite boho romance – as is tortuously obvious was their intention – the New Yorkers' second effort compares to drinking a light beer in a Times Square sports bar, while some eyebrow-deficient vegan tells you look young for 27, so you can sell you the beige cargo pants you saw Dennis Hopper wearing in a Gap advert in 1998. Some lobster-gourging baby-boomer's idea of young people's music, Belong's heartless, over-perfumed, Nuke-town version of alt-rock is exactly what Poly Styrene warned was the fate of the teenager archetype at the hands of the company men. Well these germ-free pseudo-adolescents fucking stink.
An embarrassment to their city's lineage and a characterless insult to their ancestors in twee, TPOBPAH are the txt spk, Rudy Giuliani-on TRL, commodified L.E.S, Bowling For Soup of Anglophiles. After sucking all the idiosyncrasy, poignancy and sincerity from the Smashing Pumpkins in the first couple of tracks, in the ensuing set TPOBPAH deploy six or seven driving variants on the same lie that populated their debut. Correct me if Im wrong but it was 'If You're Feeling Sinister' not 'If you're feeling retail-fabulous'.
They're pretty the same the way a Mallorcan swimming pool is, but with a big shit hiding below the too-blue water. If Belong is all about nostalgic memory why then does it play like a looping video-ad toggling in a realtime cycle of constant numbing future. And wasn't the point of twee a sensation of textured feeling and antiquarian authenticity, and when's the last time you were charmed by someone talking amongst their friends with the odd glance towards the cheap seats to see if you're jealous? As romantic as a burst colostomy bag, Belong takes Belle and Sebastian's aching little secrets and with all the love and affection of a baby-seal poacher strings them up in a stiff bind of plastic stadium twee and dimly felt posturing, before dropping a 5-tonne billboard sign for Skechers retro-range on your memory of that one perfect day out of four years of late adolescence you hold the dearest.
Saying its' a little bit insubstantial is like saying Robert Mugabe is a little bit evil. In the mind's eye we see a Jared Hess film. A preciously detached, one-note, inert and vapid cypher totally enamoured with its own misguided sense of quirky cool. Behind the wasp-waisted pouting TPOBPAH are toasting to the awesomeness of being TPOBPAH, have no illusions. Along with a tangible slump in song-craft – even when compared to the paltry standard set on their debut – Belong trades in the very laziest interpretation of a wholly bankrupt sound which never seems to lie down and die, spanning M83, Asobi Seksu, Maps, Chairlift, ad nauseam. Lugging around the same old Spectorish cliches and trebly notes, held over swooning bass melodies, banal major chords and soaring synths, as the record continues the more melodramatically frenzied they become, the less convincing their premeditated attempt at hormonal eternity seems.
And have you heard about the lyrics dice? The lyrics dice has words on its sides instead of numbers. The words are 'heart', 'tear', 'heart', 'feel', 'never', 'always', 'her', 'me', 'sun faded paperback copy of The Trial', 'Jules et Jim' and 'baby' (its an 11 sided dice, ok). They roll the lyrics dice on a big annoying monopoly board inscribed post-modern in trendy helvetica. They look on in the vein hope they'll land something even a fraction as bitter-sweet and poetically layered as the Pumpkins "Shakedown 1979 / cool kids never have the time" - Not in their wildest ironic dreams. Kip Berman's stab at profundity amounts to cloyingly self-conscious, essentially self-congratulatory howlers like this from new-wave personality-blank 'My Terrible Friend': "Every one is pretty and fun, everyone is lovely and young, everyone is gentle and gone, but everyone is just everyone" And the say originality is dead? We get it Kip, you guys are heroin-skinny and blissfully unadulterated. Groan. The Perks Of Being A Wallflower say no more about being young than a hipstamatic shot of David Cameron in a trucker hat. Perhaps you think we're taking this album too seriously? Well it's not half as serious as they'd like us to take it.
Here's a thought, TPOBPAH. Why not turn your iPhones off, move to Alaska and think hard about making something that applies outside your circle of back-patting Starbucks dilettantes. And mean it this time. Or better yet, stop tricking lonely kids into thinking your designer Alt is where they'll feel like they'll 'belong'.