Although the story of Virgin Records has little in common overall with that of, say, Rough Trade or Creation (in that it was sold to EMI in 1992 and is now a thoroughly major imprint responsible for nine UK number one singles so far this decade), it starts in a roughly similar place; an ambitious man with at the time more ideas and go-getting spirit than money finding and commanding a set of outsiders with ideals and a loose plan. As Virgin celebrates its fortieth anniversary, they're marking the journey with a set of thematic compilations, five volumes amounting to three discs apiece and a total of 200 tracks. Let's take all of them individually, both as review and as a narrative within which to chart the ebb and flow as the launchpad for Branson's infamy and global reach, how the Virgin branding got to become such a behemoth having taken quite the scenic route.
Losing Our Virginity: The First Four Years '73-'77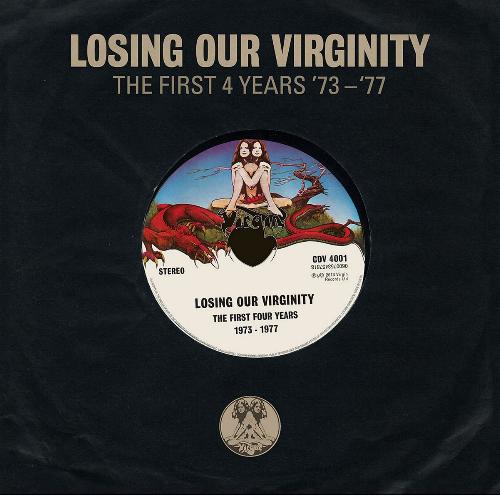 It essentially starts above a shoe shop in Notting Hill Gate. Richard Branson and Nik Powell started their Virgin Records And Tapes outlet – the name suggested by a friend as everyone concerned was new to business – as a mail order concern bragging they could obtain any album for the customer. In 1971, partly to counteract a downturn in business due to a postal strike, a premises was opened. Business soon grew to other cities, the shops specialising in prog and Krautrock imports and offering free vegetarian food to complement the hippy clientele who made it a common hangout.
It was that tuned-in sector that was in mind when Branson and Powell opened a record company arm under the Virgin umbrella, alongside producer Tom Newman and A&R man Simon Draper, and for their first trick released three albums on the same day in May 1973. The Faust Tapes, a compilation of the German band's private recordings, was issued for the price of a single and sold enough to reach the top 20 before being disqualified on price grounds – their representative track here, "Krautrock'", actually came out later in the year and mockingly named itself after the tag the NME had given the whole country's scene, but its near twelve minute electronic ambience of undulating rhythms, ebbing drones and ultrasonic flow defined a whole strata of kosmiche explorations. Gong, meanwhile, were acid stewed jazz-prog nuts, their Flying Teapot album listing members called The Good Witch Yoni, The Good Count Bloomdido Bad De Grass and Rachid Whoarewe The Treeclimber (credited, obviously, with playing 'congox') "The Pot Head Pixies", resembling a sax-toting sensory deprived take on Syd Barrett era Pink Floyd, doesn't contravene the Trades Descriptions Act with its title.
It was the third candidate that ensured the label wasn't just going to be for what used to be called 'heads', though. An ambient New Age suite recorded almost solo by a nineteen year old at The Manor Studio, the residential studios (the first of their kind in the UK) Branson had set up before launching the label, with one track per side and inspired by Terry Riley's minimalism and Keith Tippett's exploratory jazz instrumentals doesn't sound like something that would shift more than 2.6m copies in Britain alone and become one of the most famous introductory passages in modern music. Tubular Bells is represented by a thirteen minute edit – CD 1 track 1, obviously – that unfortunately loses Vivian Stanshall's narration but otherwise moves relatively serenely through passages, from symphonic ambience to spare acoustic workouts, keeping both that signature melody and an indication of how odd this shifting, complex work still seems.
Tubular Bells didn't actually make it to number one for nearly a year and a half after release – in fact it ended up deposing its own follow-up Hergest Ridge – by which time Robert Wyatt's barrel rolling take on "I'm A Believer", featuring Nick Mason of Pink Floyd on drums and production, had given the label a surprise proper singles chart hit in September 1974. Neither of those breakthroughs really swayed the label much from its cosmic adventurer path, meaning its early output was most often a case of throwing straws in the air, possibly in several movements and in odd timings. The occasional import, not least a long association with Captain Beefheart and Can's attempt from 1975 to achieve a level of commerciality (oddly partly through their version of "Silent Night"), sneaks in but for the most part the representatives here are of an often eccentric and usually very British bent.
Of course there's plenty that doesn't work – step forward Steve York's Camelo Pardalis, a jazz all-star outfit as unwieldy as their name – and more than enough unnecessarily complex prog in its various forms, usually featuring Steve Hillage on guitar, but alongside those lie Kevin Coyne's Van Morrison-esque, right down to the voice, take on eccentric folk-blues boogie, David Bedford's Oldfield-aided outer space orchestrations and the pleasingly peculiar individual worldview poetry of Ivor Cutler. Meanwhile "Let's Eat (Real Soon)" by Hatfield And The North, psych-proggers from the Canterbury scene that launched Wyatt and Kevin Ayers, sounds guitar solo aside a lot like Gorky's Zygotic Mynci a decade or more ahead of time. Even more outre is the single contribution from the collaborative album between Henry Cow and Slapp Happy, whose carnival avant-rock makes Gong sound like Art Garfunkel, but a more reliable signpost ahead while still ploughing their own furrow were those making shapes with primitive synths. Edgar Froese of Tangerine Dream's "Epsilon In Malaysian Pale" sketched out a tropical haze with Mellotron while the shivering synth tones of White Noise, David Vorhaus' early experimental electronic project, sounded like nothing else not coming from the BBC Radiophonic Workshop, whose pioneering composer Delia Derbyshire was an early collaborator on the project.
Electronic music would return to the roster in due course; in the meantime it was 1977 and, like most of the London underground scene, Virgin were having an epiphany.