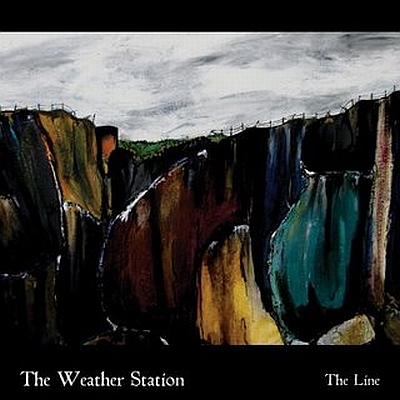 The Weather Station
started off life as a solo project of some time
Bruce Peninsula
choir member Tamara Lindeman. In response to a personal loss, Lindeman took up her flatmates instruments and began to play out her sorrows. Learning as she went, she recorded her songs on a cheap laptop in bedrooms and livingrooms around Toronto with various friends assisting when and where they could. Recorded over a period of 4 years,
The Line
is a project of a deeply personal nature: an overt expression of one persons despair. Yet somehow Lindeman manages to take the individual elements of her personal loss and make them feel somehow universal. Little wonder then that she has picked up more than a few comparisons with fellow love-lorn soul Justin "Bon Iver" Vernon. Opener 'Waltz' begins with a minimal plucked banjo and showcases Lindeman's delicate, emotion soaked voice intoning tales of being welcomed in to a family. The way in which the record is recorded lends a rawness to it; a sparseness that only serves to enhance the emotional subject matter. Skeletal reverb is abound and accompaniment often drones and distorts as if it is at the point of breaking. Mostly built up around Lindeman's voice and banjo, members of her band add timely instrumentation to embellish the core sounds, be it ragged cello and violin on the beautiful 'Can't Know', drones and handclaps on the sinister twisted folk 'March' or ultra distorted guitars and trombone on 'Rind'. 'Coming in to Town' builds haunting harmonies around a reverb laden guitar and melodica line to creating a chilling sound, while 'Amaranth' uses found sounds and droning strings to enhance the urgent feeling of the mostly instrumental piece, with only a low moan in place of vocals.While the arrangements on
The Line
appear to be minimal, in fact Lindeman frequently adds 30 to 40 tracks of "random embellishment" to add colour and feeling to her songs. As well as incorporating deliberate found sounds, creaking pianos and chopping scissors, the album also features the low, sinister hum of what Lindeman describes as "the secret language of printers and florescent lights". On
The Line
, The Weather Station manage to combine traditional folk and americana sounds with these more modern and improvisational textures without diluting either.With hypnotic arrangements and Lindeman's haunting yet vulnerable dark folk melodies
The Line
showcases a serious talent emerging. It is an emotionally honest and frank collection of songs that deal openly with grief, anger, loss and regret, providing an intense listening experience that may well leave those that hear it with a prevailing sense of unease. The knowledge that it was only her loss that made her pick up an instrument and begin to play makes the accomplished nature of the record all the more remarkable. While It may not be the most uplifting debut record you hear this year, it will certainly be one of the best.
88%
You can download The Weather Station's song 'Coming in to town' on TLOBF's "Oh! Canada Volume 1" Compilation