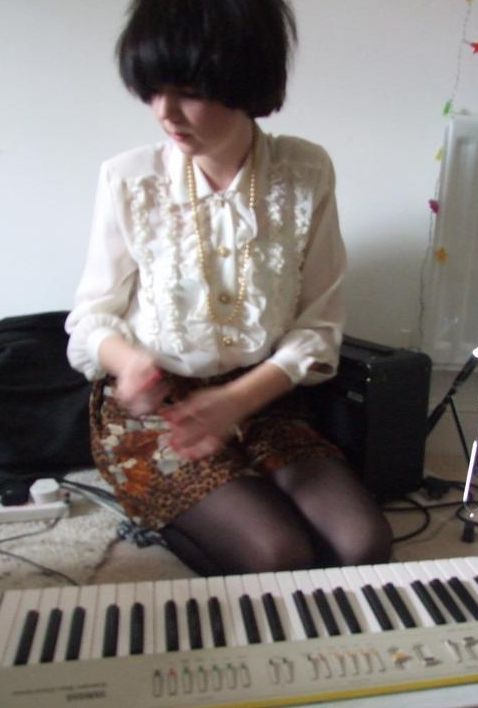 Let's get this out of the way before anything: Sarah McIntosh is 17 years old. Now of course that brings to mind some pimply bad memories. The conundrum in reviewing a young person's album is that you know what you were capable of when you were at this age - not too much. I was lucky if I wore matching socks let alone make an EP that's spreading like a small brush fire in the UK blog circuit. So before you take the perfunctory Web 2.0 route and skip to the bottom of the page to read the rating (ahh don't do it!), please read my lips, à la George Bush Sr: "The Good Natured is a work in progress."The
Newbury
wunderkind wears her electronic influences like a awkward carpet instead of a sleek dress. You can hear The Postal Service indietronica mopiness on "Rose" and the dancey hop of 'Warriors.' Her voice will immediately perk the ears of
Kate Nash/Adele/Lilly Allen fans,
but her vocal range is less warrior-like and more grounded. The three-note range continues on the punch-upped Gary Numan synth-lines of 'Ivory Tower.'Â The chip-tune set will fall in love with this stuff but the lyrics are dedicedly flat:"but please hold me close."
Warriors
is pleasant like its creator's namesake so you can't fault it too much for getting the lithe piano lines of 'Rose' right. "Heart of Stone" is Ladytron without the bitterness of age and possibly that's where my disconnect with the material lies. This is music tailormade for the locker roooms and chat rooms after school. A full album from McIntosh may reveal a deeper lyrical intent but as
Warriors
stands now, it remains a piece of music in tired retrograde."Warriors" is another offender on this EP's four tracks. It plunks along in a vacuum. The springy bassline and organ lines puff into the air. Don't even get me started on the electronic drums. Despite this being the EP's best track it grows tedious before it ends. McinTosh repeats the phrase:"I'm crying out/I'm crying out/in the middle of the night/where are you now" and the drama in her voice is quite limp.With the slapdash production of a bedroom project many will invariably sing the praises of this overtly cute project that married a salvaged keyboard with a cute Newbury lass, but you have to cry bullocks! (even in print that looks funny to these Amercian eyes). Nothing is funny about people past the age of 18 prancing around to this.
47%
The Good Natured on MySpace