Two of The Beach Boys' most endearing albums get a worthwhile deluxe expansion
"Feel Flows: The Sunflower and Surf's Up Sessions 1969 - 1971"
Release date: 27 August 2021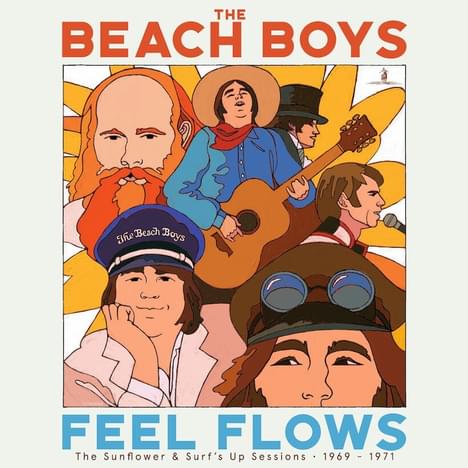 The Beach Boys
are one of the best, and one of the most fascinating bands of the rock and roll era. Even just a skim of the surface of their strange brew will reveal tales of mental illness, hideous family rivalries, extensive and debilitating drug abuse, early deaths and crippling misuse of money and time. Thankfully, what it will also reveal is a catalogue of some of the finest pieces of music ever written down, and some of the most endearing characters to ever find themselves woven into the tapestry of modern popular music.
Aside from all of this, The Beach Boys catalogue has long been in a state of disarray, with numerous bootlegs, rights issues and unauthorized releases. However, starting in 2012, with the EU Copyright Law extension (from 50 to 70 years), a steady stream of fantastic deep catalogue reissues have hit the market – all with the express intention of renewing the copyright on many of The Beach Boys' finest compositions from their earliest demos, to the sought-after Smile Sessions, to a wonderfully remastered Wild Honey.
Much like Bob Dylan's archival Bootleg Series releases, Feel Flows is available as large deluxe packages (5CD and 4LP), and smaller compilation sets (2CD and 2LP). All editions feature, at their heart, remastered editions of The Beach Boys' legendary albums Sunflower (1970) and Surf's Up (1971), with a host of outtakes and new remixes and unreleased material to add some context and deeper learning to the listening experience, along with some photos and essays from band members and their associates. For new listeners, the condensed versions are more than enough to get a grip on just how fantastic this era was for the band, and should help shine a light on albums other than Pet Sounds.
Sunflower was the first album where the band as a collective relieved Brian Wilson of the burden of all of the writing, with the whole group helping to shape the overall appeal and aesthetic of the record. Sunflower is, without a doubt, the first album that really allows Dennis Wilson to shine, and features four of his compositions, which stand as a testament to the enduring appeal of his often dreamy and spiritual songwriting (a reputation he'd later go on to cement on his 1977 classic solo album Pacific Ocean Blue).
Surf's Up, which had a much more difficult journey to the shelves, due in no small part to Brian Wilson being almost completely absent from the production, has remarkably grown in critical and fan appeal over the years. Now widely regarded as one of their strongest efforts, the album allowed Carl Wilson to step into the role of band leader, which was a position he held for the most part until the mid '70s. Under Carl's stewardship, the band released some of their finest material, and that is highlighted by the strength of the bonus material presented in this release.
The bonus tracks that come from the Sunflower era are unusually strong. Almost all of the leftovers are great, most notably "Good Time", "Celebrate the News", a new arrangement of Lead Belly's "Cottonfields", a thrilling live take of "Riot in Cell Block 9" (which serves a rehearsal for its appearance on Surf's Up), and an alternate version of "Add Some Music To Your Day". There are also many, many superb Surf's Up-era outtakes – including an early version of "Big Sur", and a pair of Dennis Wilson classics in "Sound of Free" and an extended "Lady". Wonderful, wonderful stuff throughout.
So why not a perfect score? The bonus material is great, and Sunflower and Surf's Up are two of the most endearing, most beloved records to spring from that era, but lumping them in together seems like a wasted opportunity. Why not release each album as a deluxe edition with a whole disc of bonus material, and afford each of the albums the focus they deserve? You would never find the sessions for, say, Abbey Road and Let It Be released as a single box set, so to bundle up these two individual masterpieces seems like a shame. That said, every single edition of this release is great value for money, and long-term and new fans alike will find hours of listening pleasure to be had no matter their budget.
Get the Best Fit take on the week in music direct to your inbox every Friday