Fast forward two decades, and you skim past tanks, a Parliamentary commendation, ultra-profane hit singles, and some of the strangest pop music ever to grace the charts. Super Furry world is a weird place, and the gift of hindsight simply tells us that the Welsh quintet were simply inviting us in the easy way.
It also doesn't take much scratching at the surface of Fuzzy Logic to realise how insidiously bizarre it is. After the sensory assault of "God! Show Me Magic", a two-minute junk-shop glam rampage, you're thrust into 40 minutes of songs about hamsters, unicorns, druglords and weather reporters. There are musical nods to Ennio Morricone, Neil Young and The Stooges - far from the usual realm of names dropped at the height of Cool Britannia; the closest Fuzzy Logic veers towards the zeitgeist is with a guest appearance from then-up-and-coming actor Rhys Ifans, by way of a giggly ansafone message.
Former Flaming Lip (and current Gruff Rhys drummer) Kliph Spurlock's new remaster adds some clarity to an album that always lived up to its name, but the real revelation comes with the scattered "b-sides and such" tagged on to the end of the first disc. While many found a home on 1998's peerless Out Spaced, it's still interesting to imagine what Fuzzy Logic could have been with a couple of substitutions.
A panicked ode to insomnia and avocados, "Guacamole" is the batshit choogling of "God! Show Me Magic" cubed, and the bouncy "Death by Melody" is graced with punchy horns, coming on like Brian Wilson trying his hand at blue-eyed soul. Best of the bunch, as it was on Out Spaced, is "Arnofio/Glô in the Dark"; an elaborately-arranged signpost for the records which followed, it swoops from a claustrophobic keyboard intro to a crunchy punk rock finale, graced with one of Gruff Rhys's most indelible melodies.
As with any reissue, the accompanying bonus disc of demos are a mixed bag; mainly straightforward runs of album tracks are interspersed with some genuinely interesting alternative takes of familiar material. A slowed-down recording of "Frisbee" sounds like Oasis gone ska, while the Llaefaelog demo of "If You Don't Want to Destroy You" subs in a brand new (albeit inferior) chorus about "surfing upon your microwaves", and a charming whistling solo where there would later be stirring strings.
Most fascinating of all is the embryonic version of "The Man Don't Give A Fuck", which veers between its 70s Beach Boys pastiche verses and neverending synthspaz mindfuck of a chorus, Steely Dan sample intact. The bells and whistles of the single version (found amongst the b-sides and such) are missing in action, with the first stirrings of the band's freakier leanings sound almost uncertain, as if they could see the great unknown before them, but were a little too scared to actually dive in.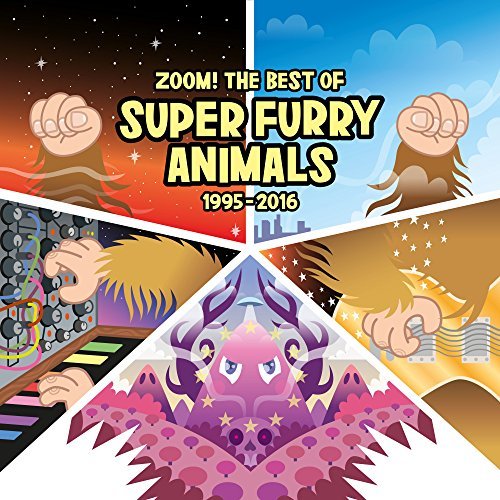 With a few more albums to play with than 2004's Songbook - a straightforward collection of the singles to date - the two discs of Zoom! take a few more liberties with the history of Super Furry Animals. All the singles are present and correct, but it's the strays which are the most rewarding. 1999's stunning slice of psych rock, "Citizen's Band", is finally released in a format which doesn't involve numbing your index finger on the rewind button when your copy of "Guerrilla" is in the player, while once-unheralded b-sides like "Patience" and fan-favourite deep cuts "Receptacle for the Respectable" and "Run! Christian, Run!" (both from 2001's maximalist masterpiece Rings Around the World) are finally getting a wider due.
The closest thing to disappointment is how (relatively) unrepresented the band's later period is, starting with 2005's Love Kraft - sure its opening track gives the compilation its title, but only showcasing that and its sultry single "Lazer Beam" is hardly a way to shine light on one of the band's more unjustly ignored LPs. Their final album (to date) Dark Days/Light Years may have been difficult work, but its status as the freakiest Super Furries album is given a similarly short shrift. Then again, it's hard to complain about an opportunity to hear its dayglo Krautpop single "Inaugural Trams", complete with a German rap from Franz Ferdinand's Nick McCarthy.
Timeless, restless and fearless (well, once they got that pesky debut out of the way), Zoom! is a testament to just how much great music the Super Furry Animals had in them, with Fuzzy Logic giving some idea as to how they got there. They may have started out lost on the bypass road, but for twenty years, it's been a thrill to follow them along that path.