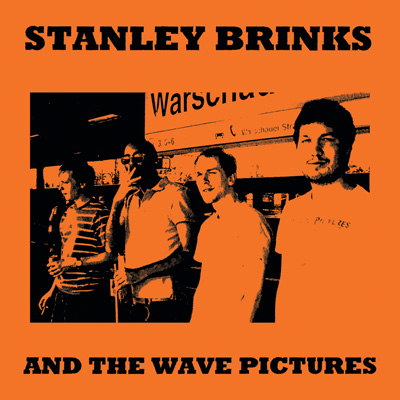 Album-length collaborations between two established artists are always risky business; for every seemingly-soulless money-grabber (quit trying to hide, Jay-Z and Linkin Park. You know what you did was wrong...), there's a genuinely captivating artistic endeavour – step forward, The Pastels and Tenniscoats.So when two big names on the indiepop scene – Stanley Brinks, formerly leading man of
Herman Dune
, and The Wave Pictures, Bethnal Green's answer to The Modern Lovers – announced the release of their first formal collaboration, following Streets of Philadelphia, a gig-only CD-R, fans of both artists would be right to be as worried as they are excited. That CD-R was a lo-fi delight, with cutesy low-key ballads and pop classics, as well as its perfectly-executed eponymous Springsteen cover. Unfortunately, its ostensible follow-up,
Stanley Brinks and The Wave Pictures
is as uninspired and overlong as its title, with little sign of the breezy poptimism that littered the bands' previous material.It opens well enough with 'Hi, Jane', an endearingly breezy acoustic jaunt in the classic-sounding Wave Pictures mould; boasting a set of lyrics that are as lovelorn as they are cheeky ("I had idols at the time – it may sound funny to you, but I wanted to be like Bono from U2..."), the album's most addictive melody and an amusing litany of words that rhyme with "Jane". It should set the tone for the rest of the album at large, but sadly, it's followed by a collection of lumberingly unmemorable minor-key plodders.Too much of the album allows David "Axeman" Tattersall to indulge in the kind of fretwanking he usually reserves for his band's live shows, and the songs themselves just don't stand up over repeated listens. 'End of the World' steals blindly from Violent Femmes' 'Country Death Song', save any sense of dynamics or drama, while 'Keep Your Head High' would be fantastic, were it at least twice as fast. Even when the Wave Pictures used to diverge into miserabilia, there's enough emotion in Tattersall's delivery and wit in his lyrics (check 2006's 'When I Leave You for Somebody Else' for proof) for it to be palatable. Brinks doesn't quite manage this, instead singing with the kind of idle conviction of someone reading a magazine in a GP's waiting room. The only other exception is the Buddy Holly-flecked 'Why the Martians Are Gone', which casts Wave Pictures bassist Franic (who puts even less effort into his vocals than Brinks) as a disgruntled extra-terrestrial, working his way across the globe looking for "a good country for war."Overall, ST/WPs (as it's likely to be referred to by no one) is a major disappointment; its release now, two years after it was recorded, confuses both artists' chronologies – especially frustrating for those Wave Pictures fans waiting for a return to form after last year's overlooked
If You Leave It Alone
– and should have really been left as a tour release curiosity. As it is, it's yet another unnecessary addition to both bands' rapidly-expanding catalogues, and one further case for bands keeping their art to themselves.