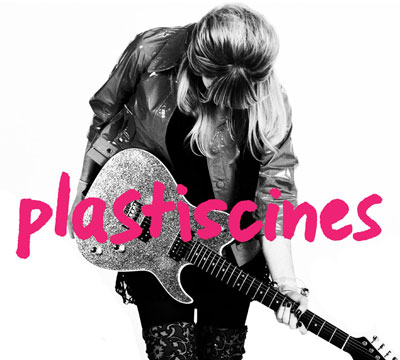 The
Plasticines
are really quite cool. At least, that's what their second album,
About Love
, seems intent on making us believe. The French quartet, who formed in 2004 at a Libertines gig in Paris, do seem to have a lot going for them. Unsettlingly young, glamorously attractive and full of joie de vivre, they have furrow the simplistic, less is more rock path effectively, riding the new wave revival with a certain unique Franco-allure.However, the majority of
About Love
is, at worst, derivative and at best a well-meaning homage to those they admire. The simple riffs and straightforward rhythms of 'I Could Rob You' are catchy enough and there are Le Tigre-like girl-gang vocals sprinkled around the tracks to add a little something different. 'Barcelona' exemplifies the smooth, sensual vocal technique, with counter harmonies galore. The accent-laden English- allegedly used to remain in keeping with 'the language of rock and roll'- feels forced at times, native tongued songs such as 'Camera' sounding less timid but in short supply. 'I Am Down' is quiet relief, as is the bluesiness of 'Coney Island', but both seem to stick out from the 'candy punk' package as a whole, unsure where they fit in. 'From Friends To Lovers', though, could have been a Libertines B-Side, and 'Time To Leave', 'Another Kiss' and 'You're No Good' become potentially interchangeable as the listen count rises. 'Bitch' has nigh eyebrow raising lyrical moments ("I'm a bitch when I brush my teeth, I'm a bitch walking down the street"), feeling like contrived posturing and pushing for pin-up/sex symbol status which others- Patti Smith, Alisson Mosshart, Vivian Girls- achieve through their lack of trying, more than anything else. Add to that the fact that, on closer inspection, credits include Butch Walker- producer of Avril Lavigne,
Katy Perry
and Pink-, you begin to wonder whether everything is quite as grunge as it seems.Although the record does, at times, sound like a pastiche of influences- The Strokes, early White Stripes- the songs are not absolute carbon copies, and their feminine embellishments do make a difference. Knowing just where to add a hook is obviously not a problem for the femmes and the record never scampers into offensive territory. Yet, it rarely steps towards anything terribly innovative or likely to demand a repeat listen either. Somewhere out there, it seems doubtful that Corin Tucker or PJ Harvey are shaking in their boots.
Buy the album on Amazon | [itunes link="http://itunes.apple.com/gb/album/bitch/id343352279?uo=4" title="Plastiscines-About_Love_(Album)" text="iTunes"]