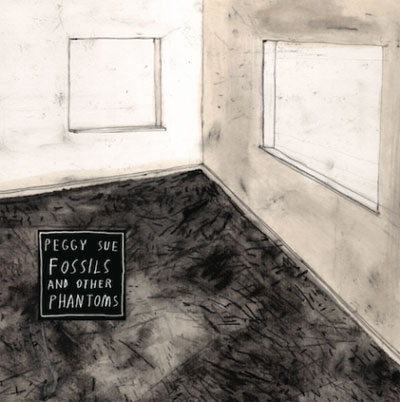 As far as genres go, folk has a pretty large lineage to follow. At times, it's felt as if it's been haunted by its past rather than helped by it, but the last decade or so has shown that a new generation are more than happy to redefine the boundaries of such a traditional form of music. M. Ward's solo work has proved that it needn't be boring, Mumford & Sons have courted chart success by similar means, whilst Laura Marling's second effort has retreated further into traditional territory to critical acclaim.The ghosts that
Peggy Sue
are wrestling are of a far more personal nature, however.
Fossils & Other Phantoms
is 45 minutes of heartache, betrayal and hurt unashamedly commited to record. Above anything, it's the personality at the core of each song that keeps them constantly engaging. This couldn't be further from the bland platitudes that such albums can often turn into. Just as Brand New's Jesse Lacey used to have the ability to craft some of the most brilliantly spiteful lines,
Peggy Sue
's debut is laden with songs to make any scorned lover yearn for the arms of their former beau, whilst discussing all the shades of grey that trouble any relationship. 'Careless Talk' discusses awkward silences and ambiguous conversations whilst recent single 'Watchman' treads in the waters of unrequited love, but final track 'Shape We Made' is possibly the most poignant, dwelling on the symbolic and physical repercussions of the great unreported tragedy in any break-up, spooning.The wonderful thing is that, despite its often heartbreaking contents, it's still overwhelmingly beautiful on the ear. The soaring vocals provided by Katy and Rosa are the steady foundations upon which the entire sound is built. Each song is layered in harmonies and interplay, certainly more than any other contemporary band and surpassing most musical soundtracks as well. Their voices definitely are, in television talent show parlance, an instrument, and the album seeks to showcase that. Though a line-up change may have gifted them with a talented drummer that managed to completely shift the sonic focus of the band, the snares, ukuleles and guitars are still secondary attractions, rhythm to the magnificence of two sirens, yelping, humming and singing in a way that felt forgotten.The maturity on show here completely belies the fact that this is only their first full length. In an industry obsessed with boom and bust, so completely prepared to put all their eggs in one fad basket, it's a surprise that a band with such obvious talent has taken 4 years to reach this stage of their career. Either way, following two name changes, countless gigs and a seemingly endless array of downloads, singles and EPs littered through their past, Peggy Sue have put a few ghosts to rest with
Fossils & Other Phantoms
, and emphatically so.