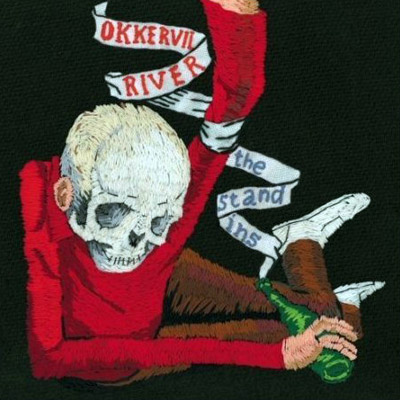 This follow-up and/or sequel to 2007's
The Stage Names
, sees Will Sheff and co continuing their depiction of the life, loves and general mores of a set of musicians and their adherents and hangers-on that one suspects are not a million miles removed from their actual selves.This is the kind of detailed and intelligent lyrical fare that you would expect from this band. Leaving aside the three very brief instrumental interludes 'Stand Ins, One', 'Stand Ins, Two' and 'Stand Ins, Three' - largely superfluous although I guess lending a certain cinematic feel to the overall flow of the album - the themes that they pick to sing about are less remarkable than the perspective, depth and intelligence with which they are depicted.So, for example, 'On Tour With Zykos' sings of a singer's brief fling (standard rock band subject matter), but tells it from the first-person perspective of the woman. In this light it becomes a sensitive portrait of the aftermath, with the protagonist, angry but sad, singing
"Take your shirt, take your clothes and get out of my home / Well I want you to love me, or I want you long gone
". 'Lost Coastlines', to a perky 'Can't Hurry Love' rhythm, uses travel and exploration as a metaphor for life on the road, and is notable (along with other tracks including 'Starry Stairs' and Pop Lie') for the pleasing and clever structure of the rhymes:
"Is that marionette / Real enough yet / To step off of that set?"
. See also the enjoyable 'Pop Lie' (perhaps the cynical companion piece to 'Kicks' from
The Stage Names
?), which also uses word-repetition ("
The liar who lied in his pop song / And you're lying when you sing along
") and onomatopoeia (
"In the food court the float's inflated"
) to similarly effective ends.'On Tour With Zykos' is not the only track that shows an impressive empathy with a female perspective from this all-male band. 'Starry Stairs' is again sung from the woman's point of view (is she a model, or perhaps a porn star?), and imagines her imagining her male audience:
"All these guys / All these curious sets of eyes / Safe behind the TV screen / I let them pry / Pick apart and hang up to dry / Almost every piece of me
". This is a risky thing to essay, but Sheff succeeds without resorting to stereotype or condescension. His obvious understanding of and affection for women shines through in 'Calling And Not Calling My Ex' - my favourite track on the album - where he sings regretfully, but still with love and pride of an ex girlfriend who has gone on to great success in her modelling career. Towards the end of the song he sings
"You're so lovely / You're so smart / So go turn their heads, go knock them dead, go break their hearts"
, clearly still carrying a torch of Olympic proportions.Other highlights include 'Singer Songwriter', an enjoyably venomous, if confusing, diatribe aimed at, well... at who, indeed? Is this Sheff directing all that rancour at a friend/acquaintance who has had a gilded life of affluence and influence, or is it, in fact, autobiographical? I think it can be interpreted both ways, but this ambivalence just makes it all the more intriguing, and I like the way that the band play with identities like this, forcing you to really think quite hard about what they are trying to say, and why.Musically I enjoyed the more upbeat tracks best, and also liked the fact that "upbeat musically" didn't necessarily equate to "upbeat lyrically". Cheerful brass is used on the perky 'Lost Coastlines', the more tortured-sounding 'Starry Stairs'
and
the melancholy 'On Tour With Zykos', and the standard armory of countrified sounding banjos etc are dotted throughout the album. Sheff's vocal is least enjoyable on the slower tracks - mainly 'Blue Tulip' and 'Bruce Wayne Campbell Interviewed On The Roof Of The Chelsea Hotel 1979'.This is an album that you can practically
read
as much as listen to. Its lyrical
and
emotional literacy feed the head as well as the heart, and that's a pretty pleasing statement to be able to make about a piece of music. I recommend it.
83%
mp3:>
Okkervil River: 'Lost Coastlines'
Okkervil River on MySpace