Lovely Creatures is a superlative overview of the first 30 years of Nick Cave & The Bad Seeds
"Lovely Creatures: The Best of Nick Cave & The Bad Seeds 1984 – 2014"
Release date: 05 May 2017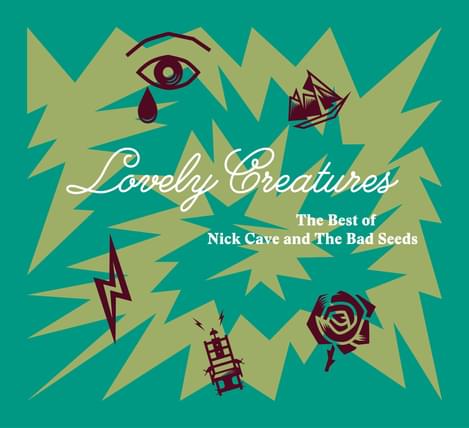 It's hard to think of an artist less likely to be elevated into a universally recognised master songwriter, if not an actual living legend than Nick Cave at the early stages of his musical odyssey.
Captured live in the US, a 1984 live clip of "From Her to Eternity" (title track of Cave's first album following the messy collapse of his first notable band, the toxically addled swamp-blues merchants The Birthday Party) included on the bonus DVD included with the deluxe edition of Lovely Creatures: The Best of Nick Cave & The Bad Seeds 1984 – 2014 finds the first incarnation of The Bad Seeds churn violently through the song's slabs of angular, jagged noise, looking like not a single one of them has seen daylight for the better part of the century. Filmed at the same show, a ragged but intense rendition of the Elvis evergreen "In The Ghetto" finds Cave holler his way through the song's tragic tale in gutted tones that suggest he might just be the tune's angry young man shot down in the street, returned to (half)life to tell the cautionary tale of how his young life was snubbed out.

Just-about controlled chaos, acute aversion to soothing melodies, enough darkness, pestilence and blood to sustain several of the most vengeful chapters of the Old Testament, extremely unwise lifestyle choices: these are the makings of brief and unsteady musical careers, celebrated by the few who dared to venture past the forbidding presentation during the act's inevitably brief existence whilst roundly ignored by what we might describe as the mainstream. Rather than becoming a cult concern with a short life-span, their few scrappy recordings revered in hushed tones by those in the know forevermore, however, Nick Cave & The Bad Seeds are not just still with us 30-odd years later, their profile loftier than ever; it could be argued they are more vital, creatively fertile and prone to uncommonly engaging experimentation than ever.

Lovely Creatures does an outstanding job in charting how this remarkable band managed to trek from those unpromising beginnings to their ongoing prominence. As these sort of undertakings from veteran acts tend to do, the compilation comes in different formats: a 2-CD mix offers 22 career highpoints for newcomers, whilst a 45-song, chronologically advancing 3-CD edition offers a bonus DVD with over two hours of live performances and interview snippets, including those early live clips from '84. This expanded edition does the ideal job in presenting the full scale of the ongoing evolution that has enabled Nick Cave & The Bad Seeds to become an integral feature of the musically ambitious, artistically restless rock 'n' roll realm: equally indebted to decidedly literary songwriting sages such as Leonard Cohen and Bob Dylan and the grunting, monosyllabic raw power of the Stooges, just as likely to float in the love-sick loneliness of a Neil Young ballad as they are to go off like a neutron bomb in search of the ultimate scorched-earth crescendo.

It's extremely rare for these type of retrospectives from acts who have been around for decades to leave the listener with the impression that the act in question is in the middle of a major artistic rejuvenation. That's certainly the case with Lovely Creatures. Not only does the comp prove that Nick Cave and The Bad Seeds have never made a disposable album (perhaps tellingly for an artist seemingly allergic to standing still, Cave and his compatriots have only ever toyed with mediocrity when trying to do a similar thing twice in a row), it also suggests that the last three releases covered here – 2004's majestically sprawling double album Abattoir Blues/The Lyre of Orpheus, 2008's Dig, Lazarus, Dig, parts of which found Cave battle convincingly against his badly outdated portrayal as a none-more-black King of Goths by engaging in some tongue-in-cheek rants (possibly as spill-over from brilliantly OTT side project Grinderman) and especially 2014's Push The Sky Away, which relocated both the band's sound and Cave's approach to songwriting to more fractured, abstract yet still intense and emotionally resonant terrain – might just be the band's finest achievements.
Much of the outfit's enduring appeal is down to the remarkable musicians Cave - the obvious focal point as the chief songwriter and performer with an ability to tap into whatever unholy current it is that allows mere mortals resemble unstoppable, immortal monsters the moment they hit the stage that's second only to Iggy Pop - has surrounded himself with. Much, much more than an anonymous bunch of hired hands, The Bad Seeds are a genuine band, up there with the E Street Band and Crazy Horse in legendary sidekick stakes, with the expansive technical chops of the former and the latter's ability to keep it raw and plain when the best interests of the material so require. It's probably telling that apart from brief bursts of the violin of Warren Ellis (latterly Caves musical (red?) right hand man), there's not a solo in sight: The Bad Seeds has always been a team effort, committed to enhancing the communal good rather than displays of individual virtuosity. Not a single member remains from the original 1984 Bad Seeds line-up. Despite the departure of such key contributors as guitarists Mick Harvey (Cave's musical first lieutenant from The Birthday Party to Dig, Lazarus, Dig) and Blixa Bargeld and several reboots of The Bad Seeds' sound along the way, the band on, say, 1985's scratchily propulsive "Tupelo", a nightmarish, Southern Gothic-slathered reimagining of the birth of Elvis via a nod to a John Lee Hooker song of the same name (vintage Blues being a key inspiration for the classic Bad Seeds approach), is easily recognisable as the same outfit who steer "Higgs Boson Blues" off Push The Sky Away to ever more colossally majestic spheres despite seemingly doing very little.

The band's ability to respond to the evolving feel, themes and moods of Cave's songs - a gently pulsating, ghostly presence on, say, "People Ain't No Good" (off 1997's downbeat, stripped-down The Boatman's Call), gradually building into a thunderous wall of cacophony-courting yet supremely dynamic noise from sketchy beginnings on "Hiding All Away", the sound of which really does resemble the impending end-of-times war the lyrics refer to - is truly awe-inspiring. This ability to mutate and evolve (or in the case of deliberately low-brow selections such as 1996's swaggering "Stagger Lee", an X-rated retelling of an ancient country-blues murder ballad that finds the band match Cave's gratuitously leery delivery with sweaty-palmed funk, regress to an atavistic, knuckle-dragging state of blissful baseness) as Cave's songwriting has moved from the feverish visions of the eternally nocturnal badlands where God and the devil battle it out in close combat and souls are routinely exchanged for earthly goods of such early selections as "The Mercy Seat" to deeply personal confessionals ("Into My Arms"), masterful explorations of archetypical song forms ("Love Letter") and, latterly, more mystifying yet still deeply engaging recitals ("Jubilee Street") has allowed Nick Cave & The Bad Seeds to avoid becoming stale and predictable in a manner no other similarly durable outfits can match. Lovely Creatures proves they were fast learners, too: it's startling to realise only two years separate the barbed-wire malevolence of "From Her to Eternity" from the haunted, steadily escalating and seriously beautiful throb of "Stranger than Kindness" off 1986's Your Funeral, My Trial.
Ultimately, Lovely Creatures presents a group who dug their way out of the deepest recesses of the underground without compromises and who have somehow managed to get bigger the less averse to easy answers their music has become. It's an ongoing journey, too: last year's haunted and haunting Skeleton Tree might just be their most deeply moving release to date, suggesting that the best is yet to come.
Get the Best Fit take on the week in music direct to your inbox every Friday