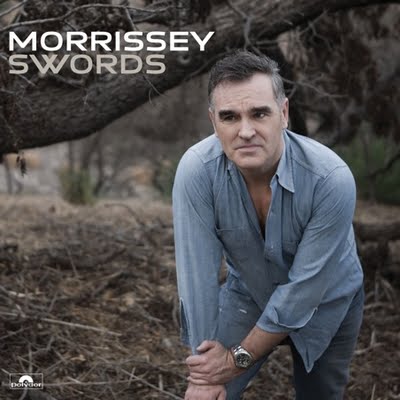 In the past twelve months, you'd think someone would have thought to tell
Morrissey
that there's been a recession on; instead, he's gone about releasing five albums - all, to some degree, redundant. His
Greatest Hits
barely lived up to its generic title - comprised almost exclusively of his recent singles, with 'Suedehead' and 'Everyday Is Like Sunday' thrown in almost as an afterthought, while "re-presentations" of two of his most maligned records,
Southpaw Grammar
and
Maladjusted
, hacked at history with varying degrees of artistic success. In amongst all of this, the release of
Years of Refusal
, an actual studio album, was almost lost; a wildly uneven record, it mixed some of his best new-era material (see: the first two tracks) with much of his worst (er...the rest of it), and even went so far as to recycle the two new tracks from
Greatest Hits
, both of which were released as singles anyway.After all that, you'd think he'd take a break from fleecing his devoted fanbase, but alas, here comes an obligatory b-sides compilation; hand-picked by the man himself, the tracks on
Swords
cover his last three albums (one of which was reissued with a bonus disc of b-sides anyway), during which time his lyrical subtleties were bludgeoned out by increasingly leaden ROCK arrangements. Still, the album does, at times, offer up a compelling alternative history; imagine if
Ringleader of the Tormentors
had been trailered by the skittering bhangra-flavoured anthemics of 'Good Looking Man About Town', rather than a stodgy rocker like 'You Have Killed Me'. Likewise, if his stately Elvis-style comeback was heralded by the suitably stirring string-laden balladry of 'The Never-Played Symphonies' - the charmingly dramatic last-hours confession of a man who regrets letting his lover "slip right through my fingers - no, not literally, but metaphorically") as opposed to a...er...stodgy rocker like 'Irish Blood, English Heart', the last five years could have been very different indeed.That's not to say the plodders aren't out in full force;
You Are the Quarry
tour warhorse 'Don't Make Fun of Daddy's Voice' is still as inexplicably popular with its creator as ever, while newer tracks like 'Children in Pieces' see
Morrissey
fumbling with a hook without ever quite holding onto it. It's just fortunate that these moments are tempered by more considered numbers; the fantastic 'My Dearest Love' is a low-key sequel to 'How Soon Is Now?', an organ-led minor classic in which SPM attempts to arrange a date "where the grotesquely lonely meet the grotesquely lonely, and they whisper...just very softly." Meanwhile, in spite of its ham-fisted politics, 'Shame Is the Name' is wonderful - a Chrissie Hynde-featuring epic, where ghostly harmonicas clash with sweeping pianos and nouveau-baggy beats. Still, you must please remember that the song has barely been available for six months - having only just emerged on the flip of this year's 'I'm Throwing My Arms Around Paris' single - so why he felt the need to feature it on an album now, when it would have made just as much sense on
Years of Refusal
, is baffling.Fans will no doubt quibble about the tracklist - hell, the exclusion of 'First of the Gang' b-side 'Mexico', one of his finest and most heartfelt moments, still makes no sense to me. They will probably also clamour at the bonus live disc - a flat-sounding eight track document from a show in Warsaw earlier this year, half of which is taken from
Refusal
. Even on these newer numbers, his voice sounds like a shadow of its former self, while the less said about its renditions of 1994's 'Why Don't You Find Out for Yourself' (arguably the finest song he ever penned) and Smiths classic 'You Just Haven't Earned It Yet, Baby', the better.Still,
Swords
itself does have its moments, but they're too few and far between to make this a necessary purchase for all but the most devoted of fans. 'All You Need Is Me'? Not quite.
Buy album on Amazon | [itunes link="http://itunes.apple.com/WebObjects/MZStore.woa/wa/viewAlbum?id=335955998&s=143444&uo=4" title="Morrissey - Swords" text="iTunes"]