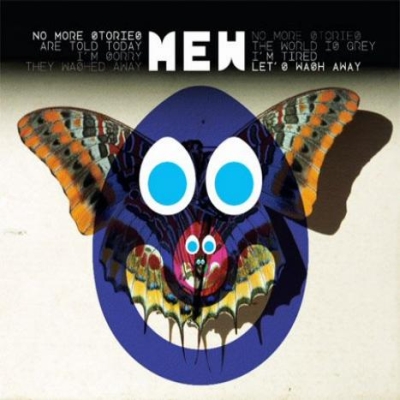 Mew
are certainly not a band that plays by the rules. Just take a look at that album title:
No More Stories Are Told Today, I'm Sorry They Washed Away, No More Stories The World Is Grey, I'm Tired Let's Wash Away
– pretentious, outrageous and maybe even a little bit bloody silly,
Mew
are instantly a divisive kind of band. And yet, their music rarely confounds any expectations.
No More Stories
, which is what we shall call this album from now onwards for the sake of my poor, innocent typing fingers, has more in common with the music that found its audience on the dance-floors of '80s clubs as opposed to bearded progressive rockers bedrooms.Opener 'New Terrain' is lush and hazy, like a fondly recollected memory that you might have kept locked up for difficult times, whilst immediately afterwards 'Introducing Palace Players' builds around a Krautian riff that operates at sharp angles, instead of steady curves. There's snippets of innovation at every corner – even 'Beach' breaks from its main structure to toy about with some rather sci-fi-esque instrumentation.Even when things do get a bit overblown, such as on the spectacular 'Cartoons and Macramé Wounds', it's hard to chastise the music. As that song reaches its grand conclusion, you can't help but be swept away in the tide of vocal harmonies and patient drumming, a cathartic movement that tingles the spine and clears the mind.It's the minutiae of invention that keeps things interesting, despite the rather relaxed pace of affairs. Layers are used to create great plains of sound, such as the spaced out conclusion to album closer 'Reprise' which seemingly floats off into the void without a care in the world.But the one main constant throughout 'No More Stories' is singer Jonas Bjerre's vocals: effortlessly hanging around and discussing the woes of the world with superlatives like angelic and tear-jerking. It's almost like the whole package sounds like a gift from an alternate universe, where Sigur Ros were formed in the '80s, mincing around with the New Romantics of the era.
No More Stories
is a 52 minute vacation from whatever's troubling you. For all the self indulgent appearance of the album from the outside, the music itself rarely taxes the brain, instead coaxing the heart and soul to take some time out from this hectic world. Perhaps it should be shipped out to Iraq and Afghanistan, played on loudspeakers and radios all across the country, and maybe then people might see that all that fighting, greed and war just really isn't worth it. But that would be silly – music couldn't possibly bring people together in this day and age, right?

Mew on Myspace