Luke Haines Is Alive and Well… is a fitting milestone to a master
"Luke Haines is Alive and Well and Living in Buenos Airies"
Release date: 29 September 2017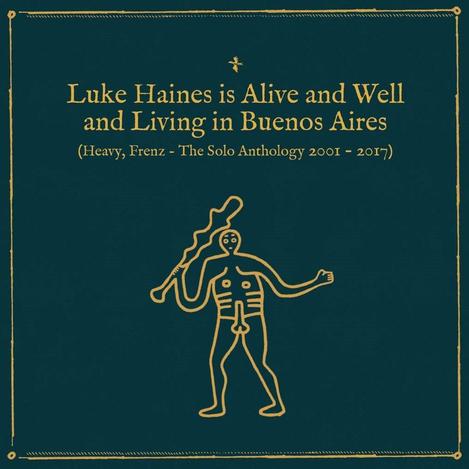 Luke Haines
is Alive and Well and Living in Buenos Airies is a four disc retrospective spanning Haines' solo output from 2001 to 2017. Drawing from his voluminous output over that time, it's a bold and, as is typical of the rock n' roll curmudgeon, somewhat esoteric release.
Three discs of "cherry-picked" tunes that represent the finest of his post-Auteurs solo work (tracks under the Black Box Recorder and Baader Meinhoff monikers are omitted) and one of unreleased and rare tracks is certainly a big ask for the casual listener, but as soon as disc one begins with Haines' brilliant, disturbing "Discomania" (from the original soundtrack to the deeply unpleasant Christie Malry's Own Double Entry Brit-flick) you are reminded of the calibre of songwriter we're debating here, and the prospect of seventy-nine songs from his twisted lip to your ear becomes a delectable proposition.
Handfuls of songs taken from his early, deeply unsettling, often hateful and equally eloquent records such as 2001's The Oliver Twist Manifesto (an album that, Haines lets us know in his arch liner notes, was to be produced by Mos Def. It's impossible to tell if he's lying.), Das Capital (recorded, curiously, as Luke Haines & The Auteurs) and 20th Century Man certainly have their moments. The jagged horror of "The Death of Sarah Lucas" enthrals and appals; "I'm just a horny devil baby / But I know how to treat a lady" he spits on "The Mitford Sisters", his black humour as perfectly, nastily pitched as ever; "Bugger Bognor" and its immortal line "God, it's grim up north / Bugger Bognor" delights in its darkness.
Yet disc one's highlights surely must be the wide selection from 2006's Off my Rocker at the High School Bop which includes the frankly stunning glam-stomper "Leeds United" which, in a righteous universe, would have been number 1 for a month (when things like the charts mattered), even taking into consideration the Saville reference (the cruelly hilarious line "Gary Glitter, he's a bad, bad man / Ruining the reputation of the Glitter Band" crops up later on "Bad Reputation"). From the same collection comes the uneasy, ludicrously mannered 'All the English Devils' - a folk-horror masterclass which asks "Who put the bounce in the bouncing bomb?" before left-turning into music hall mania.
The disc ends aptly with the backward-glancing "21st Century Man" and the line "I'm an exile in a foreign land", which could speak to Haines' position in the music industry or perhaps in society as a whole.
Moving to disc two, which covers the years 2009 to 2013 (and is subtitled 'Flanders: No Man's Land', obviously) we find songs culled from, among others, the outstanding concept record 9 1/2 Psychedelic Meditations on British Wrestling of the 1970s and Early 80s from 2011 and, well, another outstanding concept record from 2013 - Rock N Roll Animals which, from memory, was something to do with Gene Vincent being a cat and a badger anthropomorphised as Nick Lowe. The relentless space-silliness of "Inside the Restless Mind of Rollerball Rocco" delights as it gives way to spooked acoustic strangeness, listing legendary wrestlers and moves alongside legit working class signifiers on lines like "Egg and chips from the transport caff / Was the worst food that I've ever had." 'Enoch Powell' enthrals even as it refers to "beloved" sit-com On the Buses while discussing the appeal of the titular fascist, yet there's no seismic shift in style here - rather a logical progression of an artist delving further and further into aged British culture, observing, admiring, damning, laughing with and at it, and delivering songs of such intellect and style as to amaze.
The disc containing Haines' most recent releases, perhaps his most prolific years of output covering three full-lengths and one mini-album in two years, takes at least a partial thematic turn with Haines focus switched from UK to US on half a dozen tunes drawn from 2016's New York in the 70s, which include the genuinely beautiful "Alan Vega Says" and "Dolls Forever", with its "Shalom Shalom" refrain and litany of iconic names and places striking stark contrast with the "English boys" who admire them, or their romanticised idea of them, from across the ocean.
"Cerne Abbas Man" performs the same trick in a different way throwing up "Mythic motherfucking rock n' roll" against ancient British iconography.
Later, on "British Nuclear Bunkers" we get a rare, atmospheric, freakish instrumental from a rare, freakish instrumental album of the same name (apparently another concept piece) that combines psych with some kid of pastoral/industrial machinations, the genesis of which it's hard to even comprehend.
Though we get a selection from Haines' unsurprisingly bruised, bittersweet Smash the System there is, happily, nothing from Moog-drone companion piece Freqs. Though secretly we wish there were.
This set is rounded off by an entire disc of rarities, demos and remixes generously offering everything from the hilarious teen goth trauma of "Black Sun" to Richard X remixes and pulls from CD-R only releases like Raving and BBC Sessions. This is the underbelly of an artiste already hiding himself under the floorboards on his most mainstream of releases so there's really nothing too unexpected aside from heart-touching coda "Rave" which is just too lovely to believably be Haines.
This is a collection that displays consistently and rigorously the undervalued, underexposed talent of one of the country's best post-Ray Davies songwriters and one that, despite its length and sometimes haphazard nature is a fitting milestone to this prolific, profound and playful master of the songwriting form.