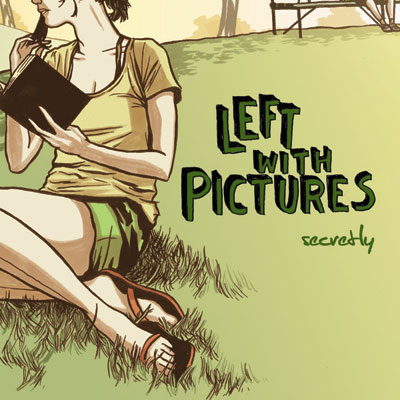 'Secretly', the title track from this interesting little EP, is one of my favourite songs from this year so far. A world away it might be from the restrained majesty of Fleet Foxes or the pounding cacophony that Nine Inch Nails have continued to peddle successfully this year, I like it just as much. It's quite twee – some would perhaps go as far as to say cheesy – but its sweet, subtle strings, whimsical style and infectiously charming sentiment make it as affecting as just about anything else I've heard lately, which is saying something. Whilst the rest of this five-track EP doesn't quite match the opener's quality, this is a very solid, competent, clever and fun record from a very promising band.
'Super-8' follows after the title track and seems to be at least partly about that most English of games, cricket. With its own batch of lilting strings and countrified guitars, as well as plodding keys, it's another strong track, especially with its lovely ending section. 'We Clutched' begins in very subtle style until it is announced that "these things will be / forever a mystery" as it is realised that a dream romance looks unlikely. After that, coruscating synths and percussion take the song to plateau after plateau, each scaling a little higher on a cloud of electronic fuzz until it all fades away again to delicately strummed guitar, concluding the song's Easter-themed frame narrative.
'Professional Help' continues the EP's whimsical tone, especially given it's amusing finale, when a number of obscure professions are listed. The frequent changes of pace, and the fact that the song's main body is allied to vocal harmonies, whistles, a xylophone, kazoos and goodness knows what else, turn the song into a kind of complex, esoteric pop that's constantly full of quirky surprises. The wonderful strings return on closer "Boats" which has some fantastic images amongst its lyrics and makes a great ending to this superb EP. The instrumental section towards the end is masterfully realised and really sends a shiver down the spine.
Perhaps the master-stroke of this modest collection of songs is its unpredictability – not only do the songs cover a lot of diverse ground, but each passage in them is distinct from the others, helping to make this a consistently engaging, charming and memorable musical excursion. Keep an eye on these guys - the future's looking bright.
91%