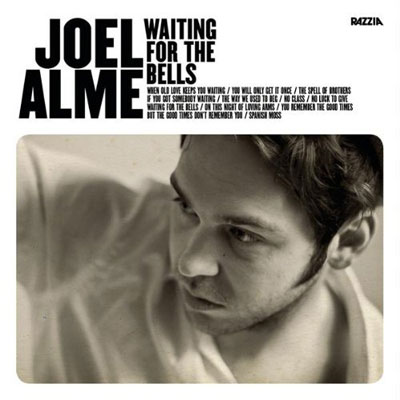 With a wash of proud brass, emotional strings and cavernous drums Joel Alme enters: "If he ever changed his mind would you leave me for the corner, darling?" his voice cracking and echoing, swept up in the production of Mattias Glavå. Inside thirty seconds the scene has been set.In 2008 Joel Alme released his debut,
A Master Of Ceremonies
, on Sincerely Yours (Air France, The Tough Alliance, jj). It was an album of polished, sweeping, emotional tracks that could draw comparisons with the likes of Okkervil River. Back with his second record,
Waiting for the Bells
(this time released via Razzia), Joel Alme has taken the sound he honed on his debut and has thrown it into the past. And the results? Quite brilliant really.Running throughout the album is the theme of a love lost; ostensibly this is a break up album. 'When Old Love Keeps You Waiting' finds Alme questioning a loved one's lingering affection for an old flame, "Hand in hand you're mine, but you always leave a finger waiting," 'You Will Only Get It Once' pines on losing
The One
, "I never saw your eyes change, I should have asked," and 'You Remeber The Good Times But The Good Times Don't Remember You', well, the title speaks for itself really.With Mattias Glavå behind the desk, Alme has managed to take his perfectly crafted pop nuggest – I say pop as few of the tracks here break the 3 minute mark – and dress them in what can only be described as a Dylan meets Motown clothing. Alme's cracked, broken and genuinely passionate delivery is backed up by a barrage of gallant strings, backbone bass and dancing brass. Tambourines are high in the mix and drums sound like they're recorded in a cave. The whole sound brings to mind tracks like Dylan's 'Wigwam' and 'Man In Me', or, more specifically, the sort of stuff you'd expect to hear on a Wes Anderson soundtrack. Where producers like Mark Ronson are championing a modern, polished take on 60s soul, Mattias Glavå has managed to give
Waiting For The Bells
a sheen that makes it sound like it was actually recorded 60 years ago. I can imagine this record may be bet with a few, "This was released this year?" comment.With
Waiting for the Bells
Joel Alme has created an album with one foot firmly in the past; a record of warmth, heart and emotion that pays homage to the likes of Dylan and the instrumentation of Motown soul. When it comes to Swedish crooners, Jens Lekman is no longer the only name on the list.