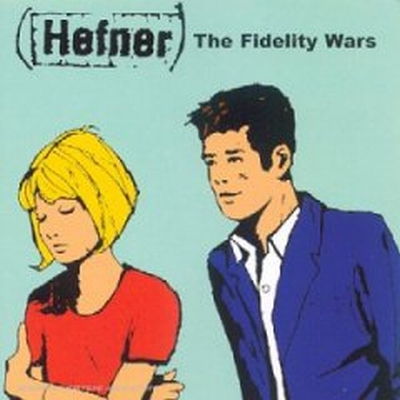 With the likes of Mercury Rev, Spirtualized, Portishead and The Verve headlining festivals up and down the land, and releasing much lauded albums this year, you could be forgiven for thinking the entire country has tripped and fallen in to some kind of timewarp to the late 1990's. Depressingly,
Darren Hayman
has seen fit to reissue the
Hefner
back catalogue, piece by piece, with a whole host of extras (first release = 11 songs, reissue= 40, yes 40). Depressing, by the way, by the realisation that
Fidelity Wars
hit the shelves almost 10 years ago, yet still manages to capture the heart and imaginations and frustrations of a youth wasted or otherwise. This album evokes a whole host of memories- a time when the likes of Hefner could get played on Radio 1. When the likes of Mark and Lard ruled the airways, and played the likes of Gorky's and Hefner on the morning show, an era when Hefner managed to secure number 2 and 3 in John Peel's Festive 50 with 'Hymn for the Alcohol' and 'Hymn for the Cigarettes' respectively.So after winning his dispute with Too Pure in 2005 Darren Hayman has gone all Neil Young on us, and is releasing a whole host of Hefner archive material. First came
Catfight
, a 43 song unreleased effort, then a live record, and then a reissue project of the studio albums. Surely a BBC Peel Sessions record will also be in the pipeline, culling some (or given the complete nature of this reissue, all) of the bands 10 appearances for Peel. I myself am holding out for the 'Hefner Hymnbook'. Darren has also been playing a series of "Darren and Jack play Hefner" songs, which have seen a large demand for tickets- there is still clearly a great deal of love around for Britain's largest small band, as they once declared themselves. It is perhaps fitting to note then, that
The Fidelity Wars
is the record where Jack joined the band on record for the first time. It is also the album where the 'cult of Hefner' really began, and remains the fan favourite."
It's always about the sex isn't it with Hefner? You never hear them doing songs about drag racing or putting up shelves or anything like that
" - John PeelAccording to Hayman himself, most of the album actually pre dates 'Breaking God's Heart'. A concept album of sorts, it tracks the getting together of a couple, a whole heap of self doubt, as the girl was with someone else when they first get together (hence 'I Stole a Bride'), then, wracked with doubt about her fidelity he goes and sleeps with someone else, then sees his mistake and pleads for forgiveness on 'I Love Only You'. Along the way, Hayman manages to chronicle the fleeting nature of young love, heartbreak, lust and frustration. Somehow, the ramshackle recordings, while not being the most musically or vocally gifted, seem able to convey the emotions perfectly, their odd version of skiffle fusing with the wryness of Jonathan Richman or the Violent Femmes. Always blessed with a turn of phrase, every Hefner fan will have a different favourite lyric. For my part, the realisation that, despite lust, you may not be with the right person after all on 'The Hymn For The Cigarettes' takes some beating:"
How can she love me when she doesn't even love the cinema that I love.What does she feel if she doesn't have the feeling that I have in my fingers.This joy I have could lift this ceiling from its rafters but I'm not laughing.We feel nothing, so we search for nothing, so we achieve nothing, love
."The addition of Jack and his pedal steel adds a welcome break from the chugging Hefner formula. There is also a certain Motown swagger as well (See the intro's of 'I Took Her Love For Granted' or 'The Weight Of The Stars' for proof). Hell there's even some scratching, and sampling on the rawkus "I Love Only You'. Even the ballads and dirty tales of regret here are somehow more moving than you feel they should be. If I was Darren Hayman I know for sure that I would have been doing my nut while NME were going on about the originality of the 'real life tales' from the likes of Pete Doherty, or Alex Turner. That's right- I'm calling it- What Test-Icicles were to The Klaxons and nu-rave, Hefner are to The Libertines and The Arctic Monkeys.As well as the original album, here you get presented with a bunch of B-sides, 7" Versions and the whole of the rare
Hefner Heart
EP, as well as 4 track demoes and rehersal recordings, 'Kate Cleaver's House' being a particular favourite, with it's 'Seven Days' format ("
Monday she worked in the NHS, Tuesday she worked for herself
"). Unsurprisingly the quality here is less than that of the album, but then those who came to a Hefner record expecting it to be anything other than resolutely lo-fi would be a fool. The addition of fan favourite 'Twisting Mary's Arm' is also welcome, and might pretty well some up everything that there is to love about Hefner. Whether anyone will have the stamina to sit through all fourty tracks in one sitting is another question, but it is certainly one in the eye for the likes of EMI- this is how you REALLY do a reissue.
95%
Links
Hefner [
official site
]