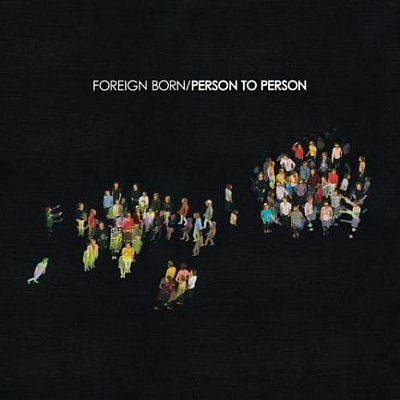 There are some bands to which Wikipedia does no favours. "
Foreign Born
is an American folk rock band". Doesn't really inspire you to listen to them does it? Mentions of them touring with Rogue Wave, Cold War Kids and Giant Drag spice it up a little. But really, do we need another "American folk rock band"? The answer, though, is "If they sound like
Foreign Born
, then it's a resounding YES".
Person To Person
has been sneaking up on me for the best part of two months. The first time I played it I was packing up boxes of CD's and preparing to move house. Limited in my selection of a soundtrack to this awful task,
Person To Person
just happened to arrive at the right time. I was instantly hooked by the chiming guitar-led intro of 'Blood Oranges'. It actually stopped me packing. This was a good thing, obviously. My ears were twitching to its finely tuned pop sensibilities - there's a hint of all the great American (and even British) acts of the past 10 years in each of its 10 tracks.The band might also have picked the perfect time to release this. Sure, the cover might hint at something a little darker behind their joyous sounds, but each track feels like the perfect mixtape for a summer BBQ or party. 'Vacationing People' rumbles around like a tumble-dryer on its lowest spin, piercing twinkling guitars refresh its husky revolving rhythms. For those lamenting the fact that Cold War Kids have gone a bit shit, this is the album for you.There's also a sense of the band giving a cheeky nod to the past. The 70's guitars of 'Winter Games' brings to mind the pomp and shoulder pads of Glam Rock, whereas 'Early Warnings' takes the African guitars of Paul Simon's
Graceland
as its hook.For me though, it's the closing trio of tracks that confirm this to be a hidden gem of a release. The brooding 'It Grew On You' with its clip-clopping drums, grizzly guitars and ghostly vocals suggest something altogether undead going on. 'See Us Home' echoes the ghost of John Lennon in its retro acoustic intro before morphing into something much more akin to The National - chiming guitars and vocals that send shivers down my spine, seemingly channelling a call to arms, a challenge to guide you to safer shores in times of need. Then its down to 'Wait In This Chair' to draw a line under it all - a quiet, short piece of joyful optimism, which nicely echoes the overall feel this album seems to inspire.
80%
Foreign Born on Myspace
Download 'Vacationing People' here.