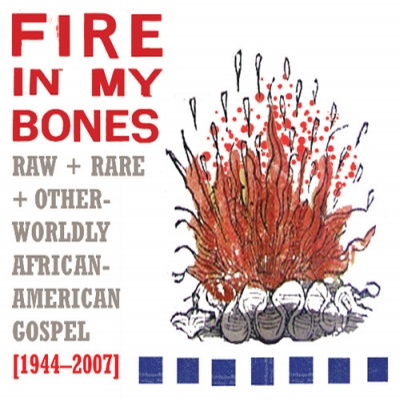 "Ultimately, the message of gospel music is that everything's going to be all right. If you listen to millions of gospel records – and I have – and try to distil what they all have in common it's a sense that somehow we can triumph. […] Gospel music is never pessimistic […] like the blues often is. Gospel music is always about the possibility of transcendence, of things getting better. It's also about the loss of ego, that you will win through or get over things by losing yourself, becoming part of something better. Both those messages are completely universal and are nothing to do with religion or a particular religion. They're to do with basic human attitudes and you can have that attitude and therefore sing gospel even if you are not religious."
So said
Brian Eno
on his recent BBC4 retrospective. These words have particular resonance when considered in relation to this beautifully compiled collection from
Tompkins Square
records of post-WW2 black gospel music.Concentrating on the more neglected sounds from the era (as opposed to the more usually referenced quartet and solo vocalist material), this is a compilation that is notable for its variety. Spanning 3 CDs and a total of 80 tracks (with an informative accompanying booklet for those less familiar with the genre, and lovely packaging) the songs, musicians and stories that are featured are diverse and offer a fascinating window into the world of this sometimes "raw", sometimes "rare" and very often "otherworldly" music.This is not a dry, scholarly or historically sequential work of reference. Both known artists feature and those for whom little information is recorded, like the (estimated) 1973 version of 'The Wicked Shall Cease From Troubling' by
Nathaniel Rivers
, seemingly recorded live in a church; or the
Hickory Bottom Harmoneers
, whose 1955 version of 'I've Got Heaven on My Mind' is included and about whom no written information remains.Other artists have entertaining backstories of their own, like
Rev. Utah Smith
, a New Orleans evangelist known for walking down aisles screaming and playing the guitar, whilst wearing a pair of homemade wings; or
Little Ax & The Golden Echoes
, featuring one Wilmer Broadnax, allegedly born Wilma, but living for most of her life as a man.Stories and liner notes aside, though, it is the music and perhaps even more the
spirit
of this collection that shines through. Featured recordings sometimes border on erotic or lascivious in tone ('Since He Touched Me'), while at other times are full of righteous brimstone and fire ('Rock and Roll Sermon'). Some of the songs featured will be familiar to most ('When The Saints', 'Down By The Riverside', 'The Lord Is My Shepherd') while others are of a rarity or originality that renders them near unique, like 'Why Sorrow Done Passed Me Around' by
Georgia Fife & Drum Band
: apparently one of less than a dozen recorded examples of gospel material played by fife and drum bands. The common feature throughout is the passion and intensity with which the artists convey their message.Varied, at times quite moving, inspirational if you are spiritually inclined, but fascinating in any case in its positivity, lack of irony or "side" and its authenticity, this is a brilliant introduction to a lesser-trod musical pathway.
Tompkins Square
on Myspace