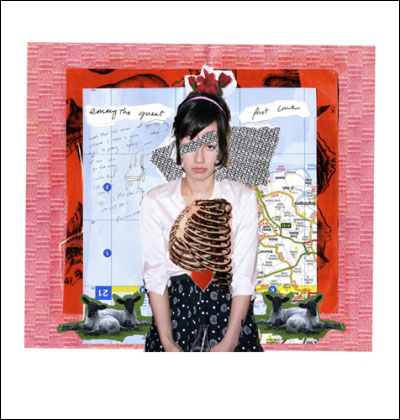 We all know that the days when artists were given plenty of time to hone their craft and write and record an album having learned their full abilities first are long gone, but
Emmy The Great
seems to have suffered more than most from wanting to just get everything right first. Her debut 7" single came out nearly three years ago, in March 2006. A month later Kate Nash made her open mic debut; last autumn Emma-Lee Moss was featured in Q magazine as, yes, a potential New Kate Nash. Not to mention everyone else in the UK alt-folk community who has raced past her and towards the commercial and critical horizon leaving her somewhere in the background - Lightspeed Champion, for whom she sang backing vocals, Jeremy Warmsley, who duetted with her on his 'The Boat Song' single and has played in her backing band, and Noah And The Whale, whose lineup she was part of well into 2007 before being replaced by Laura Marling, whose made her own live debut a month before that aforementioned single release. Finally, having been delayed from last autumn by changes so late that the previewing five track album sampler includes a song not featured here, her debut album lands just in time to see fate deliver another cosmic joke of timing, the title track referring to emotions of a past love evoked by hearing
"Hallelujah, the original Leonard Cohen version"
.I casually refer to Emma-Lee and Emmy as one and the same, but the suggestion Moss has been making recently is thatÂ
Emmy The Great
is now a collective band name, Moss keen to play up the roles taken by guitarist Euan Hinshelwood (who records as Younghusband) and keyboardist Tom Rogerson (also one third of Three Trapped Tigers). Accordingly the sound of the songs issued under the name has been scaled up into full band arrangements. The issue for us clued up reviewers is now that with the requisite back catalogue of demos and singles behind her, certainly enough to make an entirely different full tracklisting, it's difficult to put ideas of what you've heard that's not present here aside and take
First Love
as a first complete fait accompli, so as to not drone on about, say, how the filling out of 'MIA' from the version released on last year's My Bad EP with delayed guitar and melodica detracts from the more familiar to these ears unaccompanied close-up arrangement as opposed to what it actually is, which is a spare lament to a lover killed in a car crash (
"suddenly there's one where there used to be two"
) with Moss trapped in the passenger seat considering the mixtape still playing and passing the time waiting for assistance by trying to remember the correct way to say the titular Brit-hopper's name. Not strictly a songwriting staple, but then Moss has developed past the diary entries-to-folk songwriter cliche much of her work has nodded towards.Not that that means she's abandoned the even greater songwriter cliche, affairs of the heart. The title track finds itself caught between the joy of a new affair and how it seems to have ended badly, at the culmination of which Moss admits
"I wish that I'd never come/But now that I have, I would do it again/I would forget that I'd piss on a grave"
. Sorry, the what? The girl group-ish sway of 'We Almost Had A Baby' is according to Moss based on true events, playing the twinkling and backing harmonic coos off against the sour lyrics in which Moss wishes the ex who helped turn her from girl to woman had impregnated her so she had something to permanently attach herself to him and
"I'll let you know if you have to come and choose a name"
, not so much self-pitying as over-assertive. This Emmy, you feel, would be good on Loose Women. Other lyrical footnotes: there are intriguing religious and liturgial references,
"Kyrie Eleison"
in 'Absentee',
"Gloria in excelsis Deo"
in 'The Easter Parade', 'Bad Things Coming, We Are Safe' rhetorically asking a third party
"are there restaurants on Jericho?"
There's a longstanding Emmy habit of working in pop cultural references, not least in 'Dylan', in which Moss attempts to prove her cultural awareness and empathy to a disbelieving male, and '24', which starts
"you are watching a programme for exactly an hour... you will sit there till they're done but there are 24 to play, there'll be rims around your eyelids by the 7th or the 8th"
, namechecks anti-folk mainstay and acknowledged major Moss influence Diane Cluck and develops into a critique consideration of men who let the world slip them by while esconsed in their own world.But what has always marked Moss out as a lyricist of worth, something she shares with Marling, is the ability to connect raw emotions with a fleshed out narrative, taking small details in the great scheme of things and magnifying them to show where they fit in. 'On The Museum Island', which recalls that intimate sound of the earlier EP, tells of fleeing to Berlin with a close friend as escape after the high profile death of her famous father, affectionately pitched and winningly summing up her new predicament with the assertion
"you'd taken your last ever bus"
. Thinking about it probably too much there may be a much more involved and interconnected theme to the album's flow, 'Absentee' starting it at a family gathering observing the way people around us change and 'City Song' ending it as the protagonist
"took the road down to the city as it called"
, the final line, almost a spoiler so I won't mention it here, remaining as much of a velvet gloved punch as it did in demo form. (See, there I go again.) Wisely the rest of the band by and large sit back, letting starkly effective vocals (although the sudden raw change of her voice on that first single 'Secret Circus' has been ironed out of her slightly faux-naive girlish delivery somewhere along the line) and acoustic guitar take up the front central space, as Moss flits from post-Joni singer-songwriter Americana to antifolk inspired torch singing.As well as being produced by the band Close Harbour is Moss' own imprint, apparently after many a fruitless meeting with label executives, and that personal touch could easily be seen as running parallel to her own approach. Taken as narrative
First Love
is a semi-cathartic mess of an album on an emotional level, one which catches itself up in its own mass of contradictions and whirl of changing lives, not necessarily for the better but not automatically for ill. Moss is teaching herself to treat the two imposters of success and disappointment the same and coming out the other side better if not necessarily wiser for her experiences, her confessionals and tales leavened with the stark humour necessary for someone who puts herself, and supposedly her own body, on the line time and again. It may have taken its time to arrive and then done so just as girls with copies of
Court And Spark
are replaced in the zeitgeist by girls with copies of
Penthouse And Pavement
, but being the underdog taking on a challenge seems to suit Emmy and all who sail in her.
78%
Emmy The Great on Myspace