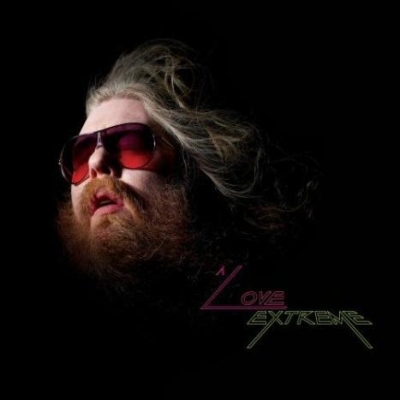 Hailing from North Carolina, Benji Hughes looks like the bastard offspring of Greg Allman and Roy Wood. And Captain Caveman. Here is an extravegantly bearded man, something that always goes someway to winning me over, releasing, from out of nowhere, a 25 track double CD debut that spans pretty much every genre going with absolute ease. It's obscene. Theres an awful lot to love.
CD one begins with a slick processed instrumental, all processed beats, lightly picked acoustic guitars and lilting flutes, no doubt destined for a teen rom-com near you in 2009, before Hughes delivers killer punch number one in the form of 'Tight T-shirt', a power-pop ditty about, er, a tight t-shirt on 'a real sweet girl', all lolloping beats and spoken words like Beck at his finest, but as sung by E from the Eels, before breaking in to the power chord driven chorus last seen backing up none other than Andrew WK. Oh and then he throws a Thin Lizzy style guitar solo into the mix as well. And thats just one song in 25. Phew.
The rest of the album continues in much the same genre hopping way, telling slacker tales in his baritone drawl of problem neighbors; 'Neighbor Down The Hall', and party's going wrong on the electro pop Chromeo-lite of 'Why Do These Parties Always End The Same Way', as well as of a trip to see see the Flaming Lips on mushrooms on, er, 'I Went With Some Friends To See The Flaming Lips'. For the most part here, the button is set to electro-pop of the variety Beck used to gleefully spill out, but with the humour that Mr. Hansen left behind a long while ago. On the likes of 'Vibe So Hot' and 'The Mummy' the influences of Beck and Eels are clear to see, and alongside the ultra produced slacker glam pop here that would be enough to make for a remarkable debut.
However, it seems there is another side to Hughes. On 'Did You Think They Would Tell You' he delivers the pop song Casiotone For The Painfully Alone has been threatening to deliver for years. 'Even If', with it's keyboards and croon call to mind Richard Hawley on a bender with the Killers in Vegas (stay with me on this one), and is immediately followed by 'Girl In A Tower', which finds Hughes alone at the piano, crooning softly, channeling the spirit of Chet Baker's 'My Funny Valentine', before his pop instincts kick in again and the major chord progressions bring it to a warm climax. For all the mish-mash of styles, and the vast amount of material on this debut, there is rarely a duff point, bar for the excruciatingly twee 'All You've Got To Do Is Fall In Love', an exercise in kitsch pop songwriting and over sentimentality which would make even Paul McCartney, the King of such schmaltz, blush.
There is sometimes so much going on here, and the sound is so accomplished that is hard to believe that this is Hughes' first outing. There is so much to take in with ' A Love Extreme' that I'm still not sure, three weeks in, if I have fully got my head round it. Long may it, and Benji Hughes, continue. One things for sure- if his live show lives up to the record it will be one hell of a party.
81%
Benji Hughes on Myspace