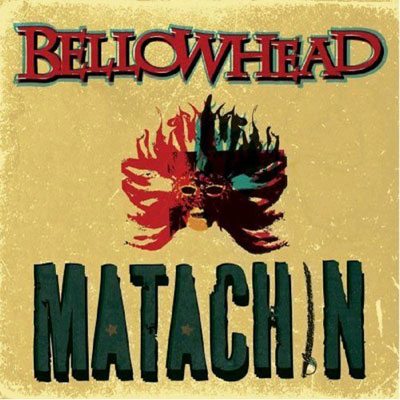 The folk duo Spiers & Boden - John Spiers and Jon Boden - formed the huge eleven-member band for the Oxford Folk Festival back in 2004, and following the successful releases of EP
E.P.Onymous
and debut album
Burlesque
, they set about working on this second album,
Matachin
. Ten hugely ambitious and complex folk songs in the English folk tradition, interspersed with three brief "vignettes",
Matachin
is a triumph. The fact that these eleven musicians, playing extremely diverse instruments, can gel so thoroughly and convincingly across these tracks is very impressive indeed, and creates a varied, exciting album with a great depth of musicianship.Boden's vocals are one of the things that leaps out from opener "Fakenham Fair", an unashamedly upbeat and idealistic love song -
"I never fell in love until I went to Fakenham Fair."
Whilst similarly enjoyable songs "Roll Her Down The Bay" and "I Drew My Ship Across The Harbour" continue the album in a fairly similar vein,
Bellowhead
refuse to keep treading the same territory - "Kafoozalum / The Priest's Miss" is a mostly instrumental showcase for the band, featuring several distinct sections and frequent changes in pace, making it a kind of wonderful structured chaos. The frenetic, carnival-esque section towards the end is a great example of the kind of designed madness the band are capable of. "Whiskey Is The Life Of Man" is an enormously fun ode to... um, whiskey, which flies up and down in volume and pace like a yo-yo but never compromises on quality -
"whiskey killed my sister sue / and whiskey killed my brother too / whiskey killed my poor old dad / and whiskey drove my mother mad".
Simple, catchy themes are returned to again and again, some are barrages of noise, others dominated by the varied percussion, or whistles, or fiddles, or stripped bare to let Boden's vocals take charge.Whilst "Whiskey..." sounds irreverent, Bellowhead sound altogether different on two more narrative driven songs that follow - the bleak "Spectre Review" depicts a dead military marching drummer returning to life to summon an army of corpse soldiers from around the world's battlefields - initially quite morose and carried along on those militaristic drums, the song builds up to layer more brass and atmospheric percussion onto its ghostly tale. "Widow's Curse" is a similarly ambitious and bleak story - its opening section, pounding along to a gorgeous string accompaniment, is a particular highlight.
Matachin
isn't perfect - "Cholera Camp" tells an impressive tale, but feels overlong and damages the album's flow - but there's a huge amount to like here. The album constantly throws up surprises, and is consistently enjoyable despite the ambition of the material on offer here. For anyone interested in great folk,
Matachin
is near-essential - and for those yet to give the genre a shot, now is as good a time as any, surely?
88%
Bellowhead on MySpace