Belle & Sebastian - Girls in Peacetime Want to Dance
"Girls in Peacetime Want to Dance"
Release date: 19 January 2015
Album of the week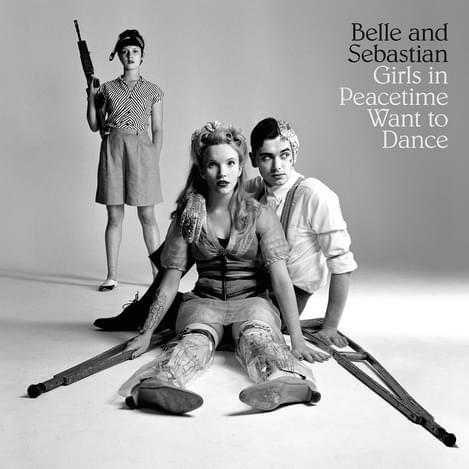 More than any other band I can think of, Belle & Sebastian have the kind of back catalogue that you can divide very neatly into two halves. The former period, running from their inception in January 1996 to their eventual signing to Rough Trade in the early noughties - not too long after the departures of Stuart David and Isobel Campbell - is widely considered to represent their vintage years; they turned out three masterly records in a row in Tigermilk, If You're Feeling Sinister and The Boy with the Arab Strap, and - in a lovely nod to a bygone era - exclusively released non-album singles. The collection of EPs and singles they put out between 1996 and 2001, Push Barman to Open Old Wounds, is one of the greatest compilations of non-album material in recent history - "Legal Man", "Lazy Line Painter Jane", "Dog on Wheels", "Photo Jenny" and "La Pastie de la Bourgeoisie" just a handful of the many stone-cold classics across the two discs. They barely put a foot wrong over those few years, despite being extremely prolific; when guitarist Stevie Jackson talked in a (brilliant) Pitchfork documentary of being put in mind of Bob Dylan and Paul Simon when he first heard Stuart Murdoch's demos - "I actually thought it was on that level" - there's barely a hint of hyperbole to his words.
Then, in 2003, the Glaswegians entered their second stanza. Dear Catastrophe Waitress is a watershed release in the Belle & Sebastian canon, for two reasons; one, it saw them jump ship from longtime label Jeepster to the more prestigious Rough Trade, and two, it had them bringing in an external producer for the first time - Trevor Horn of The Buggles. The result, put simply, was diversity; suddenly, they were moving away from the sound they'd made their own in the nineties and were beginning to play around with other palettes - particularly on the album's closer, the supremely danceable "Stay Loose". On follow-up The Life Pursuit, they went further down the glam-pop rabbit hole - "Sukie in the Graveyard" and "White Collar Boy" were standouts - and suddenly, Belle & Sebastian were a much more experimental proposition than the Jeepster years would've had you believe. This era of the band is also notable for the steep decline in the quality of their non-album output - to which last year's uneven The Third Eye Centre compilation attests - as well as a sharp turn away from their previously tireless rate of return.
With The Life Pursuit released in 2006, their latest record - Girls in Peacetime Want to Dance - is only their second full-length in almost a decade, a far cry from the days of releasing Tigermilk and Sinister within six months of each other. Chiefly to blame is Murdoch's focus on the God Help the Girl project, first in the form of the 2009 concept album - on which the band played on original Murdoch songs, but a host of female singers, most prominently Catherine Ireton, took his place behind the microphone - and then, later, with the subsequent musical film, finally released widely last summer. To say it was a labour of love for Murdoch would be a crashing understatement, and its legacy lingers on Girls in Peacetime; the album opens with "Nobody's Empire", the first song he's ever written directly about his well-documented battle with ME, and partially inspired by a relapse into the condition caused by overwork on the film. The duet "Play for Today", meanwhile, features a turn from Dee Dee of Dum Dum Girls, whom Murdoch first met when auditioning singers for the movie's lead role.
For the most part, though, Girls in Peacetime marks a departure from both the God Help the Girl work that has dominated Murdoch's professional life these past few years and the last Belle & Sebastian album, 2010's Write About Love, which felt like a bit of a misstep in that it was the most gentle, 'old-B&S' effort they'd put out since leaving Jeepster; similarly, God Help the Girl drips with the kind of kitchen sink drama and hipster affectations that made B&S mark one such a polarising proposition in the first place. The key word in this new record's title is 'dance'; lead single "The Party Line" is simultaneously an out-and-out disco stomper and an exercise in detached cool, whilst "Enter Sylvia Plath", running at almost seven minutes, is pure Europop; Murdoch's already been utilising the keytar in early live performances.
The band decamped to Atlanta, Georgia to allow Animal Collective collaborator Ben Allen to handle production duties, and he's certainly put his stamp on proceedings; this is comfortably the most sonically-pristine album that Belle & Sebastian have made. Absolutely nothing is left rough around the edges; the synths shimmer on the dancier tracks, and even when they revert to something like classic B&S type - "Ever Had a Little Faith?", for instance - the instrumentation is captured sumptuously. Allen's real achievement on this album is that through this meticulously polished approach to the record's sound, he's managed to bring a sense of cohesion to a very diverse collection of songs.
Sitting alongside the bouncier likes of "Enter Sylvia Plath" and "The Party Line" is "The Cat with the Cream", a woozy, string-heavy cut that sounds like a throwback, until you realise that lyrically, it's probably the most political song the band have ever penned. Stevie Jackson turns in his obligatory contribution with "Perfect Couples", where the traditional drum kit is eschewed in favour of bongos, whilst "The Everlasting Muse" feels like it might represent a "Stay Loose"-type turning point for the group; the bassline wanders across the verses, lending it an almost jazzy feel, before the time signature is snapped strictly back into place by a marching chorus that might not have sounded totally out of place on the first Beirut album.
Even the handful of tracks that fall into the same kind of mid-tempo lull that largely underscored Write About Love feel progressive; keyboardist Sarah Martin becomes vocally stronger and more confident with every record, and does a fine job of taking the lead on "The Power of Three" and "The Book of You"; the latter even enters something like uncharted territory for the band, with a squealing guitar solo at the climax.
As Murdoch himself once said about the decidedly unlikely pairing of S&M and bible studies, Belle & Sebastian are not everyone's cup of tea. I suspect that this second, post-2003 iteration of the group - jauntier, livelier, more daring - are probably likelier to appeal to the unconvinced than the Jeepster incarnation, if only because they don't seem as bogged down with everything that came along with the meaningless 'twee' tag back in the nineties. Whether or not Girls in Peacetime Want to Dance actually wins over new converts, though, it doesn't detract from the fact that it's one of the band's finest achievements to date - exciting, experimental and yet - thanks to Allen's sterling work - with a real sonic identity of its own; in years to come, even casual fans should be able to pick out a Girls in Peacetime cut amongst a random selection of Belle & Sebastian songs. Plenty of fuel remains in the tank - enough, hopefully, that the recent trend of five-year pit stops will be bucked before too long.
Get the Best Fit take on the week in music direct to your inbox every Friday