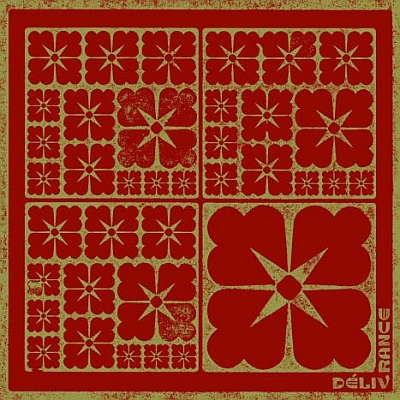 My father refuses to watch the 1972 film Deliverance - he's seen it once and for him, that was more than enough. It's the story of four businessmen whose canoeing trip down the Cahulawassee River quickly turns into a nightmare. Assaulted by some frightening locals and pitted against the hazards of the river, they find themselves in a rather nasty fight for their lives.Now, while Jeremy Barnes and Heather Trost haven't exactly spent the last couple of years hanging out in Eastern Europe with inbred, psychotic hillbillies, they have embarked on a daunting musical journey that not many would stomach. Their goal of learning the nuances of a tricky musical language, in a region off the map for mainstream America could easily have led them down a blind alley. So... would they, as the movie's tag line suggests, have been better off staying home and playing golf?Well, the short answer is no, because
A Hawk and a Hacksaw
(AHAAH) have made their best, most confident record to date. It's a thrilling, mostly instrumental ride influenced by the Romanian diva Romica Puceanu, the Balkan brass of collaborators Fanfare Ciocărlia, and the breathless music of dark, smoky Budapest dance houses. There are plaintive violin-led pieces, which wouldn't be out of place accompanying a café scene in a Béla Tarr film, and scratchy field recordings - the first half of 'Raggle Taggle' sounds like a beautiful Romanian radio broadcast from 70 years ago. The sheer depth of this record means that
Délivrance
avoids one of the pitfalls of some Balkan albums, such as those from Ciocărlia - namely that the buoyant music becomes slightly repetitive.Alongside the British bouzouki player Chris Hladowski, AHAAH have enlisted some key performers from Budapest's folk music circuit. A standout contribution comes from cimbalom virtuoso Kálman Bálogh, whose performance on 'Kertész' is blistering - the notes zip by at an astonishing speed. Other collaborators include Béla Ágoston, of quirky Hungarian hip-hop band Zuboly, and their close friend, trumpeter and violinist Ferenc Kovács.I once saw Kovács play with Barnes and Trost on a makeshift stage, to twenty people, in the small Hungarian village of Szentendre. It was a scene that summed AHAAH's fearless, unique journey up perfectly. Although both violinists were undeniably virtuosic, the contrast in their style was marked, and picked up on by a handful of bemused audience members. Kovács' performance was freewheeling, that of a man who had grown up steeped in these musical traditions, while Trost handled the fiendishly difficult music with a look of fierce concentration.
Délivrance
is no Gogol Bordello Balkan pastiche, nor does it deserve to get lumped into the category of 'world music'. Rather, it's a remarkable fusion, the sound of a band living and breathing a musical culture far removed from their own. According to them, their music is borderless, and the making of it is similar to 'climbing a mountain'. If this excellent album is anything to go by, I sincerely hope that
A Hawk and A Hacksaw
are halfway up the cliff face, some way from reaching their musical peak.
85%
A Hawk and a Hacksaw on Myspace