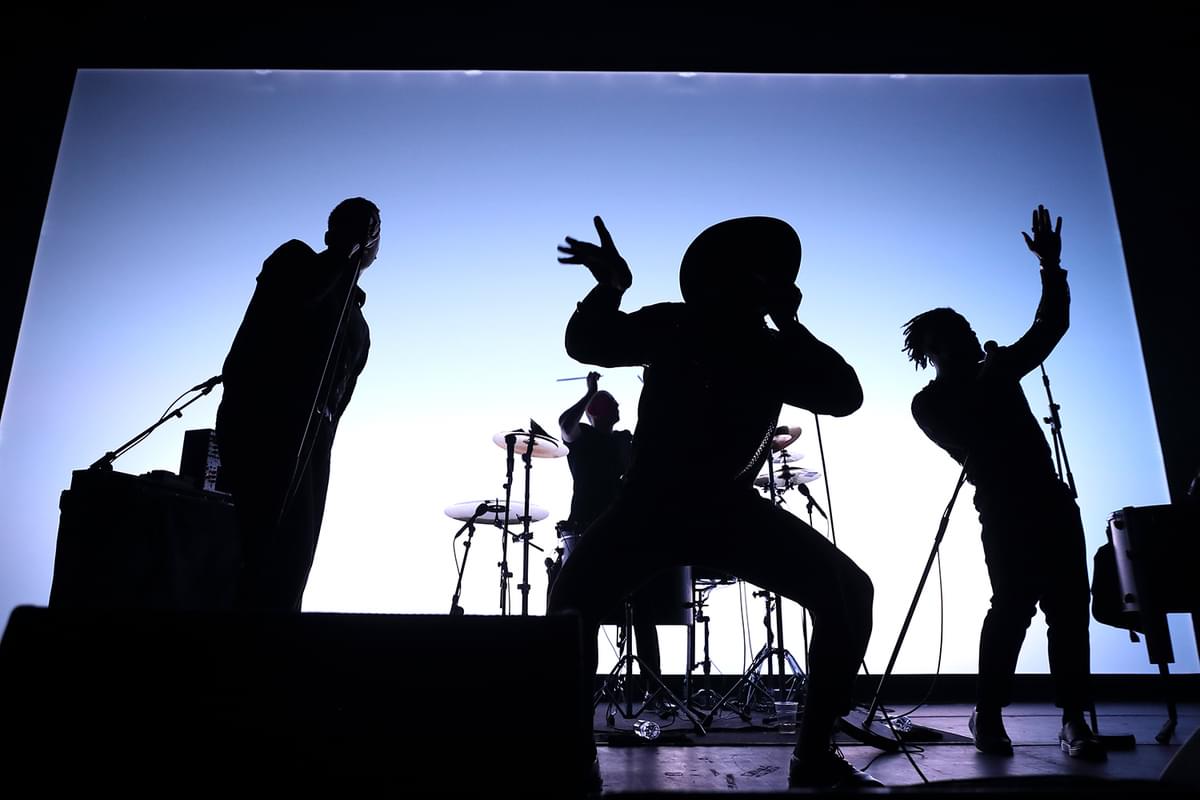 Live, Young Fathers' eccentricities meld perfectly with their pop nous
By now, Best Fit readers (hello you) will be perfectly familiar with Young Fathers' route to the Roundhouse: a surprise Mercury Prize win, their (very welcome) snubbing of Britain's right-wing rags, their work on the Trainspotting sequel's soundtrack (I refuse to call it T2), three great albums, a collaboration with the Barbican, and the group's bolshy, intelligent, so-hard-to-pin-down-in-a-few-words-it-makes-my-teeth-clench music. Unlike Facebook, the group have barely made any mistakes in their history. Is this Roundhouse show, and their "more accessible" third album, the start of bigger things?
Melvin Benn (who's in charge of Reading & Leeds and a range of other major UK festivals), once told me that he saw Young Fathers as future headliners. To do this, I believe the group would have to dial down the weirdness and crack the mainstream. There's nothing wrong with doing the latter, but it would be a shame to see this group of easy-to-like oddballs sand down their edges. Fortunately, as evidenced at last night's Roundhouse show, this won't be happening anytime soon.
Conversation was kept to a minimum. Aside from a guttural yell here and a primal scream there, Young Fathers (backed up by a drummer at their gigs) get on with the show. The trio's Antonio Conte-tier energy levels never dropped, with all three members dancing, thrusting (there was a lot of humping) and alternating between rap, chants and singing. Their pursuit to put on a genuinely exciting show never wavered. It is, as it always has been, as intense as a Gareth Evans action film.
The title of Young Fathers' third album, Cocoa Sugar, probed at the contrasts between black and white, and the Edinburgh trio's light show kept this up. For the first third of the gig, the stage, with a wall of lights assembled on its flanks and a huge screen of colour looming from behind like Donald Trump at a presidential debate, burst with flashes of searing white light followed by darkness. Often, the colours traded places so quickly, thudding in and out, it almost felt like the screen had a heartbeat.
New tracks from Cocoa Sugar have been seamlessly woven into the setlist, with "Toy", extended into a blast of wobbling noise, energy and bravado, proving to be the highlight. It's as if the new tracks had been there for years. Considering how much material Young Fathers now have, it's a surprise, and a shame, to see them play for just an hour. Perhaps we'll get to hear more at those future headline slots.
Young Fathers played:
What A Time To Be Alive
Wire
Queen Is Dead
Feasting
Holy Ghost
Get Up
Wow
Old Rock N Roll
Rain Or Shine
I Heard
Tremolo
In My View
See How
Toy
Lord
Shame
Get the Best Fit take on the week in music direct to your inbox every Friday