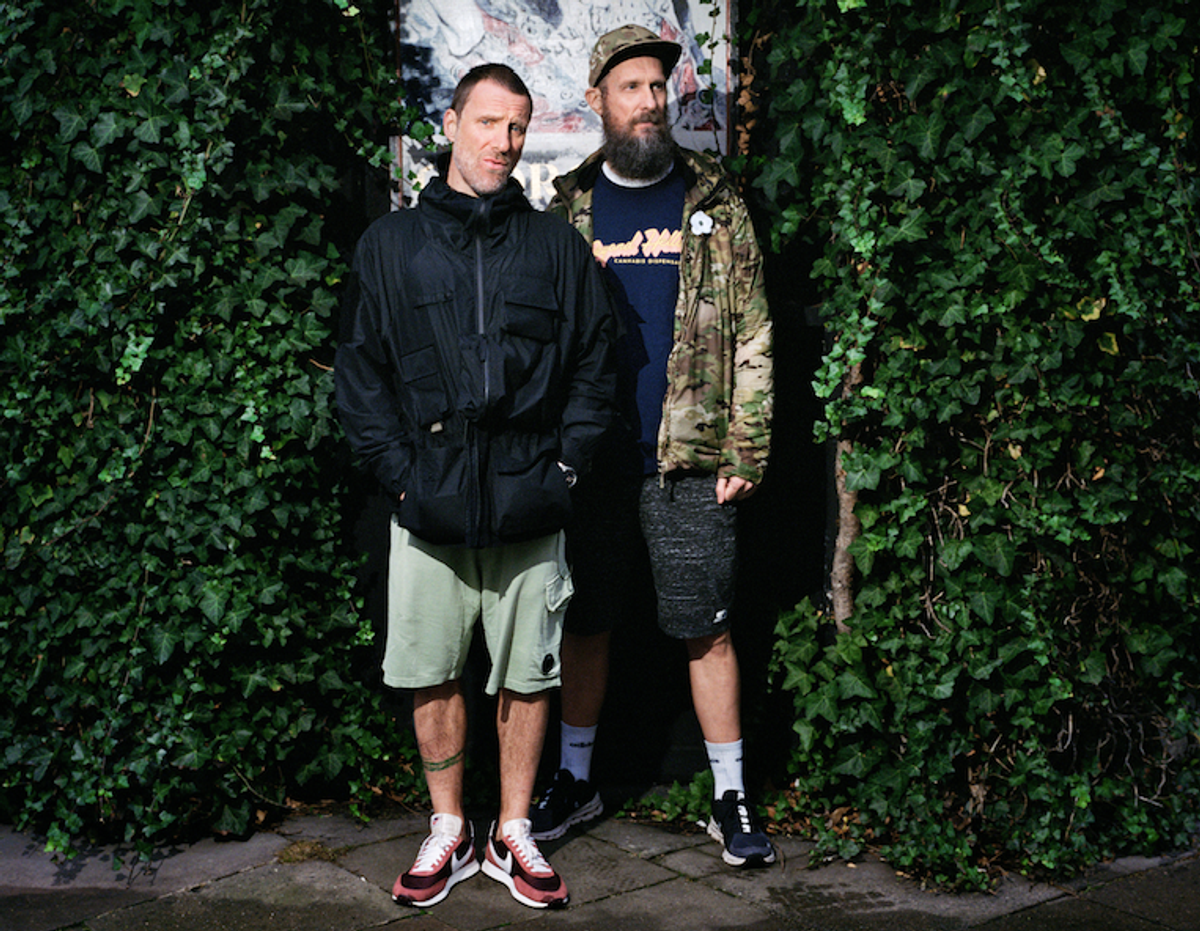 Sleaford Mods share cover of Pet Shop Boys single "West End Girls"
Sleaford Mods have announced the release of their cover of the Pet Shop Boys' iconic single "West End Girls", with all profits from the track going to Shelter charity.
"West End Girls" sees the band continue their longstanding collaboration with the homeless charity.
The Nottingham duo created a version of the 1986 classic single between tours for their latest album UK GRIM, and then sought the blessing of Neil Tennant and Chris Lowe to release the track. Not only did Sleaford Mods' West End Girls meet with the pair's approval, but the Pet Shops Boys were inspired to remix the cover and that version will now feature as one of the tracks on the limited edition single. Hifi Sean has also contributed an Acid House meets Hi-NRG remix for the release, while Sleaford Mods' own Andrew Fearn has added a heady vocoder led mix under his solo guise of Extnddntwrk.
"West End Girls is a song that's very close to my heart, my coming-of-age track in so many ways," says Andrew Fearn of their motivation to pay homage to Pet Shop Boys. Jason Williamson continues: "I've been listening to the Pet Shop Boys' albums Please and Actually a lot, the music still fits this landscape so well. When Andrew suggested we cover West End Girls, it was important to honour the track's brilliance. So, when Neil and Chris gave the track their blessing our tiny minds were blown, and when we received their remix… it was almost too much. It was brilliant!"
For their part Pet Shop Boys say they were suitably impressed with the 2023 take on their classic, declaring: "Sleaford Mods have brought East End boys back to the West End streets for a great cause and we love their new version."
Profits generated by "West End Girls" are being donated by Sleaford Mods to Shelter, following on from their previous work with the charity – most recently raising funds earlier this year through a limited-edition T-shirt featuring Cold War Steve's artwork for single "UK GRIM".
"It's amazing that Sleaford Mods have chosen to support Shelter again this year with the release of their cover of West End Girls," says Sarah Stickings, Shelter's Senior Community Fundraising Area Manager of the latest collaboration. "We're also grateful that they'll be collecting donations to Shelter at their UK tour dates. The housing emergency means that more than 131,000 children will be homeless over Christmas. We're outraged that this is still a reality in England and so thankful for the support from Sleaford Mods and their fanbase as we continue our fight for home this winter."

Williamson adds: "We wanted to do something for Shelter again in the run up to Christmas so felt why not join up the two things. Their work all year round is so important and – unfortunately, considering the state of the country –needed more than ever. We are pleased proceeds from the single can go to them, and if you are coming to a show and can afford to make a donation, then Andrew and I really appreciate it too."
A 12-inch edition single, featuring the remixes from the Pet Shop Boys, HiFi Sean and Extnnddntwrk, can be pre-ordered now ahead of its physical release on 15 December. Visit sleafordmods.com for more information.