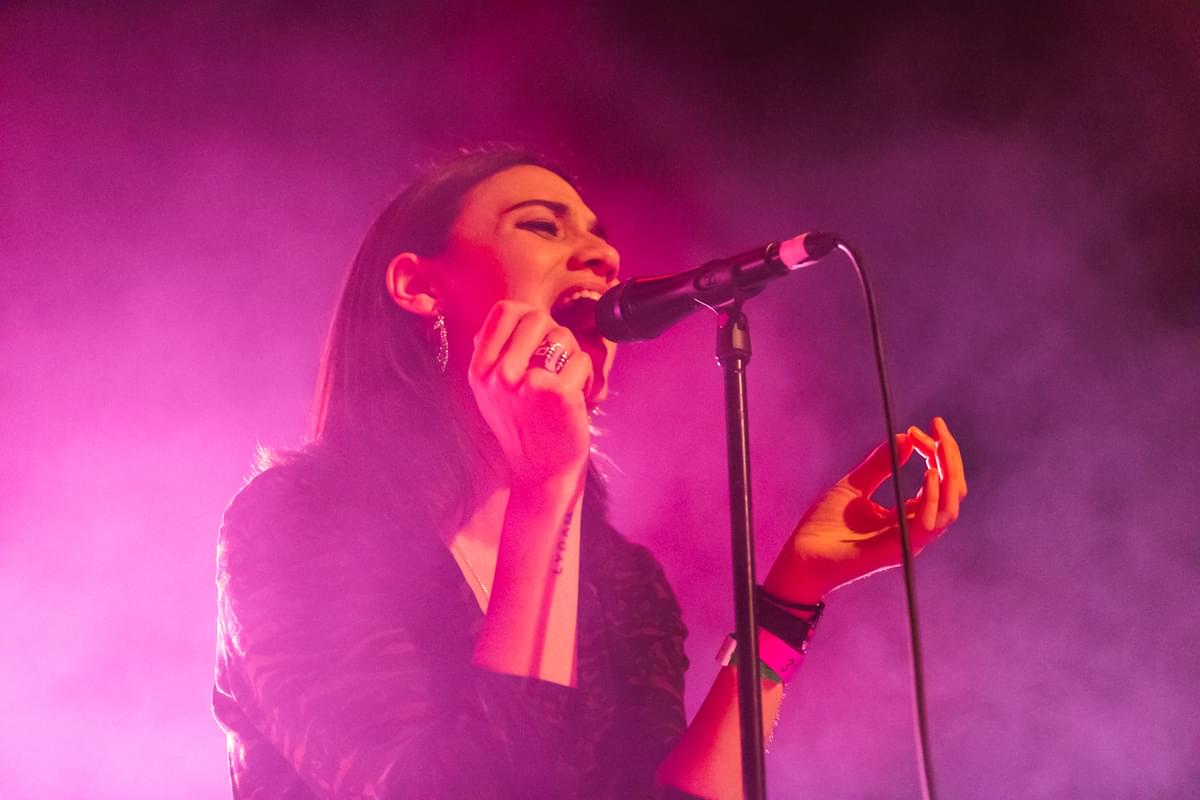 SXSW announces 250 more performers including Nadine Shah, Deerhunter, Novelist, and more
Austin's SXSW festival has revealed another 250 artists joining their huge 2019 line-up, including Nadine Shah, Deerhunter, Novelist, and many more.
Last month Texas extravaganza SXSW announced over 200 artists as their first wave of acts, including Laurel, FEMME, audiobooks, Flohio, Boy Azooga, Her's, Amyl & The Sniffers, The Parrots, Ayelle, and many more.
Today, another 250 artists have been revealed as performers at the 33rd edition of SXSW. The second wave announces Deerhunter, Farao, Jerry Paper, MUNYA, Nadine Shah, Novelist, NANCY, Oscar Jerome, Rose Droll, Sam Fender, Squid, Thyla, and many more.
SXSW isn't just a celebration of music. The festival hosts a huge range of talks, lectures, debates, panels, workshops, and more, spread out across a diverse range of topics including film, tech, food, style, and even sports.
Already Chvrches Lauren Mayberry and Garbage's Shirley Manson have been announced as Keynote speakers for next year's festival.
Next year's SXSW Festival and Conferences takes place in downtown Austin, Texas between 8-17 March 2019, with the music festival happening from 11-17 March 2019. You can find more ticket details and the full line-up on the SXSW site.
Full list of SXSW additions:
Acid Tongue (Seattle WA)
A Deer A Horse (Brooklyn NY)
Adekunle Gold (Lagos NIGERIA)
AfrotroniX (Montreal QC)
Agrupación Cariño (Mexico City MEXICO)
Algobabez (Leeds UK-ENGLAND)
Alternate Sound (Lagos NIGERIA)
American Werewolf Academy (Dallas TX)
Amor Elefante (Banfield ARGENTINA)
Anatii (Bisho SOUTH AFRICA)
Angelica Garcia (Richmond VA)
AQUIHAYAQUIHAY (Monterrey MEXICO)
Aries (Vigo SPAIN)
ASTERISM (Fukuoka JAPAN)
Avalanche Party (Castleton UK-ENGLAND)
BABii (Margate UK-ENGLAND)
Barbara Nesbitt (Austin TX)
Belisha Beacon (Leeds UK-ENGLAND)
Bellows (Brooklyn NY)
Black Midi (London UK-ENGLAND)
BLOXX (London UK-ENGLAND)
Boom Boom Kid (Buenos Aires ARGENTINA)
Boraj (Santiago CHILE)
The Bright Light Social Hour (Austin TX)
BRONCHO (Tulsa OK)
The Brummies (Nashville TN)
Buck Gooter (Harrisonburg VA)
Caitlyn Smith (Cannon Falls MN)
Cassper Nyovest (Johannesburg SOUTH AFRICA)
Catnapp (Berlin GERMANY)
CHAI (Nagoya JAPAN)
Chastity (Whitby CANADA)
CHIU PI (Taiwan TAIWAN)
CIFIKA (Seoul SOUTH KOREA)
City of the Sun (Brooklyn NY)
The Colors (Ulaanbaatar MONGOLIA)
Combo Chimbita (Brooklyn NY)
The Comet is Coming (London UK-ENGLAND)
Construction & Destruction (Port Greville CANADA)
Cumulus (Seattle WA)
The Curls (Chicago IL)
Current Affairs (Glasgow UK-SCOTLAND)
Curse Of Lono (London UK-ENGLAND)
Daniel Brandt (Berlin GERMANY)
Darling West (Oslo NORWAY)
Das Body (Oslo NORWAY)
Dead Soft (Vancouver CANADA)
Death By Unga Bunga (Moss NORWAY)
Deerhunter (Atlanta GA)
Deezie Brown (Austin TX)
Delaporte (Madrid SPAIN)
Denise le Menice (Perth AUSTRALIA)
Devon Church (New York NY)
The Dirty Nil (Dundas CANADA)
Dj Kess (Sekondi Takoradi GHANA)
DJ Rosegold (Toronto CANADA)
Doe (London UK-ENGLAND)
Doeman (Houston TX)
DRAMA (Chicago IL)
Dramatic Lovers (Milwaukee WI)
Dream Catchers Dance Academy (Ikorodu NIGERIA)
Dual Core (Austin TX)
DUO BUD (Seoul SOUTH KOREA)
Dylan Cartlidge (Redcar UK-ENGLAND)
E.L (Accra GHANA)
EggPlantEgg (Taiwan TAIWAN)
Ehsan Matoori (Dallas TX)
Elder Island (Bristol UK-ENGLAND)
Elephant Gym (Taiwan TAIWAN)
El Gallo (Santiago CHILE)
Emerson Snowe (Brisbane AUSTRALIA)
FADE (Grand Rapids MI)
Falz The bahdguy (Lagos NIGERIA)
Farao (Oslo NORWAY)
Fatherson (Glasgow UK-SCOTLAND)
field trip (Los Angeles CA)
Flint Eastwood (Detroit MI)
Flower (New York NY)
Foie Gras (San Francisco CA)
Frijo (Buenos Aires ARGENTINA)
Fuglar (Santiago CHILE)
Gallops (Wrexham UK-WALES)
Goodbye Honolulu (Toronto CANADA)
Graham Van Pelt (Toronto CANADA)
Grandchildren (Philadelphia PA)
Grivo (Austin TX)
Grupo Rebolu (Whitestone NY)
Gurr (Berlin GERMANY)
Haiku Hands (Sydney AUSTRALIA)
Hard Proof (Austin TX)
Harry Edohoukwa (Dallas TX)
HOMIE (Medellín COLOMBIA)
Honey Lung (London UK-ENGLAND)
I Know Leopard (Sydney AUSTRALIA)
I Mean Us (Taiwan TAIWAN)
Indianola (Nashville TN)
In Mirrors (Vancouver CANADA)
Irene Ntale (Kampala UGANDA)
ISLAND (London UK-ENGLAND)
Ivan Dorn (Kiev UKRAINE)
JayDaYoungan (Bogalusa LA)
Jealous of the Birds (Belfast UK-N. IRELAND)
Jerry Paper (Los Angeles CA)
JM Stevens (Austin TX)
Joel Eel (Toronto CANADA)
Jona Camacho (Bogota COLOMBIA)
Jonathan Bree (Auckland NEW ZEALAND)
Jordan Moser (Austin TX)
Jo Schornikow (Melbourne AUSTRALIA)
Joshua Burnside (Belfast UK-N. IRELAND)
Juan Celofán (Santiago CHILE)
Julie Odell (New Orleans LA)
Kagwe Mungai (Nairobi KENYA)
Kapil Seshasayee (Glasgow UK-SCOTLAND)
Katy Kirby (Spicewood TX)
KOJAQUE (Dublin IRELAND)
KOMOREBI (New Delhi INDIA)
Laura Misch (London UK-ENGLAND)
Lazy Day (London UK-ENGLAND)
The Lemons (Ulaanbaatar MONGOLIA)
LEX the Lexicon Artist (Taipei TAIWAN)
Liily (Los Angeles CA)
Living Hour (Winnipeg CANADA)
Lizzie and The Makers (New York NY)
Lord Esperanza (Paris FRANCE)
Los Gaiteros de Ovejas (Ovejas COLOMBIA)
Los Nastys (Madrid SPAIN)
Lucy Spraggan (Buxton UK-ENGLAND)
LUWTEN (Rotterdam NETHERLANDS)
Mabiland (Medellin COLOMBIA)
Magic Potion (Stockholm SWEDEN)
The Mammoths (Austin TX)
Marta Pereira Da Costa (Lisbon PORTUGAL)
MASCARIMIRI (Muro Leccese ITALY)
Michael Olivera Group (Madrid SPAIN)
Million Miles (London UK-ENGLAND)
Missions (Los Angeles CA)
Moonwalks (Detroit MI)
Mr.Kitty (Austin TX)
Mr Eazi (Lagos NIGERIA)
The Muffinz (Johannesburg SOUTH AFRICA)
MUNYA (Saguenay CANADA)
Murray A. Lightburn (Montreal CANADA)
My Skin Against Your Skin (Taipei TAIWAN)
Nadine Shah (South Shields UK-ENGLAND)
Nancy (London UK-ENGLAND)
Natalia Norte (Iquique CHILE)
Native Sun (New York NY)
Natos Y Waor (Madrid SPAIN)
Novelist (London UK-ENGLAND)
NO WIN (Los Angeles CA)
Oddó (Santiago CHILE)
Odette (Sydney AUSTRALIA)
Orions Belte (Bergen NORWAY)
Oscar Jerome (London UK-ENGLAND)
OTB Fastlane (Houston TX)
The Other End (Bergen NORWAY)
The Pearl Harts (London UK-ENGLAND)
Phoebe Hunt & The Gatherers (Austin TX)
Pip Hall (Preston UK-ENGLAND)
Pleasure Jams (Brooklyn NY)
Powers Pleasant (Brooklyn NY)
Prism Bitch (Albuquerque NM)
Profligate (Los Angeles CA)
Public Practice (New York NY)
The Qualitons (Budapest HUNGARY)
Rascalton (Glasgow UK-SCOTLAND)
Rattletree (Austin TX)
Recycled J (Madrid SPAIN)
Regallily (Tokyo JAPAN)
Renick Bell (Tokyo JAPAN)
Rev Rev Rev (Modena ITALY)
ROE (Derry IRELAND)
Rose Droll (San Francisco CA)
Royal Canoe (Winnipeg CANADA)
Sad Cops (Denton TX)
Salma Sky (Lusaka ZAMBIA)
Sam DeRosa (Poughkeepsie NY)
Sam Eagle (Colchester UK-ENGLAND)
Sam Fender (Newcastle Upon Tyne UK-ENGLAND)
Schaffer the Darklord (New York NY)
Scott Yoder (Seattle WA)
Sebastian Romero (Mexico City MEXICO)
Seyi Shay (Lagos NIGERIA)
SHIRAZEE (Bronx NY)
ShitKid (Stockholm SWEDEN)
Shy Boys (Kansas City MO)
The Sick Things (Montreal CANADA)
Single Lash (Austin TX)
Sloppy Jane (Brooklyn NY)
Smokey Brights (Seattle WA)
smut (Cincinnati OH)
The Snuts (Bathgate UK-SCOTLAND)
Soft as Snow (Oslo NORWAY)
Soft Kill (Portland OR)
Soge Culebra (Murcia SPAIN)
Sophie Auster (New York NY)
Sports Team (Harlesden UK-ENGLAND)
Squid (Bristol UK-ENGLAND)
Stanley Enow (Cameroon CAMEROON)
Stealing Sheep (Liverpool UK-ENGLAND)
Stokoff (Bogota COLOMBIA)
Sudakistan (Stockholm SWEDEN)
Sulfur (Charlotte NC)
Sun June (Austin TX)
Superbody (Chattanooga TN)
Suzan Köcher (Solingen GERMANY)
Table Scraps (Birmingham UK-ENGLAND)
Taco Mouth (Nashville TN)
Tais Alvarenga (Rio De Janeiro BRAZIL)
Tallies (Toronto CANADA)
Talos (Cork IRELAND)
Tameca Jones (Austin TX)
Tasha (Chicago IL)
Taylor Janzen (Winnipeg CANADA)
TEEN (Brooklyn NY)
Tennis System (Los Angeles CA)
Termination Dust (Anchorage AK)
the perfect me (Fukuoka JAPAN)
Thomas Amar-Aigbe (DJ Sose) (Lagos NIGERIA)
Thyla (Brighton UK-ENGLAND)
Tobi Lou (Chicago IL)
TOMKAT (Denton TX)
T-Rextasy (New York NY)
Tribal (Johannesurg SOUTH AFRICA)
Trupa Trupa (Gdansk POLAND)
Tyler Ramsey (Asheville NC)
Urban Hype (Lusaka ZAMBIA)
Vaarwell (Lisbon PORTUGAL)
Vacations (Newcastle AUSTRALIA)
Vandoliers (Dallas TX)
Verneri Pohjola with Tuomo & Markus (Helsinki FINLAND)
Versus (New York NY)
Victoria Kimani (Nairobi KENYA)
Waco Brothers (Chicago IL)
Wet Dreams (Oslo NORWAY)
whenyoung (Limerick IRELAND)
Whitney Ballen (Seattle WA)
William Elliott Whitmore (Lee County IA)
Wolf & Moon (Berlin GERMANY)
XIXA (Tucson AZ)
Yawners (Madrid SPAIN)
The Yawpers (Denver CO)
Yemi Alade (Nigeria NIGERIA)
The Young Something (Tampa FL)
Y O Y (Finale Emilia ITALY)
Yung Baby Tate (Atlanta GA)
The Zephyr Bones (Barcelona SPAIN)
Zona Tango (Buenos Aires ARGENTINA)

Get the Best Fit take on the week in music direct to your inbox every Friday