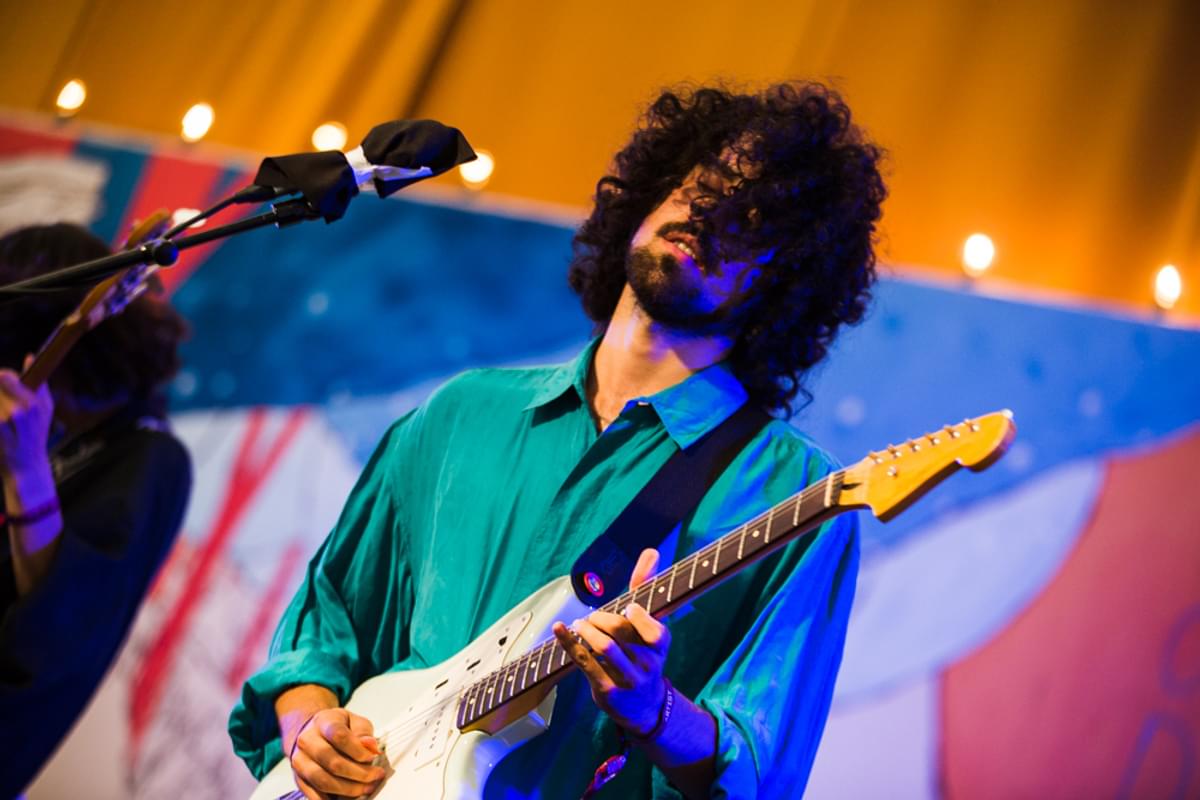 Stefflon Don, Baywaves, Shamir, and more to play SXSW 2018
The Weather Station, Flyte, GURR, Husky Loops, The Orielles, Shopping, Surma, Yungen, and dozens more are also set to play the mammoth showcase next spring.
The Austin, Texas-based extravaganza isn't just about the music - there's a huge range of talks, lectures, debates, panels, workshops, and more across a diverse range of topics, from film to tech to food to style to sports. Speakers include Keith Urban, Ta-Nehisi Coates, director Darren Aronofsky, Spotify's Stefan Blom, Steve Ballmer, and United Shades Of America's W. Kamau Bell.
SXSW 2018 takes place 9-18 March. Ticket details can be found on the SXSW website.
SXSW 2018 arists so far in full:
Ace Tee (Hamburg GERMANY)
Aero Flynn (Minneapolis MN)
Altre di B (Bologna ITALY)
Antytila (Kyiv UKRAINE)
Aries (Bilbao SPAIN)
Automelodi (Montreal CANADA)
Avatar Darko (Seattle WA)
Bad Moves (Washington DC)
Bad Pony (Sydney AUSTRALIA)
Alice Bag (Los Angeles CA)
Lee Bains III + The Glory Fires (Birmingham AL)
Bajaga and Instruktori (Belgrade SERBIA)
Baywaves (Madrid SPAIN)
Benin City (London UK-ENGLAND)
Dan Bettridge (Bridgend UK-WALES)
The Bishops (Austin TX)
Blackberries (Solingen GERMANY)
Blood Wine or Honey (Hong Kong CHINA)
Boogat (Montreal CANADA)
Moses Boyd Solo Exodus (London UK-ENGLAND)
Brightness (Newcastle AUSTRALIA)
The Britanys (New York NY)
Abraham Brody (Vilnius LITHUANIA)
Marla Brown (London UK-ENGLAND)
Buddy (Compton CA)
C-Kan (Guadalajara MEXICO)
Dylan Cameron (Austin TX)
Fabrizio Cammarata (Palermo ITALY)
Cape Francis (Brooklyn NY)
Castlecomer (Sydney AUSTRALIA)
ChihiroYamazaki+ROUTE14band (Tokyo JAPAN)
CIFIKA (Seoul SOUTH KOREA)
Cilantro Boombox (Austin TX)
Cirkus Funk (Cali COLOMBIA)
C.Macleod (Stornoway UK-SCOTLAND)
Kelvyn Colt (Bingen GERMANY)
Coma Pony (Chihuahua MEXICO)
Crumb (Brooklyn NY)
Cursed Earth (Perth AUSTRALIA)
Curved Light (Austin TX)
Cut Worms (Brooklyn NY)
Mikaela Davis (Rochester NY)
Jarv Dee (Seattle WA)
Helena Deland (Montreal CANADA)
Deluxe (Aix-En-Provence FRANCE)
Dirgahayu (Kuala Lumpur MALAYSIA)
Stella Donnelly (Fremantle AUSTRALIA)
Keelan Donovan (Portland ME)
Joey Dosik (Los Angeles CA)
Draper (London UK-ENGLAND)
DYGL (Tokyo JAPAN)
El Otro Borges (Buenos Aires ARGENTINA)
El Otro Grupo (Santa Marta COLOMBIA)
Farina (Medellin COLOMBIA)
Fatai (Melbourne AUSTRALIA)
FAVX (Madrid SPAIN)
Charlie Faye & The Fayettes (Austin TX)
Ruby Fields (Cronulla AUSTRALIA)
Fis and Rob Thorne (Palmerston North NEW ZEALAND)
The Fish Police (London UK-ENGLAND)
Flyte (London UK-ENGLAND)
The Foreign Resort (Copenhagen DENMARK)
Forever (Montreal CANADA)
FOXTRAX (New York NY)
Francobollo (London UK-ENGLAND)
Freedom Hawk (Virginia Beach VA)
Fuglar (Santiago CHILE)
GANGES (Madrid SPAIN)
Gang of Youths (Sydney AUSTRALIA)
Nubya Garcia (London UK-ENGLAND)
Samantha Glass (Madison WI)
William Harries Graham (Austin TX)
Grand Analog (Toronto CANADA)
Grandchildren (Philadelphia PA)
Greenbeard (Austin TX)
Grim Streaker (Brooklyn NY)
Grupo Rebolu (Colombia NY)
Gulfer (Montreal CANADA)
Gurr (Berlin GERMANY)
Sinead Harnett (London UK-ENGLAND)
Hatchie (Brisbane AUSTRALIA)
Hater (Malmo SWEDEN)
Ashley Henry Trio (London UK-ENGLAND)
Higher Brothers (Chengdu CHINA)
The Homesick (Dokkum NETHERLANDS)
Honduras (Brooklyn NY)
Warren Hood (Austin TX)
Husky Loops (London UK-ENGLAND)
HUXLEE (Los Angeles CA)
IAMDDB (Manchester UK-ENGLAND)
Izzy True (Trumansburg NY)
Jade Imagine (Melbourne AUSTRALIA)
Joji (Tokyo JAPAN)
JP The Wavy (Tokyo JAPAN)
Keith Ape (Seoul SOUTH KOREA)
Sarah Klang (Gothenburg SWEDEN)
La Banda Morisca (Andalucía SPAIN)
Manu Lanvin (Lyon FRANCE)
Leather Girls (Austin TX)
Luna Lee (Seoul SOUTH KOREA)
Lethal Bizzle (London UK-ENGLAND)
Benji Lewis (Melbourne AUSTRALIA)
Dean Lewis (Sydney AUSTRALIA)
LNG/SHT (Cancun MEXICO)
Los Wilds (Madrid SPAIN)
Lolo Lovina (Sydney AUSTRALIA)
Luneta Mágica (Manaus BRAZIL)
The Magnettes (Pajala SWEDEN)
Manatee Commune (Seattle WA)
Mannequin Pussy (Philadelphia PA)
Maréh (Cali COLOMBIA)
MARLENE (Stockholm SWEDEN)
Anna McClellan (Brooklyn NY)
MC Lars (Berkeley CA)
Melo Makes Music (Chicago IL)
Milk & Bone (Montreal CANADA)
Miqui Brightside (DJset)
(Madrid SPAIN)
Mogli (Hamburg GERMANY)
Mothership (Dallas TX)
Museless (Barcelona SPAIN)
My Life as Ali Thomas (Bangkok THAILAND)
Hans Nayna (Mahebourg MAURITIUS)
Night Beats (Austin TX)
Not3s (Hackney UK-ENGLAND)
No Vacation (San Francisco CA)
October (Auckland NEW ZEALAND)
Nnamdi Ogbonnaya (Chicago IL)
Okey Dokey (Nashville TN)
ONR (Glasgow UK-SCOTLAND)
The Orielles (Halifax UK-ENGLAND)
Our Girl (London UK-ENGLAND)
The Outer Vibe (Nashville TN)
The Outfit, TX (Dallas TX)
Jay Park (Seoul SOUTH KOREA)
Partner (Windsor CANADA)
Peach Pit (Vancouver CANADA)
Sloan Peterson (Sydney AUSTRALIA)
pH-1 (Seoul SOUTH KOREA)
Phe Reds (Seattle WA)
Sara Pi (Barcelona SPAIN)
Plastic Picnic (Brooklyn NY)
pronoun (Brooklyn NY)
Punjabtronix (Bristol UK-ENGLAND)
Oliver Rajamani (Austin TX)
David Ramirez (Austin TX)
Rancho Aparte (Quibdó COLOMBIA)
Ratboys (Chicago IL)
Gemma Ray (Berlin GERMANY)
Lou Rebecca (Paris FRANCE)
*repeat repeat (Nashville TN)
Jess Ribeiro (Melbourne AUSTRALIA)
Rich Chigga (Jakarta INDONESIA)
R.LUM.R. (Nashville TN)
Lucy Rose (London UK-ENGLAND)
Rude Kid (London UK-ENGLAND)
RVG (Melbourne AUSTRALIA)
Salem's Bend (Los Angeles CA)
Sammus (Ithaca NY)
sarasara (Lille FRANCE)
Sassy 009 (Oslo NORWAY)
Say Sue Me (Busan SOUTH KOREA)
Ed Schrader's Music Beat (Baltimore MD)
Shamir (Las Vegas NV)
Shopping (London UK-ENGLAND)
Sik-k (Seoul SOUTH KOREA)
Silibrina (São Paulo BRAZIL)
Raz Simone (Seattle WA)
Smut (Cincinnati OH)
Snail Mail (Baltimore MD)
Sonars (Bergamo ITALY)
SPORTS (Philadelphia PA)
SsingSsing (Seoul SOUTH KOREA)
Steak (London UK-ENGLAND)
Stefflon Don (London UK-ENGLAND)
Stonefield (Macedon Ranges AUSTRALIA)
Sturle Dagsland (Stavanger NORWAY)
Sun Seeker (Nashville TN)
Surfbort (Brooklyn NY)
Surma (Leiria PORTUGAL)
Talisco (Paris FRANCE)
Tennis System (Los Angeles CA)
Terry vs. Tori (Seville SPAIN)
Theodore (Athens GREECE)
TiKA (Toronto CANADA)
Adam Torres (Austin TX)
Totally Mild (Melbourne AUSTRALIA)
Touts (Derry UK-N. IRELAND)
Uni (New York NY)
Us and Us Only (Baltimore MD)
Dhruv Visvanath (New Delhi INDIA)
VOWWS (Los Angeles CA)
Voyager (Perth AUSTRALIA)
VVV (Austin TX)
Warbly Jets (Los Angeles CA)
The Watchers (San Francisco CA)
The Weather Station (Toronto CANADA)
The Wedding Present (Leeds UK-ENGLAND)
Jerry Williams (Portsmouth UK-ENGLAND)
Marlon Williams (Christchurch NEW ZEALAND)
Wo Fat (Dallas TX)
Woodie GoChild (Seoul SOUTH KOREA)
"World Music Unleashed" by SIPM (Austin TX)
Yemen Blues (Tel Aviv ISRAEL)
Yultron (Los Angeles CA)
Yungen (London UK-ENGLAND)
The Zephyr Bones (Barcelona SPAIN)
Violetta Zironi (Reggio Emilia ITALY)
Get the Best Fit take on the week in music direct to your inbox every Friday