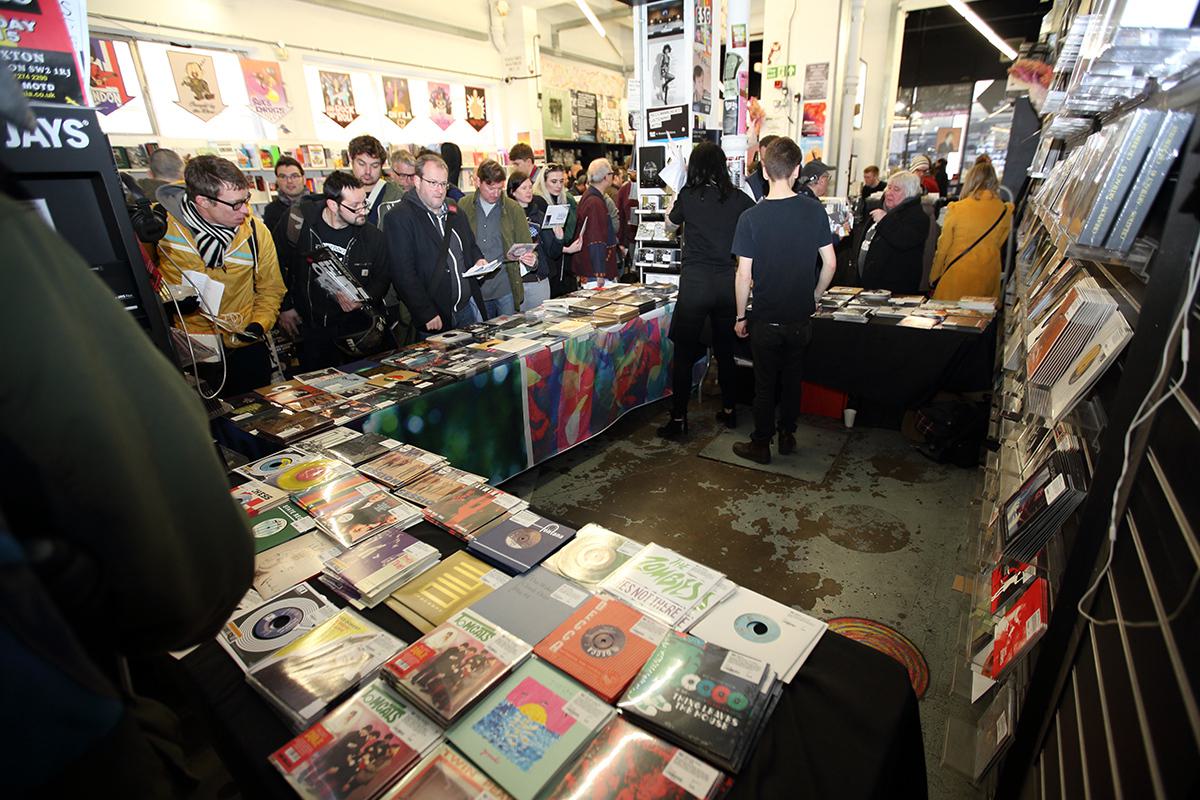 Here is the full list of Record Store Day 2017 releases
Record Store Day 2017's full list of releases is here, with a heap of weird and wonderful vinyl goodies available.
This year's event - marking 10 years of Record Store Day - features over 500 releases ready to hit the shelves of bricks'n'mortar stores up and down the country on 22 April.
Some exciting highlights include David Bowie and Placebo's version of "Without You I'm Nothing", an Africa-shaped Toto disc, plus releases from The Cure, POLIÇA, David Bowie, Cocteau Twins, Fawlty Towers, Anna Calvi, Aqua, Izzy Bizu, Moby, and Laura Marling.
Check out the full list below.
999 : ' Live & Loud – LP
12 Stone Toddler : Does It Scare You?/ Scheming – LP X 2
A Thousand Horses : A Thousand Horses Live From London Metropolis Studios – V12
Adam Franklin : Iron Horse/Born To Lose/Thursday's Child – 7″
Afriquoi : Can I Know You (ft Kakatsitsi) x Starship (ft Shabaka Hutchings) – 12″
Air : le soleil est pres de moi – 12″ single splatter vinyl
Airbourne : It's All For Rock N' Roll / It's Never Too Loud For Me – V12
Alex Calder/Homeshake : Nankhatai / Stuck Inside – 7″
Alfonso Noel Lovo : Terremoto Richter 6:25 – Managua – LP
Alice Coltrane : Harp Improvisation – 10″
Alice In Chains : B Sides – x2 7″ Vinyl
Alien Sex Fiend : Overdose – LP
Allen Touissant : The Allen Toussaint Collection – 2 LP Set 2 x 140g vinyl (music on sides A/B/C, etching on side D)
ALTERED IMAGES : HAPPY BIRTHDAY 2LP – 2LP
American Werewolf Academy (USA) : Dead without dying & gleefully dettached. – LP 12″
Andre 3000 : Altogether Now – 7″ Vinyl
Animal Collective : Meeting of the Waters – 12″
Animals, The : Five Animals Dont Stop No Show – LP
Anna Calvi : Live @ Meltdown – 12″
Antoni Maiovvi : Abdullah – LP+DVD
Aqua : Barbie Girl – "7
Aqua : Aquarium – LP
ART OF NOISE : MOMENTS IN LOVE (RSD) – 10
Art Of Noise : Moments In Love – 12″
ARTHUR VEROCAI : ARTHUR VEROCAI – LP
ARTIST TBC : TBC – LP
Asobi Seksu : Citrus – LP
Atjazz : The Somethig Else! 10 Years of Atjazz Sampler – 12″ Vinyl
Atjazz : The Something Else! 10 Years of Atjazz Sampler – 12″ Vinyl
Atomic Bomb Band : Plays the Music of William Onyeabor – LP
Auction For The Promise Club : See Through – 7″
Autocreation : Mettle – 2LP
Autolect (mononauts) : Monoverse – 12″ album
Axe Grinder / War Plague : My Plague queen / Disease – 7″
Babymetal : Metal Resistance – V12x2
Band Of Pain w/ Nurse With Wound : Abbey Rd – LP
Banks & Steelz : Wild Season (feat. Florence We – 1 x 40g 7″ Black vinyl
Bastille : Comfort of Strangers – 7″
Batmobile : BatmoManiacs – 7″
Beautiful People : Harmony – 12″ Vinyl
Ben Folds & W.A.S.O. : Live In Perth – x2 LP Vinyl
Beny More : Beny More – El Barbaro Del Ritmo – LPX2
Bert Jansch : The Black Swan (Single) – 7″
Beverley Martyn : Picking Up The Sunshine – 7″
Bevis Frond, The : Triptych – 2LP
Bevis Frond, The : Bevis Through The Looking Glass – 2LP
Bevis Frond, The : The Auntie Winnie Album – 2LP
Bill Evans : Another Time: The Hilversum Concert – LP
Bill Evans : Another Time: The Hilversum Concert – LP
Biters : Stone Cold Love / Callin' You Home – 7″
Black Angels : Death Song – LP
Black Bombers : Rush / Raw Ramp – 7″
Black Booby : Dickies Dubs – 12″ Vinyl with Goodie bag (badge & sticker)
Blackberry Smoke : Pearls / The Rover – 7″
Blackstreet : No Diggity – 7″
Blaze Foley : Sittin By The Road – LP
Blossoms : Blossoms – 10″ LP
Bochum Weit : April – 1LP
Bonnie Prince Billy and Nathan Salsburg : (Untitled) Beargrass Song + 2EP – 7″
Boogie Times Tribe : Dark Stranger / Real Hardcore – 12″ only
Boys Noize : Mayday Remixes – 12″
BP Fallon & David Holmes : Henry McCullough Andrew Weatherhall Remixes – 12″
Brett Anderson : Live At Koko, 2011 – 1LP
Brian Auger : With The Soul Sisters EP – 7″
Brian Gibson : Thumper – LP
Brian Jonestown Massacre, The : POL POT'S PLEASURE PENTHOUSE – 2LP
British Sea Power : Bad Bohemian / Keep On Trying – 7″
Broken Dog : Flips (Selected B-Sides + Rarities 1996-2004) – LP
Brother Ali : The Undisputed Truth (10 Year Anniversary Edition) – Triple LP
Bruce Springsteen : Hammersmith Odeon, London '75 – x4 LP Vinyl
Bryan Lee : Live at the Old Absinthe House Bar… Friday Night – 2LP
Buggles, The : Video Killed The Radio Star – V12
Bullet For My Valentine : Don't Need You – V10
Butcher Boy : Bad Things Will Happen When It's Quiet – 7″
Byrds, The : Do You Believe In Magic? – 7″
C.Brotzmann & T.Raumschmiere : C.Brotzmann & T.Raumschmiere E.P. – 10″
CABBAGE : YOUNG, DUMB AND FULL OF…. – 2LP
Cadillac Three, The : The Cadillac Three Live At Abbey Road – V10
Calypso Rose : Calypso Queen / No Madame (Mo Laudi Remixes) – 10″
Camera / Richard Pinhas : Split – 12″
Carina Round : Slow Motion Addict (X) – (10th Anniversary Edition) – 3LP + DVD
Cars, The : Live At The Agora,1978 – 2 x 12″ Black vinyl. Side 4 etched.
Catfish And The Bottlemen : The Balcony – LP
Charles Earland : Comin To You Live / I Will Never Tell – 12″ 180g Vinyl
Chelsea : Live At The Bier Keller Blackpool – LP
Chemical Brothers, The : C-H-E-M-I-C-A-L – 12″
Chills, The : Rocket Science – 7″
Chimera : Holy Grail – LP
Christopher Lee : Metal Knight – 10″
CIARAN, LAVERY : A KING AT NIGHT – 10″
Cleaners from Venus : Best of… – LP
Cocteau Twins : Four Calender Café – 2LP
Cocteau Twins : Milk & Kisses – 2LP
Coheed & Cambria : Good Apollo I'm Burning Star IV – x2 LP Vinyl
Colleen : Colleen Et Les Boîtes À Musique – LP
Colleen : Les Ondes Silencieuses – LP
Colleen : The Golden Morning Breaks – LP
Comet is Coming, The : Death To The Planet – 12″ EP
Commander Cody : Claiming New Territories – Live at the Aladin 1980 – LP
Congos, The : Heart Of The Congos (Original Mix) – LP
Coral, The : Holy Mountain Picnic Massacre Blues EP – Limited edition 12″ picture disc
cosmic dead, the : Eccie Bam Yas, E? – LP
Courteeners, The : The 17th (Remixes) – 12″
Crazy World Of Arthur Brown, The : The Crazy World Of Arthur Brown – Single LP
Creation Rebel : Starship Africa – LP
Creation, The : Power Surge – 1LP
Cribs, The : Mens Needs, Womens Needs, Whatever – LP
Crystal Fighters : Star of Love – V12
Curanderos (Bardo Pond) : Curanderos – LP
Cure, The : Acoustic Hits – 2LP
Cure, The : Greatest Hits – 2LP
Curtis Knight & Jimi Hendrix : Live At George's Club 20 – x2 LP Vinyl
Czarface : First Weapon Drawn (A Narrated Adventure) – LP / comic
DAMNATION A.D. : PORNOGRAPHY (CLEAR BLUE VINYL) – LP
Danny Brown : Ain't It Funny – 10″
Danny Worsnop : Sanctuary / I Don't Wanna Die – 7″
DAPHNE'S FLIGHT : Knows Time, Knows Change – 12″ LP
DARK, THE : CHEMICAL WARFARE – DLP
Darkthrone : Arctic Thunder – LP
Darlingside : Birds Say – LP
Dave Clarke : The Wolf / Way of Life (Remixes) – 12″
David Bowie : No Plan – 12″
David Bowie : GEM Promo – Limited (15k) 1 x 180g 12″ Black vinyl album. One sided. In a box with 5 Bowie prints.
David Bowie : Cracked Actor – 3 x 180g 12″ Black vinyl album
Dead Or Alive : Unbreakable – The Fragile Remixes – 2LP
Deee-Lite : Groove Is In The Heart / What – 1 x 140g 12″ solid Pink vinyl single
Def Leppard : The Def Leppard E.P. – V12
Dennis Wilson : Bambu (Caribou Sessions) – x2 LP Vinyl
Devil Sold His Soul : A Fragile Hope – 2LP
Diana Ross : Diana – 2LP
Dick Morrissey : Jazz For Moderns 1962 – LP
DIE KUR : BENEATH THE WAVES – 7
DIE KUR : BENEATH THE WAVES – CDS
Dimitri Shostakovich / Mstislav Rostropovich : Cello Concerto No. 2 – X-Ray Picture Disc
Dirty Three : UFKUKO – LP
DISCHARGE : HEAR NOTHING SEE NOTHING SAY NOTHING – 12PD
DISCHARGE : WHY? – 12PD
Distillers, The : Coral Fang – 1 x Red 12″ vinyl album
Districts, The : Ordinary Day / Lover, Lover, Lover – 7″
DJ Hype : Roll The Beats EP – 12″ only
DJ Pierre Presents / VA : Acid 88 – 2LP Picture sleeve, yellow+black Vinyl + insert
Doctor Who (OST) : Doctor Who & The Pescatons / Doctor Who Sound Affects – 2LP
Dolly Parton : Puppy Love – 7″
Don Blackman : Don Blackman – 12″ LP
Doors, The : Live At the Matrix '67 – 1 x 180g 12″ Black? vinyl album. Numbered.
Dope : Maxi 12″ – LP
Doyle (The Misfits) : Abominator – LP
Dr Robert And P P Arnold : Five In The Afernoon – LP
Drive-By Truckers : Live in Studio – LP
drøne : A Perfect Blind – Vinyl LP
Dubkasm : Brixton Rec – LP
Duke Spirit, The : Serenade EP (180g Pink Vinyl) – 12″ EP
Durutti Column, The : Short Stories For Pauline – LP
Dwayne Jensen : On The Floor / I Got The Rhythm – 12″ Vinyl 1 Sided Silk Screen Picture Disc
ELASTICA : ELASTICA – LP + Flexi Disc + Fanzine
Elbow : August & September – 7″
EL-P : Brain Salad Surgery – 7″ gatefold
ELVIS PRESLEY : ELVIS ON TELEVISION 1956-1960: THE COMPLETE SOUND RECORDINGS (2LP+24 PAGE GATEFOLD) – DLP
Emeli Sandé : Live At The Royal Albert Hall – 2LP
Emmylou Harris : Studio Albums 1975 – 5LP + bonus 7″
ENSLAVED : ROADBURN LIVE (RSD EXCLUSIVE GREEN VINYL) – DLP
Eric Church : Mr. Misunderstood – V12
Evan Dando : Baby Im Bored – 2LP + book
Evie Sands : Shine for Me – LP
Eyelids : Eyelids Meet Gary Jarman – 7″
Fall, The : Masquerade (Single Mix) / Masquerade (PWL Mix) – 7″
Fall, The : Live in Clitheroe 2013 – LP
FAT FREDDY'S DROP : HOPE – 12″
Faust / Ulan Bator : Split – 12″
Fawlty Towers : Fawlty Towers – Picture Disc
Feeder : Forget About Tomorrow / Just The Way I'm Feeling – 7″ AA
Felice Brothers, The : Tonight At The Arizona – LP
Fickle Friends : Brooklyn/Cry Baby – 12″
Field Music : Tones of Town – LP
Flaming Lips, The : The Flaming Lips Onboard the International Space Station Concert for Peace – LP
Fleetwood Mac : Alternate Mirage – 1 x 180g 12″ Black? Vinyl album
Fleur De Lys : I Can See The Light: The Fleur De Lys Singles Box Set – 7″ Singles Boxset
FLOWDAN : DISASTER PIECE – LP
FLOWER TRAVELLIN' BAND : ANYWAY – LP
Follakzoid ft J. Spaceman : London Sessions – LP
For The Oracle : All The Way Alive – 10″
Frank n Dank & Jay Dee : The Jay Dee Tapes – 12″
Frank Zappa : Rollo (Rollo/Rollo Interior Area/Rollo Goes Out) / Portland Improvisation – V10
Fredfades : Warmth Instrumentals – LP
Future Sound Of London, The : Archived Environmental Views – 12″ 3LP
Fuzztones : In Heat – LP
GBH : LEATHER, BRISTLES, STUDS AND ACNE – 12PD
Georgie Fame : R&B at the Ricky Tick 65 – LP
Geraldine Fibbers, The : Lost Somewhere Between The Earth and my Home – 2 x LP
Gerard Way : Into The Cave We Wander – 12″ Picture Disc
GILBERT O'SULLIVAN : HIMSELF (RSD) – LP
Ginger Wildheart : Clout EP – 10″
Glenn Jones & Matthew Azevedo : Waterworks – LP
Goat : Goatfuzz/Goatfizz – 7″
Goblin : Notturno – LP/ 7″/ 12″/ CD
Gold Panda : Kingdom – 12″
Goldie vs. Ulterior Motive : I Adore You – 12″
Goo Goo Dolls : Pick Pockets, Tiny Thieves and Petty Victories 1987 – 1995 – 5 Lp box set
GRAHAM PARKER & THE RUMOUR : LIVE IN BREMEN – DLP
Grateful Dead : P.N.E. Garden Auditorium, Vanc – 2 x 180g 12″ Black vinyl
GRAVE : AS RAPTURE COMES – LP
GRAVE : AS RAPTURE COMES (RED VINYL) – LP
Greg Graffin : Cold As The Clay – LP
Halestorm : ReAniMate 3.0: The CoVeRs eP – 12″ Picture Disc
Harry Jay-Steele : Reach You – 12″
Harry Nilsson : Nilsson Schmillson – LP Vinyl
Harry South Big Band : Songbook – LP
HAWKLORDS : LIVE 1978 – DLP
Hawkwind : Kerb Crawler / Honky Dorky – 7″
Hayseed Dixie : Free Your Mind And Your Grass Will Follow – LP
Headhunters, The : God Make Me Funky – 7″ Single
HEADS, THE : RELAXING WITH… – LP
Heartists aka Claudio Coccoluto, The : Belo Horizonti – 20th Anniversary Edition – 12 inch
HELLACOPTERS, THE : PAYIN THE DUES – LP PIC
HELLSINGLAND UNDERGROUND : UNDERSTANDING GRAVITY (LIMITED EDITION GREEN VINYL – RSD) – LP
HELLSINGLAND UNDERGROUND : UNDERSTANDING GRAVITY (LIMITED EDITION ORANGE VINYL – RSD) – LP
Hey Mother Death : Deranged Remixes – 12″
HiFi Sean : FT 'Excursions' – 12″
HIGH CONTRAST : SHOTGUN MOUTHWASH – 7″
Hollies, The : Shake With The Hollies – LP
Hopeton Lewis / Vin Gordon & The Supersonics : There She Goes / Reggay Trombone (both unreleased) – 7″
Hudson Mohawke : Ded Sec -Watchdogs 2 (Original Game Soundtrack) – LP
I Marc 4 : GLP 1001 – LP
Ian Hunter & The Rant Band : Dandy – 7″
Idris Muhammad : Could Heaven Ever Be Like This / Tasty Cakes / Turn this mother out – 12″ 180g Vinyl
Iggy Pop : Post Pop Depression: Live At The Royal Albert Hall – 3LP
IKE REIKO : YOU BABY – LP
IMPERIAL STATE ELECTRIC : ALL THROUGH THE NIGHT (LIMITED EDITION WHITE VINYL – RSD) – LP
INNA BABA COULIBALY FT ALI FARKA TOURE : SAHEL – 10″
INTEGRITY : HUMANITY IS THE DEVIL (REMIX & REMASTER) – LP
Iron and Wine : Archives Series Vol 3 – 7″
Izzy Bizu : Talking To You – 7″
Jaco Pastorius : Truth, Liberty & Soul – Live in NYC: The Complete 1982 NPR Jazz Alive! Recording – 3LP
Jah Screechy & SL2 : Walk And Skank / On A Ragga Tip – 12″ single
Jamiroquai : Automation – 10″
Jan Denis : Preludio (original / I-Robots Remixes) – 12″ full picture sleeve + signed insert
Jarvis Cocker & Chilly Gonzales : Room 29 – LP
Jason Isbell : Live From Welcome to 1979 – 6 track 12″
JEFF CAUDILL : RESET THE SUN – 12
Jimmy Page & The Black Crowes : Live At Jones Beach – 10″
Jody Reynolds : Dead Girls With Raven Hair (1958-1966) – LP
Joe Higgs : Invitation To Jamaica – 7″
Joe Jackson : A Slow Song / Music To Watch Girls By – V10
Joe Meek : I Hear A New World – LP
John Mayall´s Bluesbreakers : Broadcast 65 EP – 7″
John Renbourn & Wizz Jones : Joint Control – 2 x LP
Johnny Cash : The Johnny Cash Childrens Album – LP Vinyl
Jowe Head : Cabinet Of Curios – LPX2
Julian Cope : Drunken Songs – LP
Jullian Gomes : Late Dreamer – 12″ Vinyl
Junius Meyvant : Floating Harmonies – LPX2
K'Alexi Shelby feat Robert Owens : Downtown (Mike Dunn, Anthony K, Anthony Nicholson Remixes) – 12″ Blood Red Coloured Vinyl
Kasabian : You're In Love With A Psycho – 10″
Katatonia : Proscenium – 12″ Single
Kate Nash : Agenda EP – 12″
Kate Tempest : Let Them Beat Chaos / Let Them Speak Chaos – 2LP
Kathryn Williams : Little Black Numbers – LP
Keane : Tear Up This Town – 7″
Ken Boothe, Dillinger, Leroy Smart, Delroy Wilson : White Man In Hammersmith Palais (7″ EP) – 7″
Kevin Ayers : Champagne And Valium / My Speeding Heart – 7″ Single
Kevin Morby : Beautiful Strangers b/w 'No Place To Fall' (cover) – 7″
Kiko Bun : Shy Man EP – 10″ EP
Kite Base : Soothe / Dadum – 7″
Klaus Dinger & preJapandorf : 2000! – LP
Koobas, The : Live In Germany – 7″
Krome & Time : This Sound is for the Underground – 12″ only
Kut, The : KUT EP – 7″
KYLESA : LIVE AT MAIDA VALE STUDIOS (A BBC RECORDING) – CD
KYLESA : LIVE AT MAIDA VALE STUDIOS (A BBC RECORDING) – 10
La Düsseldorf : The Singles – 1 x 110g 10″ Black vinyl
LANY : ILYSB / B side ILYSB (STRIPPED) – LP 7″
Laura Marling : Live From York Minster – 2LP
Leggy (USA) : Leggy – LP 12″
Leszek Mozdzer/ Liro Rantala/ Michael Wollny : Jazz at Berlin Philharmonic VII/ Piano Night – LP
Lindstrøm / Erot : Northern Disco Lights 7″ (Lindstrøm / Erot) – 7″ Vinyl in Printed Sleeve
Link Wray : Be What You Want To – LP
Lion Vibes : Use Your Loaf Dub – LP
Little Mix : Glory Days – LP Vinyl
London Grammar : Rooting For You – 7″
LOOP : WOLFFLOW – 2LP
Lou Reed : Perfect Night: Live In London – 2 x 180g 12″ Black vinyl album
Lovebirds ft. Galliano : Icarus Remixes – 2 x 7″ Vinyl in Printed Sleeve
LSO Percussion Ensemble : Steve Reich: Sextet, Clapping Music, Muisc for Pieces of Wood – LP
Luboš Fišer : Valerie And Her Week Of Wonders – 7″
Luis Bacalov : LA SEDUZIONE (OST) – LP
Lumineers, The : Seeds 1: Angela and Long Way From Home – 10″
Lxnny Krxvxtz : Brxxth (Jxzzxnxvx Rxmxx) – 10″
Lydia and Hellua Xenium : Guai a voi/ Invocazione – 7″
MADNESS : DRIP FED FRED / JOHNNY THE HORSE (RSD) – 7
Madonna : Dance Mix – 1 x 12″ Black? vinyl 4 track EP.
Magazine : Old World Charm – 12″
Mallory Knox : Wired – 7″
Manic Street Preachers : Your Love Alone Is Not Enough – 12″
Marc Bolan & T. Rex : Live 1977 – 2LP
MARCONI UNION : GHOST STATIONS | REMIXES remixers are Steve Jansen ( Japan) and Geir Jenssen aka Biosphere plus 2 more who will be commissioned when we have RSD approval – LP
Marcos Valle : Vontade De Rever Voce – LP
Marianne Faithful : Rich Kid Blues – 1LP
Marillion : F*** Everyone And Run (F E A R) – V12x2
Mark Mothersbaugh : Mutant Flora – 6 x 7″ vinyl
Mark Mulcahy : The Possum In The Driveway – LP
Martin Carthy & Dave Swarbrick : No Songs – 7″
Matata : Air Fiesta – Single LP
Maximo Park : Risk To Exist – 12″
MAYHEM : DE MYSTERIIS DOM SATHANAS – 12PD
MAYHEM : DEATHCRUSH – 12PD
Metavari : METROPOLIS 'An Original Re-Score by Metavari' – Double LP with DL code
Mew : Frengers – 1LP
Midlake : Bamnan & Slivercork – LP
Millencolin : For Monkeys (20th anniversary edition) – LP
Mind Gamers (Sebastien Tellier, Daniel Stricker, John Kirby) : Power of Power – 7″
Moana OST : How Far I'll Go b/w You're Welcome – V10
Moby : Porcelain Remixes – 12″ Picture Sleeve
Moody Marsden Band, The : The Night The Guitars Came To Play – 12″ x2
Moons, The : Fly / Invisible Friends – 7″
Mortimer : On Our Way Home – Single LP
Mothers Earth Experiment, The : A side. Cool Down Mama – 7″
Moton Records Inc presents Red Greg : Movin' – 12″ Vinyl + embroided moton badge
Motörhead : Motörhead – 3LP
Motörhead : Motörhead – 12PD
Motörhead : WHAT'S WORDS WORTH? – 12PD
Motörhead : Clean Your Clock – LP
Motörhead : Clean Your Clock – LP
Mungo's Hi Fi ft Johnny Clarke : Rain keeps falling – 7″
Mystery Artist Release : TBC – 12″ Single 140gm Black Vinyl
Ned Doheny : Labor Of Love (Kenny Dickenson Remix) – Vinyl 12
Neil Young : Decade – 3LP 140 gm
NICK HARPER : RIVEN 2LP – 2LP
Nico & The Faction : Fata Morgana – Double LP
NICOLA CRUZ : PUENTE ROTO (QUANTIC REMIX) – 12″
Nikki Sudden & Dave Kusworth : Shame For The Angels E.P – 7″ E.P
No. 2 : What Does Good Luck Bring? – LP
Noise Addict : 10000 Kids With Guitars – 2LP
Ocean Colour Scene : Moseley Shoals: Live From The Hydro – V12
Ofrin : Remixes – 10″
One Summer : Spirit / British Summertime / Can't Stop Falling – 12″
ONSLAUGHT : IN SEARCH OF SANITY – DLP
OST : Don – 12″
OST : Don't Look Now – 7″
OST : Quatermass and the Pit -Electronic Cues – 10″
OST : Quatermass and the Pit – Score – LP
OST : I LOVE YOU ALICE. B TOKLAS – LP
OST : Blacula – 1LP
OST : Legend of 1900..-HQ- – LP
Otoboke beaver : love Is Short – 7″ EP
Pal Joey : #3 Spend The Night / Flight 801 – 12″ 180g Vinyl
PAT THOMAS : MARIJATA – LP
Patti Smith : Hey Joe (Version) / Piss Facto – Limited 1 x 40g 7″ Black vinyl
Paul McCartney : Flowers In The Dirt- Demos – MC Single
Pauw & Mystery Jets : Bubblegum/High Tide – Slit LP
Pearl Jam : State Of Love & Trust / Breath – 7″ Vinyl
Penguin Cafe & Cornelius : Umbrella EP – LP
PENTANGLE : FINALE…an evening with – 3LP
Peter Baumann / Conrad Schnitzler : Split – 12″
PETER HOOK & THE LIGHT : CLOSER – LIVE IN MANCHESTER VOL. 1 – LP
PETER HOOK & THE LIGHT : CLOSER – LIVE IN MANCHESTER VOL. 2 – LP
PETER HOOK & THE LIGHT : MOVEMENT – LIVE IN DUBLIN VOL. 1 – LP
PETER HOOK & THE LIGHT : MOVEMENT – LIVE IN DUBLIN VOL. 2 – LP
PETER HOOK & THE LIGHT : POWER CORRUPTION AND LIES – LIVE IN DUBLIN VOL. 1 – LP
PETER HOOK & THE LIGHT : POWER CORRUPTION AND LIES – LIVE IN DUBLIN VOL. 2 – LP
PETER HOOK & THE LIGHT : UNKNOWN PLEASURES – LIVE IN LEEDS VOL. 1 – LP
PETER HOOK & THE LIGHT : UNKNOWN PLEASURES – LIVE IN LEEDS VOL. 2 – LP
PETER HOOK & THE LIGHT : UNKNOWN PLEASURES – LIVE IN LEEDS VOL. 3 – LP
Peter Schilling : Major Tom – Limited 1 x 42g 7″ picture disc
Phil Campbell and The Bastard Sons : Phil Campbell and The Bastard Sons – LP
Phil Odgers : Roll To The Left – LP
Pink Floyd : London 1966 / 1967 – LP
Pink Floyd : Interstellar Overdrive – 1 x 180g 12″ Black vinyl single with poster & postcard
Placebo ft David Bowie : Without You I'm Nothing – V12
POLIÇA : Lipstick Stains / Still Counts AA – 7″
Popol Vuh : Cobra Verde (Original 1987 Motion Picture Soundtrack) – LP (Green Vinyl)
PPK : Tall Stories of The Only Ones with Robert Palmer – 7″
Pretty Things, The : The French EP's 196-1969 – 5 x 7″ Single
Priests : Early Recordings – LP
Primal Scream : Mixamatosis – 12″
Prince : I Wish U Heaven – 1 x 140g 12″ Black vinyl single
Prince : Batdance – 1 x 140g 12″ Black vinyl single
Prince : Sign 'O' The Times – 1 x 140g 12″ Black vinyl single
Prince : I Could Never Take the Place of your Man – 1 x 140g 12″ Black vinyl single
Prince : Partyman – 1 x 140g 12″ Black vinyl single
Prince : Little Red Corvette / 1999 – 7″ Picture Disc
Prince and The Revolution : Pop Life – 1 x 140g 12″ Black vinyl single
Procol Harum : A Whiter Shade Anniversary EP – 12″
Proper Ornaments , The : Wooden Head – LP
Proper Ornaments, The : Waiting for the Summer – LP
Psychic Tv : Fishscales Falling – A Smorgasbord of Delights – Mixtape Vol 2 – 12″
Puccio Roelens : LA MUSICA DI PUCCIO ROELENS – LP
"R.L. Burnside
" : Long Distance Call: Europe, 1982 – LP
Raincoats, The : Fairytale In The Supermarket EP – 7″
RAM Trilogy : RAM Trilogy Chapters 1 to 6 – LP Box Set
Ramones : Ramones Singles Box – 10 x 43g 7″ Black vinyl singles box
Randy Newman : Studio Albums 1968 – 1977 – 5LP Set
Reaction : Old School Rules EP – CD EP
Red Cords : Gonna Find my baby – 7″
Red Hot Chili Peppers : Go Robot / Dreams Of A Samurai – 12″
Remarc : R.I.P / Ice Cream & Syrup – 12″ only
Residents, The : Diskomo Goosebump EP (expanded) – 1LP
Revolutionaries : Green Bay Dub – LP
Robb Johnson : The Beautiful Dark – 10″
Robert Johnson : The Centennial Collection – x3 LP Vinyl
Rodney P : Untitled – 7″
Rosie Crow : Can't Follow – 7″
Royal Philharmonic Orchestra, Tolga Kashif : The Queen Symphony – LP
Ruben Vine : The Life and Times of An Imaginary Rock Star – LP
RUSH : Cygnus X-1 – 12″
Ryo Kawasaki : Selected Works Part 2 – 1976 to 1980 – 1LP Picture Sleeve with LTD Edition Poster
Saltfen / Siah : You Flexi Thing Vol 2: Awkward Squid – 7″
Sam Gopal : Escalator – LP
Santana : Woodstock 1969 – LP Vinyl
Saxon : Into The Labyrinth – Picture Disc
Say Sue Me : Say Sue Me – 7″ EP
Sex Pistols : God Save Sex Pistols – 1LP
Sharon Jones & The Gospel Wonders : Heaven Bound/Key To The Kingdom – 7″
SHIRLEY COLLINS : Shirley Sings Irish – 7″
Shit Girlfriend : Mummys Boy/ I Don't Wanna Die – 7″ Colour Splattered vinyl
Shocking Blue : At Home – 1LP
Sia : This is acting (Spotify Sessions) – LP Vinyl
Sisterhood : Tunnels (Bicep rmx) / Believe (Tin Man Rmx) – 10″ Vinyl
Slaughter & The Dogs : Cranked Up Really High – LP
Slaves : Take Control – LP
Slick Rick : The Great Adventures Of…Children's Book – 7″/Book/CD
Small Faces, The : In Session At The BBC 1965-66 – 2LP
Small Faces, The : Broadcast 66 EP – 7″
Smiths, The : The Boy With The Thorn In His – 1 x 43g 7″ Black vinyl (dinked)
Snapcase : Lookinglasself – LP
SOLITUDE AETURNUS : ADAGIO – DLP
SOLITUDE AETURNUS : ALONE – DLP
SOLITUDE AETURNUS : IN TIMES OF SOLITUDE – DLP
Sonz Of A Loop Da Loop Era : Far Out – 12″ only
Sorrows ,The : Germany 65 EP – 7″
Soulnaturals : Love Says Yes – LP
Soulwax : Belgica (An original soundtrack by Soulwax) – Double 12″
Southside Johnny & Asbury Jukes, The : Live From E Street – LP (12″)
Spacemen 3 : For All The Fucked Up Children – LP
Spacemen 3 : Recurring – LP
Spacemen 3 : Playing With Fire – LP
Spencer Davis Group, The : Rambling Rose EP – 7″
Spencer Morales feat Randy Roberts : Without Your Love (Kenny Dope / Sean McCabe / Spen & Thommy Remixes) – 12″ Orange Coloured Vinyl
SPIRITS BURNING & DAEVID ALLEN : THE ROADMAP IN YOUR HEART (RSD) – 7
SPOON : HOT THOUGHTS – 12″
Stephanie Kirkham : Easy As 1-2-3 – 7″
Stevie Nicks : Rarities 12″ – 1 x 12″ Black single, 6 track EP.
Sting : Live At the Bataclan – LP
Stooges : Heavy Liquid – 2xLP
Sublime : Sublime – Badfish EP – 12″
Sugar : Copper Blue (25th Anniversary Edition) – 3LP
Sun Ra : Hello Mr. Schimmel – 7″
Sun Ra : Discipline 27-11 – LP
SunPalace : Rude Movements (Part I & II) – 7″
Super Furry Animals : International Language Of Screaming – 7″ coloured vinyl
Superchunk : Cup Of Sand – 3LP
Susan Phillips : Soft Sexy Soul – 12″ LP
Suuns : Hold/Still Remixes – Double LP
Suzanne Ciani : Fish Music – 7″
Swet Shop Boys : Sufi La – EP
T. Rex : Electric Warrior – LP
T. Rex : Rock N Roll E.P – 7″ E.P
T.I. : I'm Serious – 2LP
Television Personalities : And Don't The Kids Just Love It – LP
Television Personalities : Mummy You're Not Watching Me – LP
Television Personalities : The Painted Word – LP
Television Personalities : They Could Have Been Bigger Than The Beatles – LP
Temperance Movement, The : Ziggy Stardust / White Bear – 7″
The Orchestra of Syrian Musicians & Guests, The : Africa Express presents… The Orchestra of Syrian Musicians & Guests – 2LP
THE THE : You Can't Stop What's Coming – 7″
Thelonius Monk : 'Les Liasons Dangereuses, 1960' – 2LP BOXSET
Thomas de Hartmann : The Music of Gurdjieff / de Hartmann – 5LP
Thrice : Sea Change / Black Honey – 7″
Thunder : Live At The Gibson Showroom (title tbc) – V12
Tim Burgess & Peter Gordon : Around EP – 12″
Time Zone feat Afrika Bambaataa & John Lydon : World Destruction – Complete Mixes – 12″ Vinyl
Time, The : What Time Is It? – 1 x 140g 12″ Green vinyl album
To Kill a King : The Problem of Evil (Live Acoustic Version) / I Need my Girl (Cover of The National) – 7″
Toto : Africa / Rosanna – Africa-shaped picture disc
Townes Van Zandt : Live At Austin city Limits – LP
Toy & Rose Elinor Dougall : The Half Remarkable Question/ Rise, Rise – 10″
TOYDRUM : God Song (Frank Wiedemann Remix) – 12″
Trans Am : California Hotel – LP
Trembling Bells / Alex rex : The Auld Triange – 10″ LP
Trevor Jones : The Dark Crystal: Original Soundtrack – LP
Turtles, The : The Albums Collection – 6LP
U2 : Red Hill Mining Town 2017 Mix – 12″ Pic Disc
Uk Subs : Live & Loud (aka Greatest Hits In Paris) – LP
UNLEASHED : HELL'S UNLEASHED – LP
UNLEASHED : HELL'S UNLEASHED (RED VINYL) – LP
UNLEASHED : WARRIOR – LP
UNLEASHED : WARRIOR (CLEAR VINYL) – LP
Uriah Heep : Live 1973 – 2 x 12″ spatter
U-Roy : Dread In A Babylon – LP
V/A : AC!D Revolution – 12″ 6 track EP
VA / Soul Jazz Records Present : SOUL 70 7″ Box Set – 7″ BOXSET
VA / Soul Jazz Records Present : STUDIO ONE Hi-Fi Special 7″ Collectors Box Set – 7″ BOXSET
VA / Soul Jazz Records Present : NIGERIA SOUL POWER 70 BOX SET: Afro-Funk Afro-Disco Afro-Rock – 7″ BOXSET
Vangelis : Blade Runner – 1 x 140g 12″ picture disc
VANISHING TWIN : DREAM BY NUMBERS EP – 10″
Various : Classic 45s – Country – 10x 7″ Single
Various : Classic 45s – 70s Rock – 10x 7″ Single
Various : Classic 45s – Peace and Love – 10x 7″ Single
Various : Test Card Grooves – 10″
Various : Scared To Get Happy – Double LP
Various : The Rough Guide To Bollywood: The Psychedelic Years – LP
Various : Greater Manchester Punk Vol 2- Now We Are Heroes 1978-82 – LP
VARIOUS : SHARON SIGNS TO CHERRY RED – LP
Various : Anarchy! McLaren Westwood Gang – Dbl DVD & 7″ Box Set
Various : Soho Scene 61 Jazz Goes Mod – LP
Various : Soho Scene 65 Jazz Goes Mod – LP
Various : Mighty R&B Instrumentals Two-Parters – LP
Various : Texas Soul 66 – LP
Various : New Orleans Soul 66 – LP
Various : New York Soul 66 – LP
Various : Soul Transfusion – LP
Various : Function Underground:The Black & Brown American Rock Sound 1969-1974 – LP
Various : Like Nashville In Naija: Nigeria's Romance with Country Music, Yesterday and Today – 2LP
Various : Greater Manchester Punk Vol 2 – LP
Various : Here Comes The Night Owl – 12″ LP
VARIOUS : CIAO! MANHATTAN (OST) – LP
VARIOUS ARTISTS : GIRLS IN THE GARAGE VOLUME 10 – LP
Various Artists : Close To The Noise Floor – Double LP
VARIOUS ARTISTS : THE MAGIC CUBE – 10″
VARIOUS ARTISTS : GIRLS IN THE GARAGE VOLUME 9 – LP
Various Artists : I'm Not From London: A Decade Of Distortion – LP 12″
Various Artists : House Of Joy – 7″ Box Set
Various Artists : Diggin' Disco Deep # 5 RSD – 12″ White Vinyl With Sticker
Various Artists : Psychic Migrations Original 1987 motion picture Soundtrack – 2LP
VARIOUS ARTISTS : Salsoul ReEdits Series One: Dimitri From Paris – 2 x 12″
VARIOUS ARTISTS : Salsoul ReEdits Series Two: Danny Krivit – 2 x 12″
VARIOUS ARTISTS : The West End Story – 2 x 12″
VARIOUS ARTISTS : LPHRSD17 – 10″
Various Artists : Ethiopiques Box – 7″ boxset (6 x 7″)
Various Artists : The Soul of Disco. Volume 2 – LP
Various Artists : Southwest Side Story – LP
Various Artists : Motown Funk – 2LP
Various Artists : Northern Soul: 20 Original Classics – 2LP
Various Artists : Oxfam Presents: Stand As One- Live At Glastonbury 2016 – 2 x 12″ Coloured vinyl albums
Various Artists : Insane Times – 21 British Psychedelic Artyfacts From Parlophone And Associated Labels – NEW – Confidential! 2 x splattered LPs. RSD 2017.
Various Artists : Pineapple Express (Original Motion Picture Soundtrack) – 2 x LP (12″)
Various Artists : Psyche France Vol. 3 – 1LP
Various Artists (Ed Banger) : Let The Children eat Techno – 2LP + CD
Various Artists Nuggets: Come To The Sunshine: Soft Pop : Come To The Sunshine: Soft Pop from the Nuggets: Come To The Sunshine (Soft Pop Nuggets From The WEA Vaults) – 2 x 180g 12″ colour (tbc) vinyl album
Various: WAYNE COUNTY & THE BACK STREET BOYS; THE FAST; HARRY TOLEDO; CHERRY VANILLA & HER STATEN ISLAND BAND; THE JOHN COLLINS BAND; SUICIDE; PHILIP RAMBOW; NEW YORK DOLLS; THE STILETTOS; THE KNOTS; THE SENDERS; JIMI LALUMIA & THE PSYCHOTIC FROGS'; THE BRATS; THE OFFS; VON LMO; TERRORISTS; NICO; IGGY POP; JOHNNY THUNDERS & THE HEARTBREAKERS; SID VICIOUS. : Max's Kansas City 1976 & Beyond – Jungle Records
Velvet Hands : Sick of Living – 7″
VENOM : AT WAR WITH SATAN – 12PD
VENOM : BLACK METAL – 12PD
VENOM : WELCOME TO HELL – 12PD
Vic Chesnutt : West Of Rome – 2LP
Victoria Williams : Victoria Williams & The Loose Band 'Town Hall 1995' – LP
View, The : Hats Off To The Buskers (10th Anniversary Edition) – 1LP
Walter Lure & Waldos, The : Live In Brooklyn – LP (12″)
Warzone : The Victory Years – LP
Wedding Present, The : The home internationals E.P. – 12″
Wes Montgomery with the Wynton Kelly Trio : Smokin' in Seattle: Live at the Penthouse (1966) – LP
White Buffalo, The : I Got You / Don't You Want It – 7″
White Zombie : Gods on Voodoo Moon – 7″
Who, The : Quadrophenia – 2LP
Wild Willy Barrett's French Connection : A Mange-Tout Far – LP
Wiley : Godfather – Double LP
Wishbone Ash : Illuminations – 12″ x2
WITCHFINDER GENERAL : DEATH PENALTY – 12PD
WITCHFINDER GENERAL : FRIENDS OF HELL – 12PD
Worry Dolls : Go Get Gone – LP
Yabby You : Songs Of love and Unity – 7″ Box
Yes : 90125 – Limited 1 x 12″ picture disc album
Zombies, The : Broadcast 66 EP – 7″
Zombies, The : I Want You Back Again – 7″