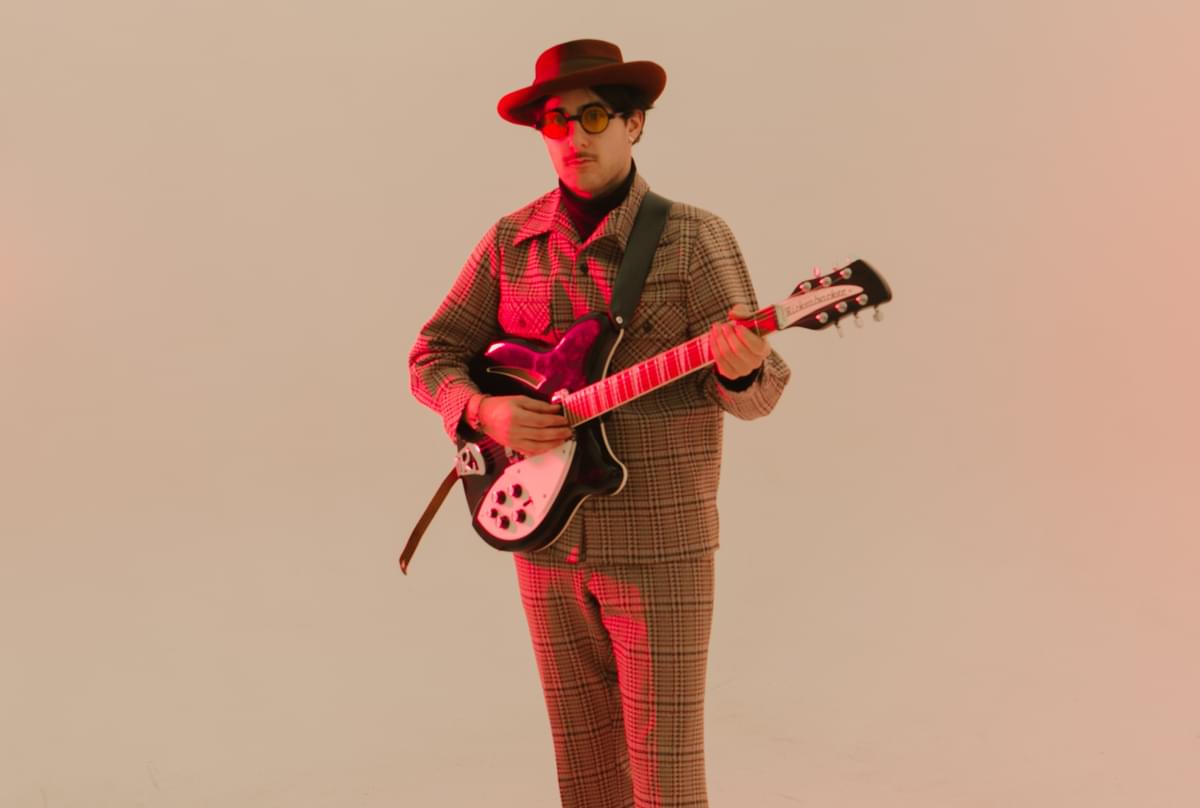 HalfNoise: "I didn't know if I had anything left after doing the Paramore record all year..."
Releasing a new EP and rejoining his old band, life is a whirlwind of excitement for HalfNoise right now.
"Sorry, I'm not really good at answering in short," Zac Farro laughs. "I could open up a whole dictionary of answers." Sure enough, if there's one thing he isn't short of it's words. Releasing a new EP under his alias HalfNoise, the solo musician and former/once again Paramore drummer stands with a world of possibility at his feet - and it's only just gone 11 in the morning. "I'm just getting my morning started here in Nashville," he chuckles. "I'm a bit of a late riser."
The lie in is hard earned. In the past six months, Farro has released an album as HalfNoise, toured across the US and the UK, rejoined Paramore to make a new record, and is now about to put out a brand new EP as HalfNoise. It's enough to make you exhausted just thinking about it, but the musician's energy is nothing short of ecstatic. With The Velvet Face EP about to drop, Farro took the time to talk to us through everything that's going on.
Last time we saw you was at our Best Fit Forecast, where you played your first London show. How was that for you?
Yeah! It was really fun. It was super rad to be a part of that - the whole Line Of Best Fit festival thing. Everybody was super cool. We were supporting Charlotte Church. It's always good to get in front of people that don't normally hear your music. It was kind of interesting. We had another show in London that was our own show and it eased us into that. It was an awesome opportunity to be a part of it.
What have you been up to since then?
2016 was a crazy year. We put out Sudden Feeling - that was the main thing. All the while, my old band mates in Paramore asked me to play drums on their fifth album - they love what I'm doing with HalfNoise as well. Obviously, it seems like a huge mission to do both of them, but... it's been awesome. There was a perfect window where I wasn't doing a HalfNoise tour yet or anything, so I went and did the record with them and our friendship got rekindled, and it went amazingly, hanging out and stuff, and while I was in the studio with them they asked me to rejoin the band.
Obviously, rejoining Paramore means touring, and doing videos, and releasing the record, and all that, and I know in my heart that I'm super passionate about this project of mine. I don't want people to think that I'm just going to throw away the five or six years that I've put in to building HalfNoise up because I'm joining with Paramore because it really helps me and it frees me up to be super creative. I had been writing all the while we were in the studio with Paramore. I'm always writing. My alone time is getting by myself and creating and making music.
It's been six months since you released Sudden Feeling. What was the response to that like?
I didn't really know what to expect. HalfNoise has been this musical project that I've just been doing on my own for a while - with the help of producers and stuff when I make the records. I've been making EPs and recording and writing songs, but until Sudden Feeling I didn't really want to go for it. I have two awesome managers who I'm still working with now, and they brought this team around that put the music in front of people that I couldn't do on my own. I'm super thankful for that. It's really cool to see the team build around HalfNoise, and really get in front of a lot of people - a lot more than it ever did just me on my own.
When did you start working on the new EP?
Going into this year, my manager and me sat down, right when I got home from a tour and right before we were about to go on our UK tour. He was like 'you're going to go on this UK tour and you're going to come back and you're going to be doing a lot of Paramore stuff... I think you should record an EP.' I was expecting him to say to record it around now, March, but he was like 'I was thinking next week!' It made sense. I actually had a lot of songs written. I chose five songs that I thought would be perfect for an EP and it all just kind of came together.
It was kind of a seamless step, as crazy as that sounds because the workload tripled. I had a bunch of my friends come into the studio. We had this perfect time around December, around the holidays, when people are in town. All my friends came and played on the EP and helped out with it and it was just this communal effort... I couldn't be more stoked for how it turned out. I really want people to know that this is something that I'm extremely passionate about. I have full intentions of sticking with it while being in Paramore.
You announced the EP with "French Class" and made your directorial debut with the music video. What inspired you with that?
My friend Tony [Woodland] in Nashville - he's played some shows with us, he's in another music video, he plays bongos... he's really good at acting. He loves the camera. I asked him to be in the "Know The Feeling" video, which was the first single we released from Sudden Feeling. He showed up and everybody was just in awe - he was just magical. I was just like 'the next video I do I just want to direct him, and have him rollerblading through.' He's an incredible rollerskater. That was really the concept; it turned out exactly like I wanted!
HalfNoise has a strong visual aesthetic - how important is that element to the overall project?
It's everything. I love old retro music and movies. I love photography. When I was out doing the record with Paramore I was out in LA for about a month, and I was documenting that trip and documenting being in California. I'm a really visual person. It's really important. When you hear the music again or when you see the music video you can see another side of it in your head. You think about the colours and the visuals when you listen to that music. That's what I've always loved about videos and artwork. I've tried to have a really big hand in that ever since HalfNoise started. Whether I physically take the photo or do the art myself, I like to coordinate it all, at least. You want the visuals to just enhance the music.
What can people expect from The Velvet Face EP?
The EP feels like a small album to me. There are so many elements to it... so many dimensions. It has so much depth for me personally and I hope people feel that too.
I feel like the opening track is one of the most lighthearted songs. The phrase of the song started as a joke in the Paramore studio and I promised them that I would write a song based off that joke! It's actually one of my favourite songs that I've ever written - it's not only representing a certain side of the EP, but it's also representing my personality. I like making people laugh; it's one of my favourite things.
That being said, The Velvet Face EP also has "As U Wave" on it, which is one of the hardest songs I've ever written, for me personally. In the same vein, the "Velvet Face" was about this break up that I had, and this heartbreak that I went through. These two worlds coexist within this one little EP. It's the most heartfelt songs that I've ever made, that even were really hard to sing in the studio.
I really gave it everything on this EP. I really just looked at myself in the mirror, and I felt like I saw the lighthearted side of myself and I also saw the pain and the sadness that I've been though, through breakups. I guess in a weird way it's kind of a self portrait.
What are your hopes for the release?
It's already been getting attention and a lot of good feedback and it's not even out yet! It's really cool. I guess one of the biggest goals for me on this EP was to show another side of HalfNoise. With Sudden Feeling we used a lot of drum machines and it was very synth heavy and '80s, almost. When I was listening to music around this EP I was listening to old records like The Velvet Underground, The Kinks, The Beatles... I just love how direct the music was back then. You can hear it right away. It's super sleek to digest. I feel like a lot of music these days, if it's not super loud and hitting you over the head, it's too dense for some weird reason. I wanted to strip it back.
I'm also just really excited that there's more music that people can hear from HalfNoise. I don't know when I'm going to be able to get in the studio again because of Paramore stuff. I hope that it gets in front of a lot of people. I definitely poured my heart and soul into this EP, even though I didn't know if I had anything left after doing the Paramore record all year, and touring and stuff. It's a really special EP for me. I just hope that people connect to it.
With a Paramore album imminent, how do you figure out balancing the two projects?
HalfNoise was never this huge touring entity. I love touring, and I love playing music, and I'll be still doing music full time, but If I didn't have an opportunity like Paramore I don't know if I would be able to keep going and keep touring. It takes a while to build up. They've been coexisting really well so far... with a good team in place, that helps me too. If I was doing stuff on my own, I really wouldn't be able to do it. Having the infrastructure there is key.
What's it been like playing in Paramore again?
With HalfNoise there are a few moments on the stage where I play the drums, but for the most part I'm singing and performing up front as a frontman. I started playing drums when I was about nine, and we started playing Paramore shows when I was 13. It's something I've always done. It's rad and it's really weird, but it's so familiar that it didn't take long to adjust... it feels like this huge part of me. Most people don't get those second chances - just in friendships, let alone with a career and a job to play music.
What's it been like seeing the excitement build around your return to the band and this release?
It's kind of frightening! We just really want people to like it... I have no doubt that people are going to love it. It's definitely my favourite record I've ever drummed on or been a part of with this band. Paramore fans are some of the most dedicated and amazing fans and to see the excitement is... it's kind of how they've been from day one. It's amazing that they're still so passionate and so on board.
What's next?
It's all finished. We're just figuring out the logistics of when to release it and everything. With HalfNoise it's just me and a couple of managers, and we work pretty closely, but Paramore is a worldwide known band. There's a lot of chefs in the kitchen, and figuring all that stuff out... the goal is definitely to release it this year, but I can't really touch base and even if we had a set day we were telling people, things change so much. But the record is finished.
The Velvet Face EP is released via Congrats on 24 March.
Get the Best Fit take on the week in music direct to your inbox every Friday