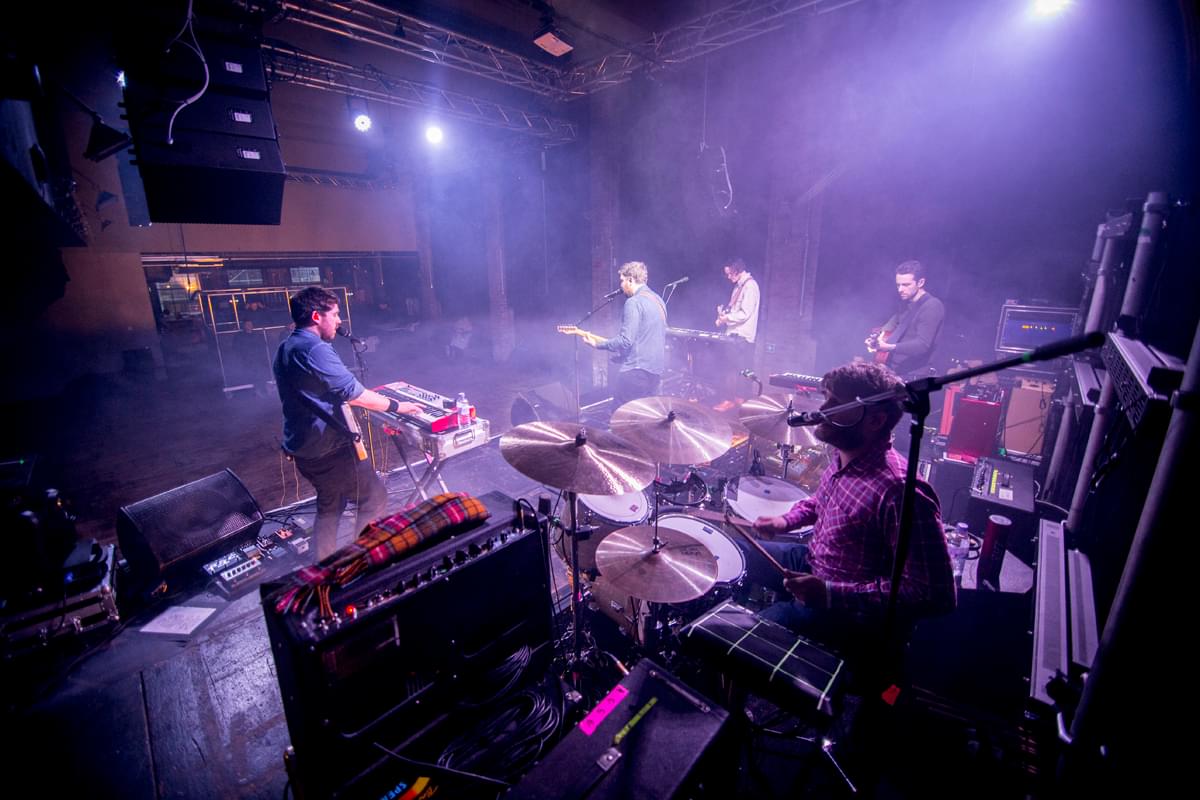 Frightened Rabbit's Grant Hutchison says it's been "really, really hard" to revisit old songs
In a new interview, Grant Hutchison of Frightened Rabbit has revealed its been "really, really hard" to revisit songs for their Tiny Changes - A Celebration of The Midnight Organ Fight compilation.
Frightened Rabbit's Tiny Changes - A Celebration of The Midnight Organ Fight sees the likes of Biffy Clyro, Julien Baker, Daughter, The Twilight Sad, Craig Finn of The Hold Steady, Ben Gibbard from Death Cab For Cutie, The National's Aaron Dessner and Lauren Mayberry of Chvrches, and more contribute their versions of tracks from Frightened Rabbit's The Midnight Organ Fight record.
Speaking to Stereogum, Grant Hutchison, the brother of late vocalist Scott Hutchison, said of the forthcoming release, "It's an album that means so much to people and means so much to us as well. It kinda seemed like it'd be a disservice to just put on a couple extra tracks. Also, people put on tracks that didn't make it onto the record — it's like, you just fucking pissed on that record by putting them on there. They weren't good enough the first time around, why would you release it again with these three or four tracks at the end. Same with demos. I don't really believe demos should be heard. They're demos for a reason."
When asked about whether Scott Hutchison's death affected their thoughts on putting the record out, Grant Hutchison replied, "Absolutely. It was a pretty swift decision to put it back on the shelf for a little while. Everything was done. Scott heard every track. There was no reaching out to more people, all the covers were done. I think we all knew, certainly within the band, that we were still going to release it, because it was something Scott was a huge part of organizing, something he was really excited about as well. We knew it was going to happen at some point, but we just needed some personal space. Knowing whether it's 10 years or 11 years later, it's not really going to make a big difference."
Expanding on the difficulty of revisiting their songs, Hutchison adds, "It's been really, really hard. You can't get away from the fact that we should be doing this as a group of five and not a group of four. If we were releasing a tribute album, in some ways that might be easier. Because we could sit and talk about the point of doing it as being the legacy and keeping Scott's memory alive. To bring awareness for what he was going through. But that's not what this record was meant to be about. So when this was first spoken about, and even up until the point of Scott's death, we still wanted it to be a positive thing. But it can never be purely a celebration, even though it was meant to be. We want people to focus on the songs and the album and go back to the original. But those songs … every Frightened Rabbit song has probably changed for fans now.
...There's a question that's come up a few times: What is Frightened Rabbit, you know? Whether that's come up in my own head or whether we've been asked directly … it's a real difficult one to think about. All I know is Frightened Rabbit was Scott. Without him, what is it now? I guess it goes back to that point I made about an album. It's not within your control anymore, as to how it's perceived or how people listen to it. Once it's out there, it's out there — and I think it's sort of the same with the band now. It sort of belongs to everyone. In the same way as people over the years have been passing our albums on or telling people about us, we hope for that to continue. For more people doing that. Because we won't be out on the road to reach people."
Hutchison also revealed that this album has had a positive impact on the remaining members, "It was just over a year ago that Scott died. There's still a lot to go through. Our personal issues on that. But I think this release, it's given the band a reason to get back together again. Which is something that was quite hard for a while, because it just shone a light on what had happened and the fact that Scott wasn't there. That's slowly going away. That's a weird feeling to have with the people you're closest to, after all the time you've spent together over the last 10 years. It's not a feeling of not wanting to sit in a room with them, it's just the pain that was there was too much. But it's been a positive thing, to bring us back together."
Stereogum also asked Grant Hutchison about the material they were working on prior to his brother's death. He replied, "The amount of material is certainly an album's worth. It's a mixed bag of instrumental and some with vocals...So we've got enough to make an album. Scott had listened to every demo we had and he had compiled three columns of "Yes", "Maybe", "No", in terms of how good he thought they were. We've got his assessment of what he thought were workable songs, and we can discard all the "No" ones, and work on some of the "Maybe" ones, or just stick with the ones he thought were definitely worth it."
Get the Best Fit take on the week in music direct to your inbox every Friday