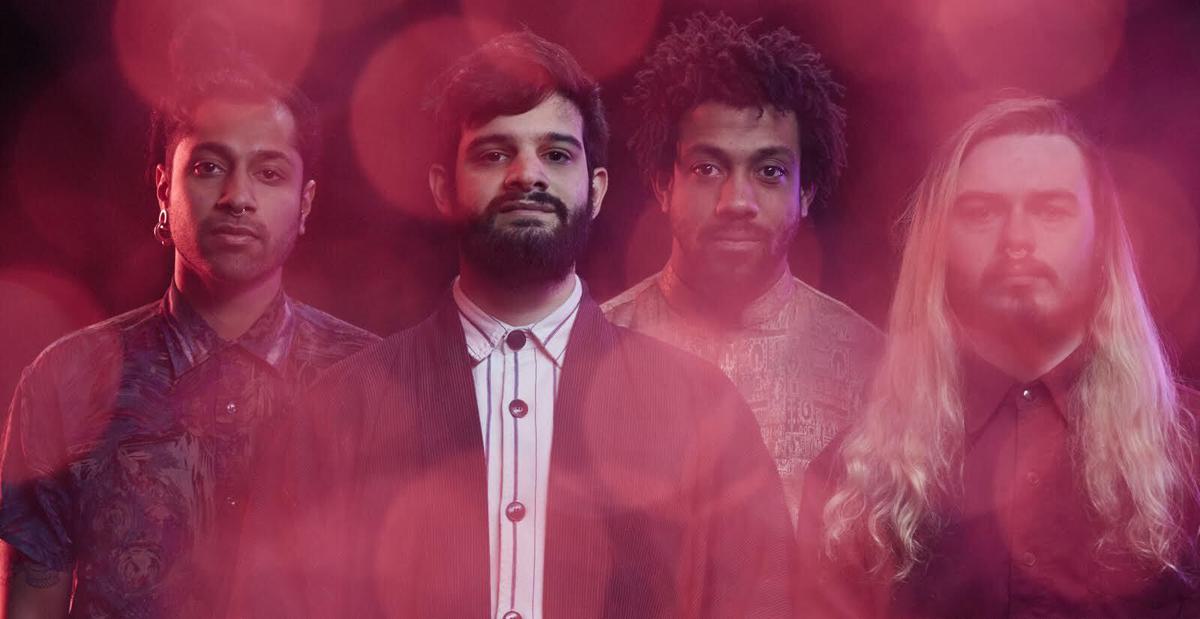 Flamingods explain how they turn doom and gloom into optimism on new EP Kewali
Avant-garde globetrotters Flamingods tell us all about their new Kewali EP and how it's intrinsically linked to the woes of the modern world.
Can you tell us about the new EP?
It started off as a pretty spontaneous thing, we were touring so much at that point and our last LP Majesty was near the end of its campaign so figured it made sense to create some new material to share, as the touring wasn't really slowing down. We got offered the EP deal and a very short time to write and record it and so we just got on with it. The tracks are a mixture of songs from different periods: "Mixed Blessings" is brand new, "Bhima" was a cut which didn't make it on to Majesty and "Kewali" is a really old song which we reworked to go on the record.
How does it move on from the ideas/sounds on Majesty?
Where Majesty had a running theme and concept, this EP is more a marriage of songs we thought worked well together sonically, with each track exploring a different theme. A lot of people talk about how our live sound is so different to our recorded output and so with this one, we decided to close the gap a little and try and to explore capturing that performance feel.
Can you explain the story behind "Kewali"? What's it about?
"Kewali" is essentially a love song about not taking what you have for granted, taking the time to appreciate things better; your loved ones, nature, the culture around you and so on. It's all too easy to not take notice of these subtle splendours and so the song acts like a bit of a reminder to myself to know what I have and be thankful.
Is it representative of the sounds and themes on the EP as a whole?
Yeah, I'd say so. The EP was written in the wake of Brexit and the US Presidential Election and so there was a real air of doom and gloom and pessimism knocking about. All the news of the rising xenophobia spreading worldwide as a result of these events affected us in such a deep way that we just wanted to channel some of those negativities and flip them into something more positive.
The band is already a living testament of the power of cultures coming together and so we wanted the lyrics on the record to reflect that this time around, especially so on the track "Mixed Blessings", which shares a message of unity along with the idea of not being scared of 'the other', but rather learning from each other to battle the real issue: shady politics.
What elements of Flamingods does it show off?
Each song channels a bit of a different genre or multiple genres (as most of our records do) so you'll find a lot of our key influences here from the psychedelic stuff to jazz, funk, exotica, electronica, and beyond. The aim as always, was to make it sound as warm as possible so hopefully that comes across.
What's it like being with a label like Moshi Moshi?
It's great! Stephen from Moshi is such a lovely guy - it's amazing working with someone who clearly has so much passion and care for what he does. Dude comes to all our shows and even let us stay at his house in Margate for a few days to start writing our next record!
What should people expect from your live shows this summer?
We go all out in our live shows and it's pretty energy heavy - we hope it to be a celebration of all things eclectic, psychedelic, and fun and we'll be playing a mixture of songs from our three LPs with new cuts from the EP also.
What's next for Flamingods?
Lots more touring and the start of writing our next LP, it's currently sounding heavy, upbeat, and euphoric