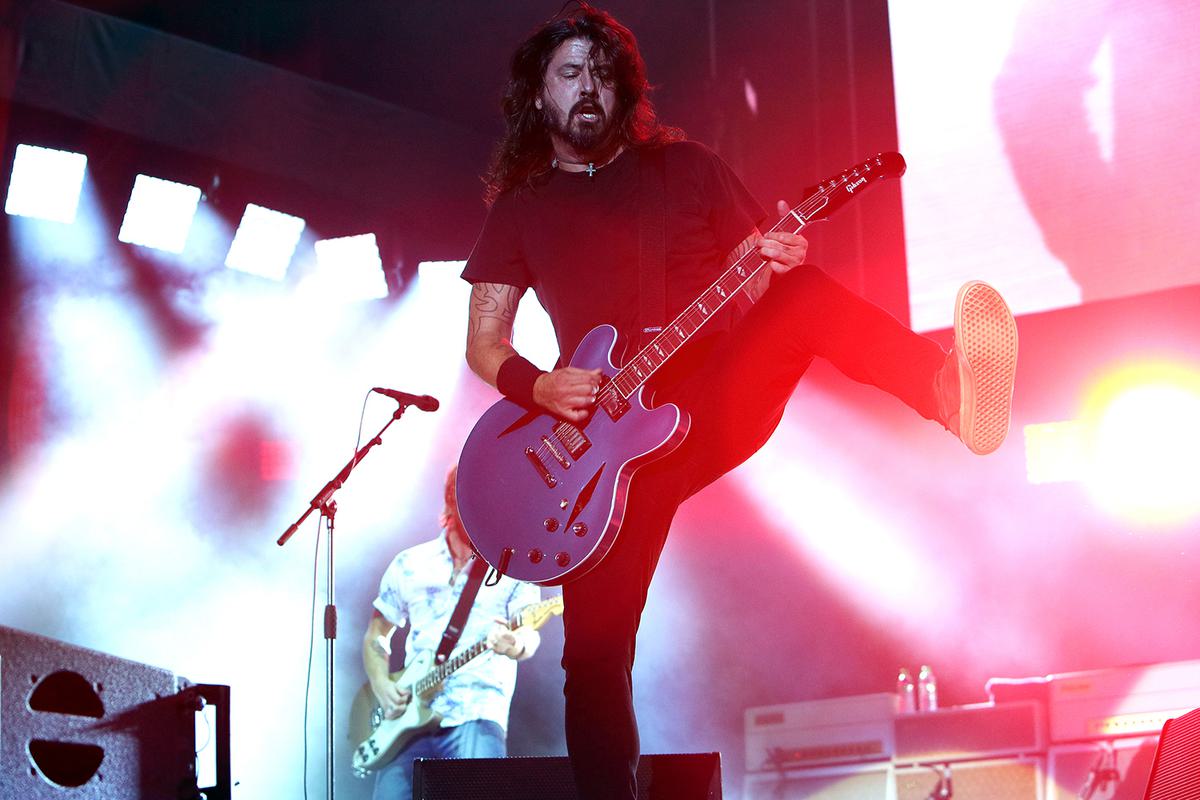 Dave Grohl recalls the time David Bowie told him to "f*ck off" in latest short story
In the latest instalment of Dave's True Stories, Dave Grohl has revisited a hilarious experience where David Bowie told him to "fuck off".
Last month, Grohl launched his Dave's True Stories Instagram account, a place where he can "pass the time [in isolation] by writing short stories that will make people smile. (I'm also a total fucking spaz who can't sit around doing nothing)."
So far, he's shared a dangerous fireworks story, a detailed account of playing Ozzfest and meeting Pantera, and his experience with meeting Prince.
Yesterday (29 April), Grohl shared a story of an experience with another late legend - David Bowie - and how the British icon once told Grohl to "fuck off".
Grohl writes that Bowie "became a welcome constant in my crooked musical path", highlighting how Nirvana played a cover of Bowie's "The Man Who Sold The World" during their legendary MTV Unplugged Session. He adds, "Years later, I noticed on our tour itinerary that Foo Fighters were to share a stage with Bowie at an outdoor European summer festival. Ground control to Major Tom!!! LIFE MADE!!! Having never actually seen him in the flesh, I counted the days until I could physically reel in his presence, singing along to the songs that had inspired me so much over the years."
He reminisces over watching Bowie live, "It was my first time witnessing Bowie's grace and power live, and provided me with a surprising revelation: It's not the volume, nor the lights, nor the number of instruments onstage that transforms a muddy festival into a field of magic. No. It's the human being onstage that fills the field with joy. With just the flick of his cigarette, David Bowie had 40,000 people under his spell, dangling their hearts by a string, transporting them into another, more enchanted reality. Myself included. I felt as if I were witnessing history, and I was changed forever."
Grohl goes on to explain that he was invited to Bowie's 50th birthday party at Madison Square Garden alongside "Lou Reed, Robert Smith, Frank Black, Billy Corgan, Sonic Youth", and adds, "Arriving at rehearsals the day before, I had the incredible honor to meet David for the first time and was pleasantly surprised (shocked?) to find that he wasn't an alien space being after all!! He was a kind, funny, strikingly handsome human specimen."
Further into his story, the rock legend recalls that their producer Gil received a phone call from Pixies' Charles Thompson IV, aka Black Francis, aka Frank Black, about collaborating with Bowie and Thompson on a track called "Jewel". Grohl writes, "Two of my heroes in the same room? How could I resist!"
He goes on to describe the recording experience, and how the engineer had left before Bowie had even stepped foot in the booth to record his vocals, "David fucking Bowie was standing there, lyrics in hand, waiting for the track to roll, and there was NO ENGINEER to hit record! The silence was suffocating. A tsunami of fear swept over the control room as everyone realized what was happening. Seconds seemed like hours." Grohl also reveals that when he was packing away at the end of the session, he "noticed that his lyric sheet with the crudely drawn self portrait at the bottom of the page was still on the music stand in the vocal booth. Now…let he who is without sin cast the first stone….but c'mon, people….I snatched that motherfucker up faster than you can say "Jean Genie"!"
Grohl continues his story, revealing he was later "approached to write an original song for a big budget, major motion picture", and was "hesitant to do a "solo" track", but having just worked with Bowie collaborator Tony Visconti, Grohl approached Visconti to ask Bowie if he would like to collaborate on the song. He recalls receiving an email from Bowie himself one day, which was "very kind, very complimentary, and full of his signature wit." The Foo Fighters lead vocalist adds, "I immediately responded with a brief note saying, "Hey man, thank you for listening to the song…I hope that you're well, and let me know if you'd ever like to make music together sometime. Love, Dave" Short, sweet, to the point. Not wanting to take up any more of his time, I hit send with a smile. Within 60 seconds, my inbox chimed with a new email. It was Bowie, responding to the note I had just sent. That was fast, I thought! I opened it. "Well, that's settled. Now fuck off.""
He goes on to list their back-and-forth responses which turned out to be a humorous exchange, and wrties, "I could finally breathe knowing that David Bowie did not actually wish for me to "fuck off" (or maybe he did, but in the nicest way possible, and even that was an honor)."
View this post on Instagram

#bowie #fuckoff #ziggystardust #blackstar #madisonsquaregarden #davidbowie #thinwhiteduke #letsdance #kungpaochicken #mtv #themanwhosoldtheworld #gilnorton

A post shared by Dave Grohl (@davestruestories) on Apr 29, 2020 at 9:12am PDT