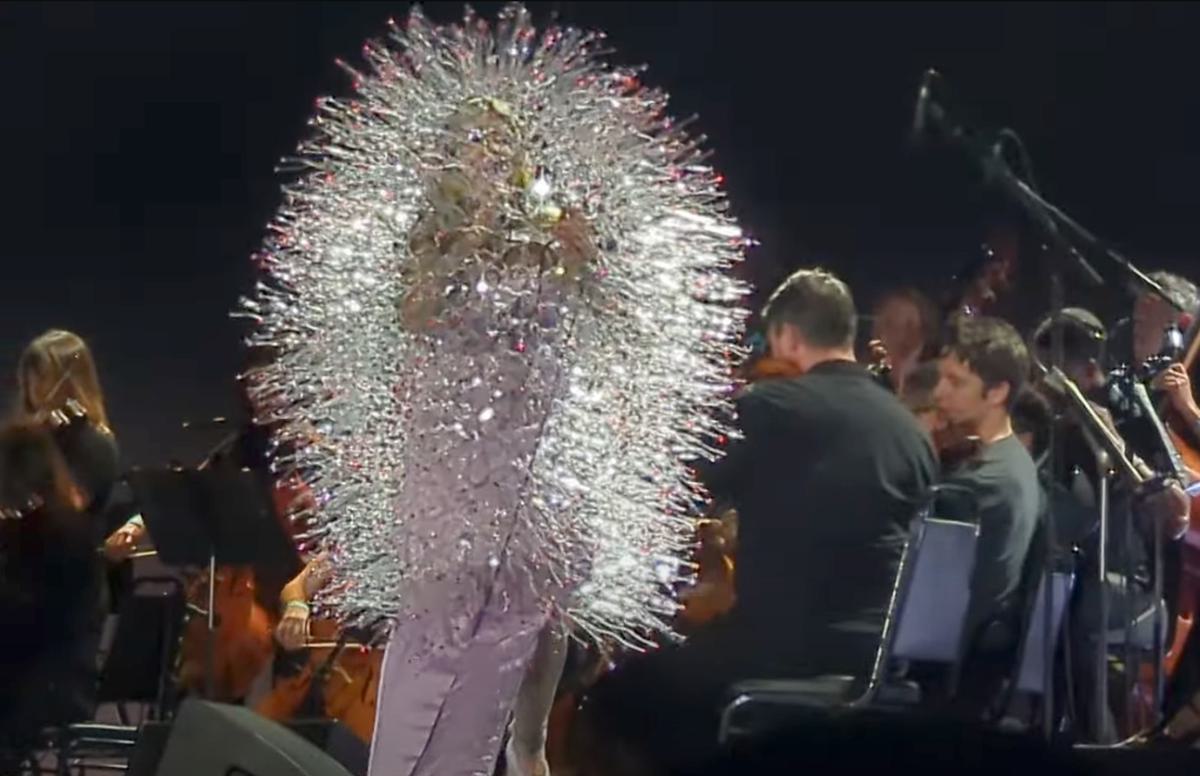 Björk fans rage against Coachella livestream being pulled: "You are no longer mother"
On Sunday 16 April, Björk, accompanied by an orchestra conducted by Bjarni Frímann, headlined Coachella with a career-spanning set.
The set was due to be live streamed onto Coachella's YouTube channel, but in a last minute controversial decision, both Björk and Frank Ocean's performances were pulled from the schedule.
Incorporating over 800 drones in her set which includes the likes of "Joga", "Hyperballad", and "Come to Me"; the display lit up the sky above the stage in amorphic shapes of blues, greens and reds.
Björk released a statement after the performance, discussing the two different concerts that she is performing at the moment. One being Cornucopia – with complexity and bespoke instruments to celebrate her techno side – and the other being the orchestral performance. "I have always been very interested in digital notation and the abstraction of tonality being visual so hopefully the audience got slashes of synesthesia while watching," she said, speaking of her collaboration with Studio Drift.
Normally, after a career-defining performance, you would find the artist's comment section filled with positive messages but Björk's fans had a singular opinion on the matter: the lack of a livestream made many feel ostracised.
Focusing on Björk's nature to find the best ways to connect with her audience, one fan said: "It's depressing that you didn't actually want to share any of this with your international fan base via stream, arguably the most ecologically friendly way to communicate with an audience. Only the rich could see you tonight. I heard most didn't care for it. That pains me as your fans would have loved to watch you perform."

Another fan, clearly emotionally indebted to the artist agreed with this: "I adore you, Bjork. I've loved you since Sugarcubes. I've been to a handful of your concerts. I really feel as if you are leaving your fans behind. Where's your loyalty? You only thought of coachella, the rich, and the unimaginative. Please do better for your fans."
But the comment that summarised the collective frustration of Björk fans read: "You're no longer möther we are taking that back".

Björk will play at Coachella's second weekend on 23 April. It is unconfirmed whether this set will be shown via livestream as a response to her fans reactions.