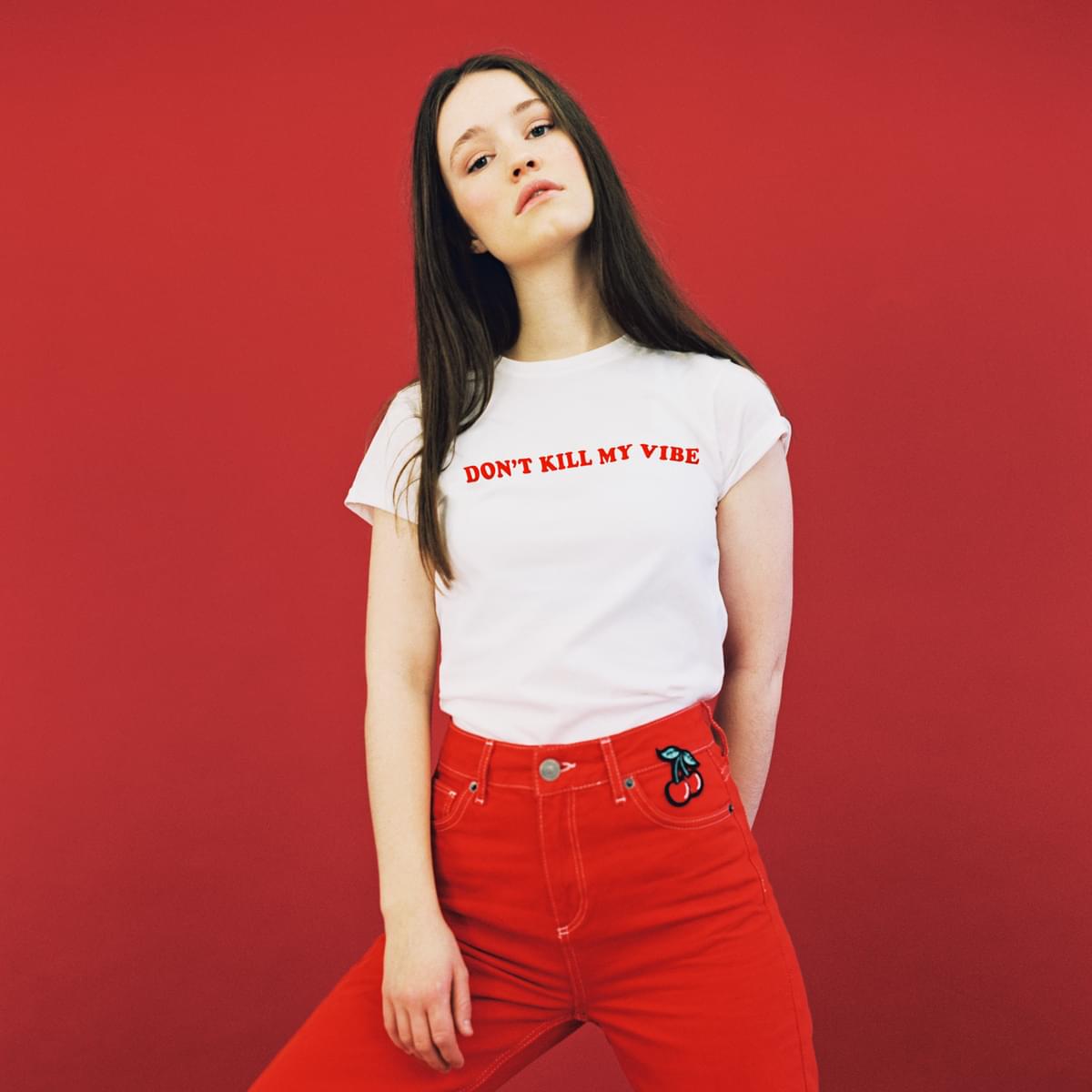 Sigrid confirms her superstar status, and discusses explosive major label debut "Don't Kill My Vibe"
Pop music runs in the family for Bergen-via-Ålesund Sigrid; she's the younger sister of the indie crooner Tellef Raabe and has appeared in his live band. But with "Don't Kill My Vibe" she's set to become a smash not just in her home country but all across Europe.
I can't stress enough how big a tune "Don't Kill My Vibe" really is. Don't let the gentle intro mislead you; beginning with subtle piano and warped synths, it allows us to be introduced to Sigrid's big and striking voice - the voice of a true pop star. Slowly but surely the pace increases until those piano chords are being bashed out over booming drums, the synths are bright and overwhelming and Sigrid unleashes her voice in the chorus. This isn't your balladeering Adele voice or the vocal gynmastics of a Mariah, there's almost a little break when she emotes in the chorus, roaring the song's title. It's not quite a rock vocal but there's a hint of a gravelly rasp which sets her apart from any other pop singer out there.
Sigrid's voice suits the theme of the track completely. Singing lines like "try to hold it down / I know the answer / I can't shake it off and you feel threatened by me / I try to play it nice...but oh, DON'T KILL MY VIBE!" this is empowerment at its best. Inspired by a writing session, it could equally be applied to someone attempting to be controlling in a relationship. Sigrid's having none of it. "You think you're so important to me, don't you?" she scorns and scolds. Then comes a giddy, clapping, chanted bridge (you have to see Sigrid perform live, it's life-affirming) and the chorus returns with renewed vigour. Honestly, this track is incredible and you're not going to escape it.
We caught up with Sigrid just a day or two ago in Berlin to chat about everything that's led up to the release of "Don't Kill My Vibe".
Hey Sigrid, are you excited for the release of the single?
"Very excited…aaaaargh! I'm nervous, but excited obviously. I'm looking forward to getting my baby out there."
I saw you perform the track during your Vill Vill Vest secret show in Bergen...
"Oh you wrote the review, of course! It was a really fantastic weekend – it was actually the first show with the band."
Really? That's insane, it was such a tight show - and there was such a big crowd there.
"It was fucking wild, crazy!"
Before we talk about the single, let's go further back - your brother of course is a singer but what about the rest of your family? Are they all musical?
"Oh definitely. My dad and my mother are not musicians but they really love music and we always had music around us. And my grandfather, he loved to sing – and my grandmother was the one who taught me how to play piano. My sister is a singer, an amazing singer! But my parents are just really into music."
What were you listening to growing up?
"I just remember every Sunday breakfast was Joni Mitchell, Chet Baker, Neil Young or something like that….I grew up with a lot of good influences!"
And when you came to start writing, what influenced you? Bearing in mind you've developed a lot and changed your style in a few years...
"Definitely, it's so developed in a way…but I think something which has stayed the same for me – and is very important to me - is that it's still piano-based and it's about the song. The newer songs, I like the production a lot more and it's a lot more 'me'. I've been able to work with so many brilliant people to help me figure out what kind of production I want. BUT! It's still about the song and if the song doesn't work on the piano….then, you know. It's really important."
So who inspires you when you write songs?
"For song writing, Adele is a big inspiration. It's big pop tunes! I just love a pop tune. Early Coldplay is really important for me, Joni Mitchell…but also this summer I listened to a lot of trap and grime. I listened to a lot of Norwegian trap underground. Actually, since you went to Bergen….do you know Sushi x Kobe?"
I do, yeah. I saw them at Øya and they played a tiny show above a bar in Bergen. They're great fun.
"They're awesome! They're friends of mine, but a little older…I think they inspire me a lot in terms of how I am onstage. An aggressive tone, I guess. But they're great! I think I take from a lot of genres, and I think that listening to a lot of different music is inspiring."
Have you learned anything from your brother? You've been in his band; did you take notes of the dos and don'ts of the business?
"Haha! Definitely! He's been amazing, he's very supportive…my whole family is – they're my biggest fans! My sister taught me how to sing, before I took singing lessons and my brother taught me how to play guitar before I started doing it by myself. They also both check my lyrics to make sure it's in proper English, that kind of stuff."
Having watched you live, I think the energy in your live performance matches the energy in the songs I've heard so far. You jump about a lot!
"I think so too! I danced for probably ten years, so I did ballet, modern, jazz, and hip hop….I love dancing, but I never thought my songs would fit choreography on stage. It felt more natural just to jump around. Everything I did at the secret party was improvised, I just let go of my emotions!"
Okay, so tell us about "Don't Kill My Vibe"...
"It's about a writing session. Well, it's been inspired by a writing session – that would be more accurate. It was a difficult day, and I just wanted to write about it. Everything I write is personal; I think I have one song that's not personal. I think it's easier to write about if you've felt it yourself."
Both this track and the ones I've heard live seem to have this thread running through them...a sort of "fuck you" attitude.
"Yeah, a lot of my songs have that 'fuck you' thing about them I guess. It's important for me, though, that not all of the songs have that 'oh, fuck you' thing…I'm a nice girl too! I'm happy, not just mean haha! I always find it easier to write my feelings down….you know when you have a really good thing in your head and you just want to burst it out and say it to someone….but when you say it out loud it just sounds weird! Sometimes I find it easier to get it down on paper, get it well written instead. I get my feelings out that way."
Do you write on your own or do you co-write?
"Oh, I do a lot of co-writing, yeah. 'Don't Kill My Vibe was written with Martin Sjølie [whose credits include Rachel Stevens, Ella Henderson and Nathan Sykes], a writer from Oslo. I still do some myself, but mostly it's co-writing. It's amazing to create something yourself but it's just more amazing creating something as a team. It's not just my song, it's our song…it's really cool, it's a really good feeling."
I guess it also helps to unlock something which you might not be able to find on your own...
"It's exactly like that, and it's also…if you're stuck on something, you're not stuck on it alone and you can keep going, keep moving forward. It's sometimes a bit lonely writing by yourself! I've spent probably three years writing by myself, now I love writing with other people."
So you've signed to Island, you have a massive single coming and a busy summer...you must have to pinch yourself, right?
"It's fucking mad haha! That's all I can say about it! It's crazy, but it's amazing how we've grown into a little family so quick. I'm very lucky to say that my team is close."
Finally, what are your plans for the rest of the year - is there gonna be an album?
"Oh shit…..I've dreamed about saying this for such a long time….NO COMMENT! Haha! This year…we're gonna write better songs, play better shows – and hanging out with my best friends, my band."
"Don't Kill My Vibe" is out today via Island. Sigrid will play
The Great Escape
festival in Brighton, 18-20 May.
Get the Best Fit take on the week in music direct to your inbox every Friday