Picture this. You're at a party and as Gartland puts it "everyone is pretending to be a little bit more fucked up than they are, to seem more interesting." The equivalent of sharing just the best bits on our social media, embellishing grey skies with warming filters or captioning a photo with an elusive message to turn something mundane into something more.
Co-produced by Gartland and frequent collaborator Tom Stafford "Pretending" teases her forthcoming first full-length record, set for release in 2021. It follows February's acclaimed Freckle Season EP, which saw tracks "Did It To Myself" and "Heavy" land in hit BBC drama Normal People, and last year's Why Am I Like This? EP and early single "I Go Crazy" have set the blueprint for Gartland's brand of existential pop.
"We started "Pretending" last May when I was trying to write a song every day that month as a little challenge. I had one month off in between tours and I just had to write stuff to run the tap. I was very stream of consciousness about it rather than writing an idea and overthinking it and overcooking it," she tells me.
Uploading this verse-chorus idea to Patreon it was another glimpse into her process for fans who subscribe to her Secret Demo Club. "Like a lot of people over lockdown, I just had infinite time and this headspace to rework things. I took the chorus from the original idea and wrote totally new verses and an outro." Despite its Frankenstein-like assembly, the track's meaning hasn't shifted much between different takes.
"I'm definitely a people pleaser," Gartland admits "so that comes into it. [At parties] I find myself taking the form of whatever the other person wants me to be in that conversation, or whatever the form is that the room needs, and I did that a lot more when I was younger."
"Basically, it's about pretending to be someone you're not and then taking a breather in the chorus to be like oh god, this is absolutely exhausting." The single's music video pairs perfectly with this narrative arc and really brings her party allegory to life as she stands in front of a bathroom room while the theatre of the night's events play out behind her.
"All of my heroes are way more sad than me," is a breathtaking stand-out lyric from the new track. It's a shout out to trailblazing paragons like Joni Mitchell and Gartland's childhood idol Laura Marling. "I wanted to be her growing up," she laughs "but she's so sad and moody and I'm not really like that at all, so I always wished I was a little bit more dark." But as is evident with "Pretending" her dry wit and endearing charm sets her songwriting apart for different reasons.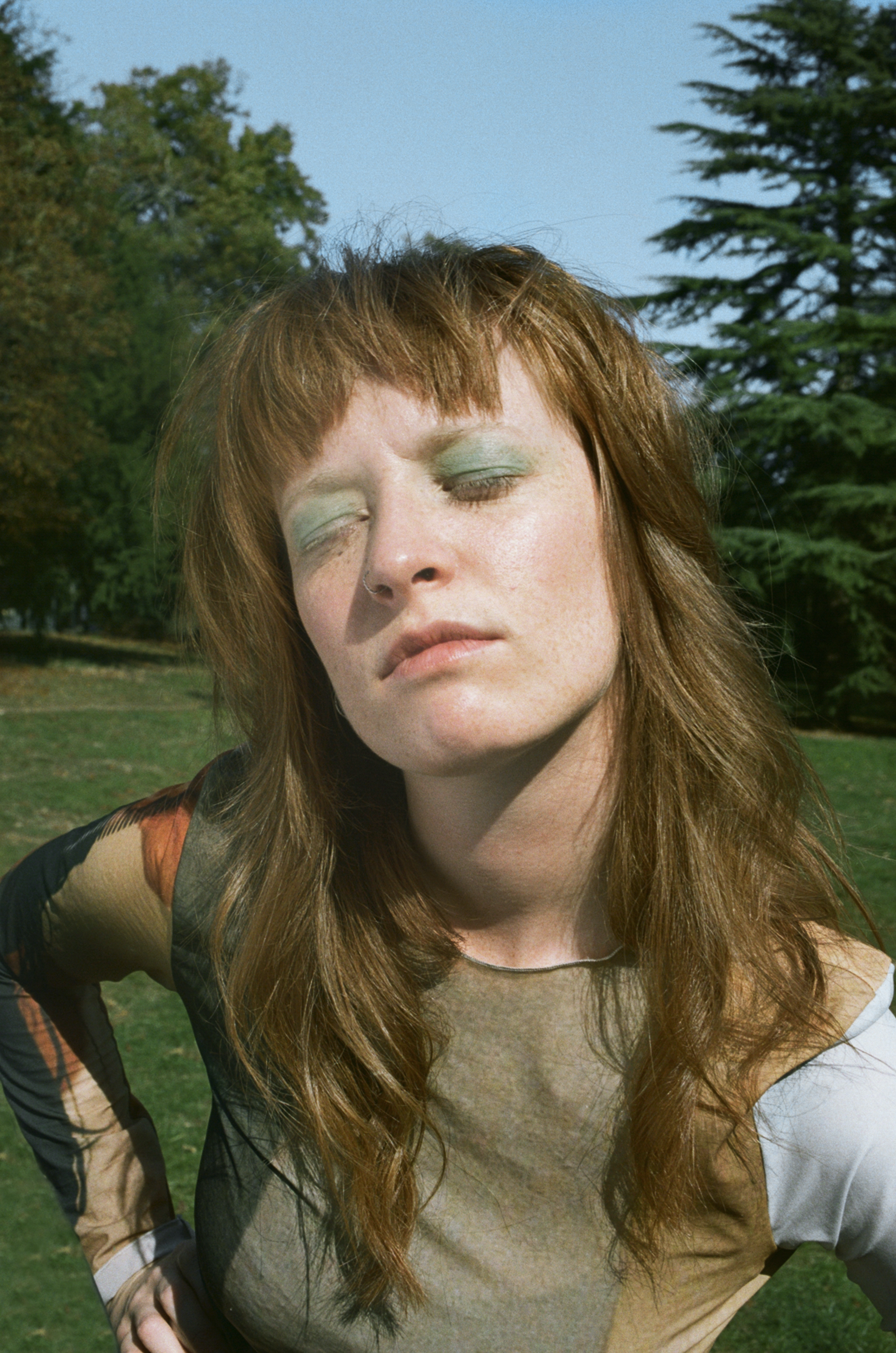 From a studio in Devon, where she's putting the finishing touches to her as-yet-untitled album, she reveals it was an easy choice to share "Pretending" first. "It set the tone lyrically for what I wanted and I think a lot of the songs that I have ready have this theme of growing up and adulthood coming for you whether or not you're ready for it. There's a lot about identity which ties into growth and feeling comfortable with yourself."
With a to-do list scribbled on a whiteboard and the band now recording their parts, everything is on schedule. The artwork for "Pretending" sees her adopt a style of surrealist collage she's long been a fan of. Staring out of a window in the image Gartland looks out on a river of pizza and palm tree-adorned hill while a grapefruit lights up the sky in place of the sun.
A concept that's set to evolve with subsequent single releases, the window will hopefully have a physical manifestation once it's safe for her to hit the road again. For now, this exceptional slice of alternative pop is our only window into Gartland's new world, but we're ready and waiting for more.