Concrete Knives are one of the most talked about bands on the French circuit at the minute. Thanks to their high energy live shows, catchy melodies and stirring rhythms, the Caen natives have built a solid reputation for outstanding performances full of youthful excitement, chanting vocals and riotous receptions. It's this reputation that led the band to the door of Bella Union, who recently welcomed the five piece to their roster with open arms. Currently readying their debut album, we chat to band vocalist Morgane Colas about the origins and finer details of Concrete Knives, and take a look at some of the stunning sketches that she produced while killing time in the studio.
Morgane, please tell us a little bit about what you do and where you're from.
The boys are all from Normandy, and they started making music together at high school. Their musical tastes have always been very different, and it was from a strong desire to create music together by combining all of their influences that Concrete Knives was born. I arrived a few years later at Caen train station, holding a pan (true story). They needed someone who had been uprooted, someone who came from nowhere and knew nothing about music as a sort of medium to mix their colours, in the pan.
What's your musical background? What was the first music to inspire you to create your own?
I can tell you what Nicolas had me listening to when I arrived: Clap Your Hands Say Yeah, Archie Bronson Outfit, Yeah Yeah Yeahs, Arcade Fire, The Dø and then some classics like Talking Heads. Incidentally, David Byrne and St Vincent have collaborated on an album which I reckon will be on loop on the car radio for a while. Those are the things that link us, but each of us have more personal inspirations too.
Do you remember the first song you ever wrote?
It was a song for the retirement of my primary school teacher. It started with "le Co, le Co, le Cosinus / et le, et le, et le Sinus ", if I remember rightly.
As a fan, what do you look for in a 'good song'? Equally, what do you look for in a good show?
I like it when a song makes me want to listen to it billions of times, I like to be sad when the song finishes and then to restart it from the beginning. The song can be very simple, it just needs to have something sincere about it. I like concerts to be generous, and for the musicians to have strong feelings.
You've received rave reviews for your live performances – how do you feel about playing live?
The live show, so long as everything goes well, is like making love to people that you care about very much – it's just a short moment during which we forget the rest of the world, and a feeling which makes us want to repeat it every night.
You're going to be releasing your debut record through Bella Union – can you tell us about writing it and putting the album together? Where did you write it and who did you work with?
Our songs are pretty independent from each other, and from the moment they're born – generally from the mind of Nicolas – they hold a mystery that we need to take the time to solve. I really believe that the songs are born as mysterious and inaccessible, and that our job is to give them a sense that's faithful to their essence. That takes time. A song, an idea, it's a precious thing and we can't push them too hard. We write as soon as the moment strikes us, no matter where, no matter when. If we forced ourselves to adhere to deadlines and realities, the songs would lose a part of their soul.
We've been working with Dan Levy from The Dø and we've learned a lot from him, notably about notions of temporality.
Is the record finished now?
Not quite, there are still a couple of songs that deserve a bit more time. But all of the others are recorded and mixed.
What does it mean to you, to release an album?
To release an album is to make our music heard in countless different situations. In public spaces and in intimate spaces. I like to listen to music alone at home, or with friends. That's what it is to release an album, to allow the music to circulate. I listen to a lot of music on digital formats, but I never stopped buying CDs that I liked. I associate different listening formats to different activities. There's an MP3 that we can take everywhere, then a CD which corresponds to special moments where I'll listen more intently and actively, as a disc has a beginning and an end, like a story or a film. Finally, there are the concerts. where music can be seen as well as heard.
What are the three things that most inspire you to make music?
Other people's music, powerful relationships and collective movements.
What would you say is your favourite part of the music making process?
When we're finally in harmony with our music. When it unites us.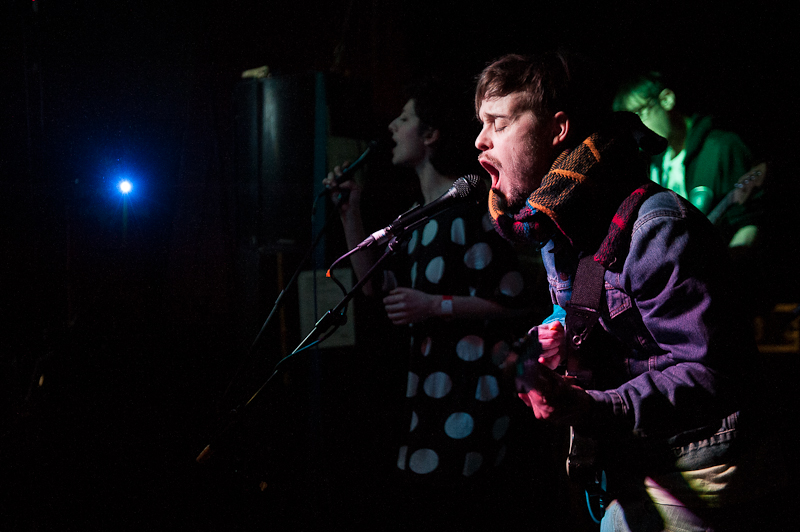 Photo: Sebastien Dehesdin
What are the best things about the music scene in Caen? Is it a good place to be a band?
I don't think we can talk about a scene at the moment, it's an invention of the media, politicians and people who hover around musicians. However, there are great things happening between young musicians – i'm thinking of Superpoze, Dalton Darko and Samba de la Muerte, although that's still very much in its infancy. These are people who share their know-how and inspiration to enrich their respective projects. I think we can talk about a 'scene' when exchanges of this nature are taking place.
Who are you listening to and enjoying at the moment?
The latest album from Beach House, Bloom, for me. I can't stop listening to it. Nicolas has a weakness for a really obscure Japanese band who released a hit in the 80s, I've just asked him to send it to me because it's really amazing.
What does the future hold for Concrete Knives? What are your ultimate ambitions for the band?
To let ourselves be amazed by music, our own and that of others. To travel the world, creating special relationships along the way. And to keep hoping.
If you had to pick a motto for your band and the way you work together, what would it be?
Be your own king.
And finally, Morgane – can you tell us a little bit about your drawings? When did you do them, and where did you learn how to draw like that?
I've been drawing ever since I was old enough to hold a pencil, but I'm pretty bad at taking photos. In fact, drawing is very practical, all you need is a bit of paper and a pencil, and you can kill time pretty quickly in the studio. I just try to capture a thing on the fly, no matter what it might be. There's always some truth in a drawing, especially if it's a bit awkward. It's the same with music.
Drawings by: Morgane Colas
Concrete Knives will release their debut album through Bella Union later this year.